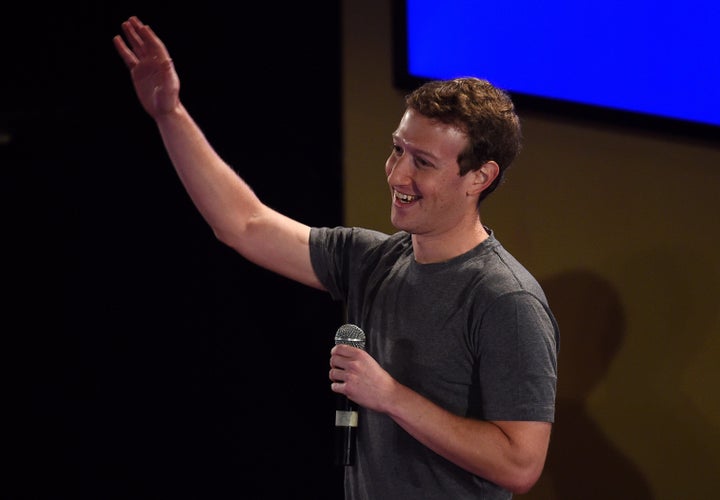 Mark Zuckerberg did pretty well for himself while he was out on his paternity leave.
The Facebook founder and chief executive just got back from leave, which he spent cozied up with his brand-new baby girl, Max. He shared many deliciously cute photos during that time.
Apparently, Facebook did just fine while its leader was away. On Wednesday, the social network announced that its revenue had grown by an astonishing 52 percent over the three-month period ending Dec. 31 -- profits for that quarter were more than $1 BILLION. Zuckerberg was out on leave for about one-third of that time.
The price of Facebook stock spiked on the earnings news, delivering Zuck an additional $5.5 billion and moving him up to rank sixth on the list of the wealthiest people on the planet, Bloomberg reports. Nice payout for all that snuggle time.
So, for you high-powered dads-to-be out there stressed about walking away from your job for a little while to take leave... take heart! You can leave work behind and things are probably going to be OK.
This is a particularly important message for men to hear, since they are less likely to take parental leave -- even when it's offered. There's still a stigma around the whole concept, and in some workplaces, dads do find themselves penalized for taking time off.
Even at Facebook, where an enlightened leader is setting himself up as a role model, most of the guys do not fully avail themselves of the company's leave policy.
Facebook offers four months of leave to all parents. Zuckerberg took two months, an unprecedented amount of time for a chief executive running a multibillion-dollar company.
By comparison, Yahoo CEO Marissa Mayer took just two weeks of leave in 2012 after she delivered her first baby and "limited" time off after she had twins this past December.
The bummer is that most people don't have the luxury of choosing how much parental leave to take. The United States is the only developed country in the world that doesn't mandate paid time off for new mothers. In many other countries, fathers also get paid leave as a matter of public policy.
Facebook and many other tech companies that employ well-educated, well-paid workers do offer fairly generous parental leave. Most companies don't. Only 12 percent of workers in the private sector get paid parental leave.
Indeed, the arrival of a new baby can often send women on the lower end of the income scale, with no paid time off, spiraling down into poverty for a spell.
Women with no paid leave often must return to work quickly after having a child, leading to higher rates of depression for those new mothers -- and often devastating consequences for their children.
Back to Zuckerberg's leave payout. The plan is to give away the money. In December, Zuckerberg and his wife, Priscilla Chan, announced they would be giving 99 percent of their Facebook stock to form a philanthropic venture called the Chan Zuckerberg Initiative. 
REAL LIFE. REAL NEWS. REAL VOICES.
Help us tell more of the stories that matter from voices that too often remain unheard.