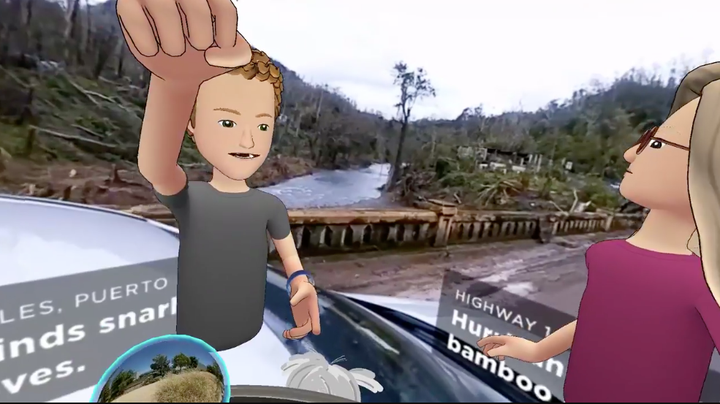 Avatars of the Facebook CEO and the company's head of social VR Rachel Franklin appeared Monday in a virtual reality video of the hurricane-ravaged island posted to the social network. The video doubled as a demo of the Facebook Spaces app and as a platform to announce the company's initiative with the Red Cross during natural disasters.
Critics called the move "disaster tourism" and accused the company of using the suffering of the U.S. territory for promotion.
Zuckerberg responded to the backlash on Tuesday, in a statement Facebook gave to HuffPost: 
One of the most powerful features of VR is empathy. My goal here was to show how VR can raise awareness and help us see what's happening in different parts of the world. I also wanted to share the news of our partnership with the Red Cross to help with the recovery. Reading some of the comments, I realize this wasn't clear, and I'm sorry to anyone this offended.
Other critics expressed their discontent via Twitter. 
In the video, avatar versions of Zuckerberg and Franklin "teleport" into a 360-degree video NPR shot of the ravaged island.
"We're on a bridge here, it's flooded," Zuckerberg says during the video. "You can get a sense of some of the damage here that the hurricanes have done. One of the things that's really magical about virtual reality is you can get the feeling that you're really in a place."
At one point, the two Facebook leaders high-five in the middle of a flooded street to show they are both in separate locations in the real world but interacting in a virtual world. 
"You know, we're looking around and it feels like we're really here in Puerto Rico," Zuckerberg later reiterates. "It's obviously a tough place to get to now and a lot of people are really suffering with the aftermath of the hurricanes."
As of Tuesday afternoon, the video had more than 1.7 million views.
During the livestream, Zuckerberg also touted what Facebook had done in Puerto Rico in the wake of Hurricane Maria ― including sending employees to the island to get telecommunications systems up and running. After emphasizing the importance of having internet access after a disaster, the CEO announced a partnership with the Red Cross to restore connectivity in communities like the ones suffering in Puerto Rico. 
"We build artificial intelligence to build what we call population maps, so you can look at satellite imagery of an area and get a sense of where it is that people actually live and the density of different places and were there's infrastructure going to those places," he explained during the video. "That's going to help the Red Cross figure out where people are who need help and figure out how to connect them with them."
Calling all HuffPost superfans!
Sign up for membership to become a founding member and help shape HuffPost's next chapter