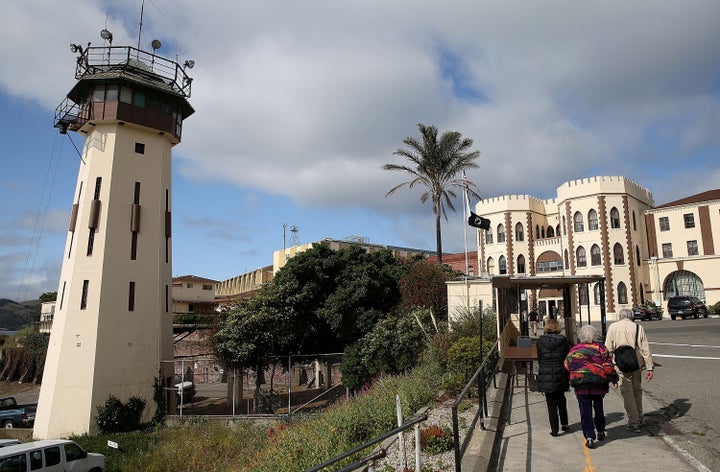 Facebook CEO Mark Zuckerberg visited California's San Quentin State Prison this week, then added his voice to concerns about mass incarceration.
"We can't jail our way to a just society, and our current system isn't working," Zuckerberg posted to his Facebook page on Tuesday following his tour of San Quentin with his wife, Priscilla Chan.
Zuckerberg said he wanted to see how a prison works after reading The New Jim Crow, Michelle Alexander's touchstone 2012 book on the rise of mass incarceration. 
"Our entire society pays the price for an unfair, broken system," he wrote.
San Quentin, about an hour north of Facebook's Palo Alto, California, headquarters, has been a leader on prison re-entry programs for more than two decades, while other prisons took an opposite approach with a "tough on crime" focus on punishment rather than rehabilitation.
During his visit, Zuckerberg dropped by a computer coding class called Code.7370, part of San Quentin's innovative program for inmates preparing to re-enter society. 
"San Quentin is not typical -- but atypical doesn't mean it can't be aspirational," Joan Petersilia, Stanford law professor who studies prisoner reintegration and sentencing policy, explained to HuffPost. "We should be studying it, figuring out how to replicate it and produce another prison like it."
The coding class is provided by The Last Mile, a nonprofit group that develops inmate programs in an effort to reduce recidivism. 
Last Mile's executive director, Beverly Parenti, said in an email to HuffPost that her program's students are determined to change, give back to their families and communities, and live fulfilling lives.
"Many of the students are transformed from inmates with uncertainty for their future to confident men with marketable skills and hope for their future," Parenti said.
Zuckerberg's comments about mass incarceration build on those made after recent prison visits by President Barack Obama and Pope Francis. Many of the 2016 presidential candidates also have called for reform.
While the U.S. accounts for just 5 percent of the world's population, it is home to 25 percent of the world's prisoners. Nearly 40 percent of all prisoners are black, according to the U.S. Bureau of Justice Statistics.
Harsh sentences for nonviolent drug crimes are part of the reason those figures are so high. Zuckerberg mentions this in his Facebook post, citing marijuana laws that disproportionately affect blacks and Hispanics.
For inmates who have spent years behind bars, readjusting to society can be challenging. Prison re-entry programs vary from state to state, and there can be painfully few lifelines to help inmates with the rehabilitation process. 
A 2014 National Research Council brief on mass incarceration trends says former prisoners face lower earnings, denial of jobs or work licenses, an inability to vote, and ineligibility for public housing, student loans and food stamps. 
"It is important for these powerful folks to shine attention on the millions of people who are too often forgotten," said Anthony Papa, manager of media relations at the Drug Policy Alliance, who spent 12 years behind bars on a nonviolent drug offense.
Calling all HuffPost superfans!
Sign up for membership to become a founding member and help shape HuffPost's next chapter