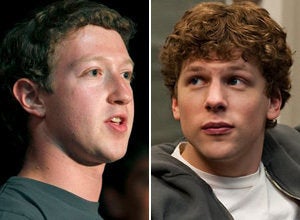 Rolling Stone said "The Social Network" (a.k.a. the "Facebook movie") "brilliantly defines the decade." All Things Digital wrote it is "as brutal as Mark Zuckerberg feared." The New York Times praised it as imbued with "terrific momentum."
So what does Facebook CEO Mark Zuckerberg--around whom the film centers--think of it?
Zuckerberg shared his thoughts during an appearance on Oprah Winfrey's show Friday. According to the Wall Street Journal, he commented, "It's a movie, it's fun [...] I can promise you, this is my life so I know it's not that dramatic. The last six years have been a lot of coding and focus and hard work, but maybe it would be fun to remember it as partying and all this crazy drama."
Facebook Inc. executives have sought to discredit a new film's unflattering portrayal of Chief Executive Mark Zuckerberg, even as they worked behind the scenes to influence the movie. Those efforts range from attempting to massage the script, according to one of the film's producers, to promoting an alternative corporate history.
According to ABC News, the company issued the following statement on the script:
We found interacting with Scott Rudin and his colleagues to be a terrific learning experience. They do a wonderful job of telling a good story. Of course, the reality probably wouldn't make for a very fun or interesting movie. As Aaron Sorkin himself has acknowledged. 'I don¹t want my fidelity to be to the truth; I want it to be to storytelling.'
See the trailer of "The Social Network" here.
Calling all HuffPost superfans!
Sign up for membership to become a founding member and help shape HuffPost's next chapter