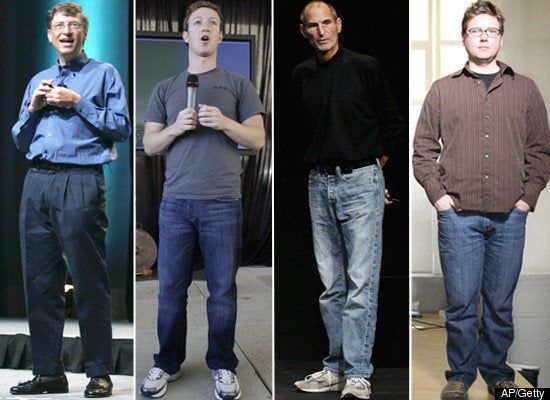 Esquire magazine has released its "2010 Celebrity Style Hall of Shame" list, which names the year's 10 least-dapper men. This list of unfortunately dressed celebs includes eight performers, one political pundit and one tech titan. That's right, there's a geek on the list.
Despite Zuck's status as one of the richest techies in America, he's never been one to flaunt his wealth. He has publicly stated that he rents his Palo Alto home and he is known for giving press conferences in sneakers, jeans and a T-shirt (à la Steve Jobs).
Perhaps hoping to keep him off next year's list, Esquire offered Zuckerberg some wardrobe advice:
[N]o matter how much money you have or how many people's secrets you hold in your digital palm, you cannot show up to a black-tie event in a t-shirt and jeans and expect to be taken seriously. [...] You just gave a hundred million to Newark's schools. Would it kill you to throw a couple thousand to, say, Zegna for a couple of nice suits?
To view a sample of Zuck's infamous threads, check out the slideshow (below). Then, check out Esquire's complete 2010 Celebrity Style Hall of Shame, which includes other questionable dressers, such as Robert Pattinson, Russell Brand and Rush Limbaugh. And take a look through our slideshow of Steve Jobs's uber-casual business attire and how his signature style has evolved over the years.
Related
Popular in the Community