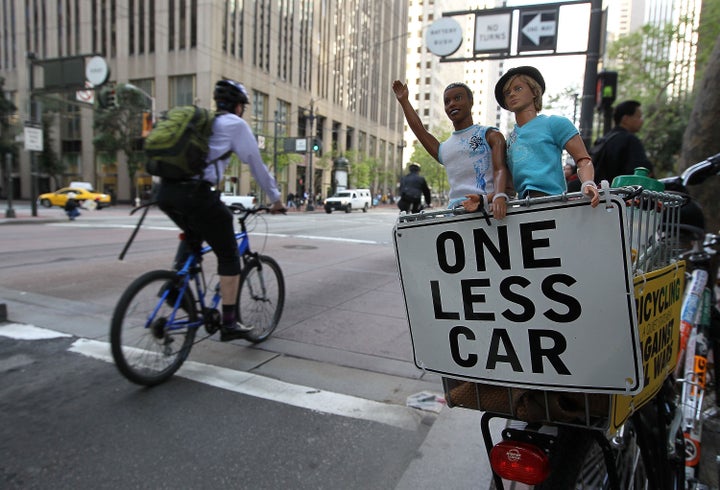 I got hit by a car while riding my bike. Yes, it hurt. Yes, I broke a bone. And no, it was not my fault.
It was the cab driver's fault, but the true culprit is our insane and outdated policy of allowing vehicles along lower Market Street. For twenty years, people have been tossing around the idea of closing Market to private vehicle traffic and creating a vibrant public space in its stead, but the issue has only recently grown ripe for serious consideration.
The San Francisco Metropolitan Transportation Authority (SFMTA) began conducting a yearly bicycle census in 2006. Since then, there has been a staggering 58 percent increase in the number of observed bicyclists: In 2010, 11th and Market registered the highest number of cyclists, clocking in at 818 bicyclists a day, a 50 percent increase over 2006 levels. The rest of Market Street is experiencing similar upswings in bikers, with the SFMTA counting 796 cyclists in an hour and a half at Fifth and Market, an increase of 70 percent from 2006. And all of this despite a 2006 judicial injunction barring the implementation of San Francisco's City Bicycle Plan, an injunction that remained in place until June 2010.
After the injunction lifted, the city has made some efforts to improve conditions for bicyclists on Market Street. For instance, eastbound traffic is shunted off Market at both Tenth and Sixth Streets, and the city has created separated bike lanes from Van Ness to Eighth Street. However, these changes haven't been much more than gestures, offering little additional protection to cyclists. The Bay Citizen reports that at Octavia and Market Streets, six accidents occurred in 2009, a figure that rose to eight in 2010. And the increase in accidents can't be attributed solely to the growing population of cyclists: the Bay Citizen points out that, between 2009 and 2010, citywide "ridership rose 3 percent, while accidents climbed 8 percent." Several of these accidents were caused by to cars making illegal right-hand turns -- something dedicated or separated bike lanes can't protect against.
The notion of removing private traffic from Market Street isn't a new one -- over the course of two decades, various groups and elected representatives have floated proposals to do so -- nor is it a pipe dream of radical fringe groups -- during our recent mayoral election, both Board of Supervisors President David Chiu and Mayor Ed Lee expressed tacit support for the idea. Many champions of the cause have coalesced around the Better Market Street project, which seeks public input as it coordinates with five city agencies to come up with a comprehensive plan for Market Street's repaving and redesign in 2015.
No Need for Cars on Market
Most anyone who has ever used a car in San Francisco knows that if you're driving on Market Street, you're doing it wrong. Market is congested, bumpy, bereft of curbside or garage parking, and infuriatingly slow. Accidentally finding yourself on Market Street means something has gone horribly wrong, and just getting off of Market and back on your way can test the resolve of even the saltiest of drivers. One-way streets, torrents of pedestrians, and double-parked delivery trucks bring intersections like 2nd and Montgomery to a virtual standstill, promoting intrepid (read: dangerous) cabbies to try to circumvent the queue of vehicles by making a dangerous right turn from the left lane. Plus, many of the cars driving on Market travel only two blocks, and 80 to 85 percent of vehicles on Market are merely crossing the thoroughfare. San Francisco driving in general is notoriously confusing and slow, and closing Market to cars would be a big step toward alleviating that confusion.
San Francisco is not the first city to consider expelling cars from main thoroughfares. London charges drivers a toll to enter the more congested areas of the city; Santa Monica's Third Street Promenade is pedestrian-only; and the 16th Street Mall in Denver allows only police cars and electric buses.
While business owners fear that eliminating cars will eliminate cash from their registers, their concern is unfounded. San Francisco's Sunday Streets program demonstrates the commercial viability of shutting streets to vehicular traffic. Initially, businesses were wary of getting rid of car traffic, but the surge in business delivered by the program has fomented commercial support for it.
Beautiful Spaces Make Beautiful Cities

There is, of course, a much more fundamental issue at play here than the logistical concerns of traffic mitigation and disputes over the wisdom of driving on Market Street. Cities are for people, not cars. The heart of our city should be magnetic and vibrant, not dangerous and noisy. We've become accustomed to myopically navigating the downtown streets, walking in insular bubbles of podcasts and noise-canceling headphones as we make our way through the morass of fellow citizens. This isn't healthy for ourselves or our culture, and turning Market Street into a truly public space could pull us out of our shells and into civil society. After all, we've been able to make similar changes in the past: People were wary of losing parking spaces to parklets, but most San Franciscans wouldn't dream of reverting to the claustrophobic and congested sidewalks from before their installation.
Just look at Hayes Valley for local proof of the efficacy of removing traffic from what otherwise might be considered a thoroughfare. Following the Loma Prieta earthquake, the city tore down the raised highway running along Octavia Street, turning 101 into street traffic at Market and Octavia in 2005. At the same time, the city turned the stretch of Octavia from Fell to Hayes into a park that serves as the central plaza and public space for this now beautiful and dynamic neighborhood. Today, Hayes Valley boasts a beer garden, two coffee shops, an ice cream stand, and a sculpture garden lining the park. Nice spaces make pleasant people, and pleasant people make great customers.
San Francisco needs to adapt to citizens' shifting transit preferences. Without a shift in policy, the streets will become more dangerous as more and more people take to their bicycles. While we can argue about which group, drivers or cyclists, is more to blame for accidents, the solution can't be to collectively punish bicyclists with hazardous road conditions.
Sure, there are other streets that carry nearly the same amount of bicycle traffic, (Valencia Street, for example), but Market is a unique case. It swarms with car-less tourists, rumbles with lurching streetcars, and teems with ever-stopping buses, making it an inefficient and exasperating route for drivers -- that is, it's pretty clear that closing Market Street to private vehicles would be more of a boon than a bane for drivers. The benefits to cyclists, however, would be vast and readily apparent, and do wonders for the cultural health of the city center, and perhaps the city itself.

Support HuffPost
The Stakes Have Never Been Higher
Related
Popular in the Community