What if you could plan your marketing strategy like building a LEGO set?
That's essentially what marketing automation allows. Building each component of a campaign, from landing pages to email sends, individually then using the seamless data analysis capabilities to optimize your sales funnel.
Like with LEGO, you can be as creative as you want. Combine the Capitol Hill architecture set with Bionicle figures as senators — no one will judge. Whatever you create, it's unique, against the mainstream, and delightfully fresh.
The beauty of marketing automation is the endless combinations that can be created by grouping your strongest performing content and gear it towards buyer personas that are the most likely to engage with your campaign.
For example, let's take "Director Dave," a serious man who doesn't have time for jokes and banter. For Dave, he's always "mind on his money and money on his mind." So how do you get his attention?
Throwing it back to the LEGO metaphor, the perfect set for Dave would be a scaled model of the Titanic that is loaded with factual details like the exact number of windows and smokestack dimensions. That's how you put a smile (or maybe just smiling on the inside) on Dave's face because he equates value with the level of education he receives.
Engaging with his assistant — "Marketer Mary" — would be much different. Mary is in her 20s and is regularly on Instagram, Facebook and Twitter. She loves a good laugh and uses social media to be entertained, but if she learns something along the way then it's a bonus.
Mary wants to dazzled with high res photos, funny videos and colorful infographics. She doesn't want the Titanic — Mary wants a swashbuckling Jack Sparrow-hanging-off-a-ghostly-pirate-ship set.
So what does this have to with marketing automation?
Marketing Mary and Director Dave are personas in which you segment all of your marketing into lists. It's tailoring an approach, workflow and even the right salesman to ensure they are not only left with a good impression of your brand but are delighted long after they become a customer.
Marketing Intelligence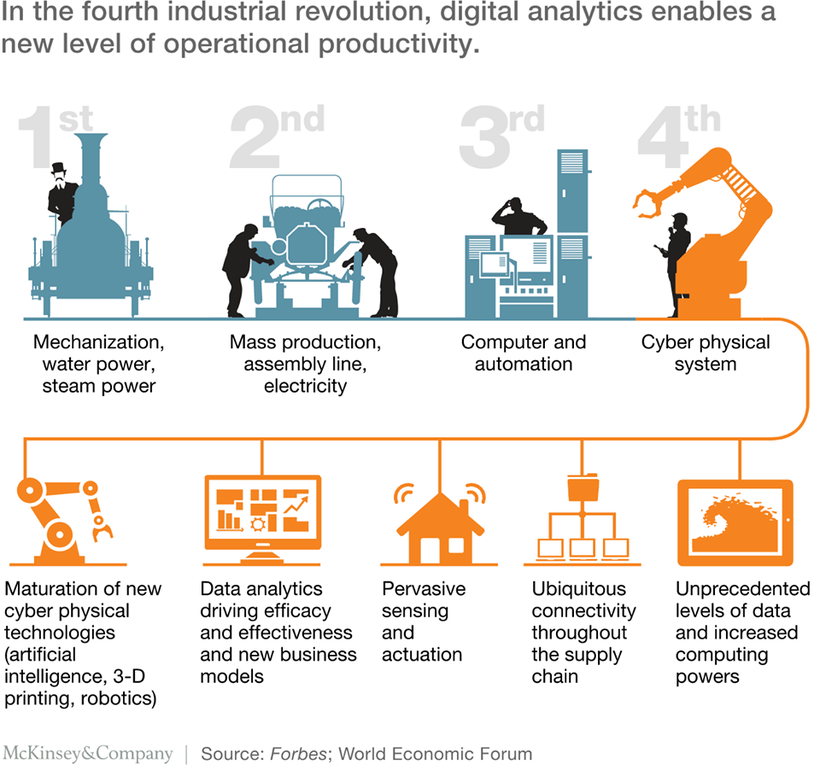 Automation would not exist without sophisticated data analytics. Marketing automation software companies like Maropost Marketing Cloud, one of the fastest growing SaaS platforms in the world and competing against powerhouses Oracle and Salesforce, offer superior email deliverability and 24/7 customer support — two factors essential for successful automation in 2017. They are capitalizing on revolutionizing the business world with scalable solutions that also dramatically improve key performance indicators like email opens and click throughs.
"Like the rest of the tech industry, martech is in the midst of a growth boom, with products and offerings evolving and innovating rapidly. That means more automation, more personalization, more machine learning. And we're right there with the boom, having just launched "Da Vinci" our new machine intelligence," CEO and Founder Ross Paquette said in interview earlier this year with MarTech Series.
"Consumers are also becoming smarter about martech and with that, pickier. In the end, the product and service is always going to be the most important. It's not enough to simply solve the customer's problem, you have to set yourself apart by putting the customer and product first."
But with marketing intelligence, you can use tracking codes embed in emails, webpages and on social media platforms to track user behavior with your brand online. The best part is they don't even need to give you their contact information, their IP is already logged thanks to attaching a cookie.
Through marketing intelligence, you are able to create a high quality lead nurturing program that will compile your prospects and leads' interests which is essential for lowering ad spends.
How it works: A prospect then tracked and retargeted with an ad to your landing page based on the criteria you've set for their buyer persona. You can also learn more information about them such as the sites they frequent and any social groups they are active in.
Email Marketing Automation
The real value in email marketing automation is the ability to streamline repetitive tasks. As great as it seems, American companies are finding it difficult to raise funds to implement a marketing cloud.
According to a 2017 survey from email marketing provider GetResponse, 36.1% of B2B and B2C email marketers reported that securing funds for marketing automation was a challenge.
On top of the financial challenges associated in adopting new technology, 35% marketers reported in the same survey that not having the knowledge to set up different types of marketing automation was another obstacle. Not surprising, since the martech marketing is increasingly becoming saturated with new players joining the market every year.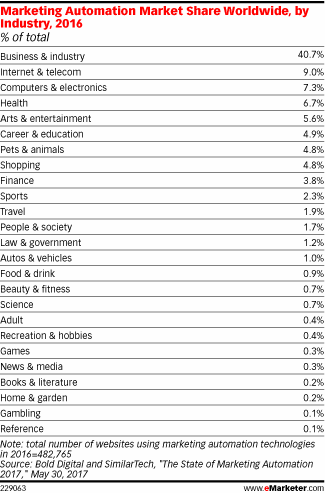 There is also a common misconception that automation is only for B2B marketers. Although in the past that was true, it's prevalence is now crossing over into B2C. The figures above show business & industry owning almost have the market share, but internet & telecom, health, and arts & entertainment are on the rise.
This is unfortunate for smaller companies with tight budgets because automation would be more widely adopted if SaaS startups can capitalize on the small to mid-level B2C market. That's because 78% of successful marketers say marketing automation systems are most responsible for improving revenue contribution, according to the The Lenskold Group's 2013 Lead-Generation Marketing Effectiveness Study.
Questions to ask marketing automation vendors before buying:
- How scalable is your solution?
- Does your platform have lead scoring?
- What aspects of the customer lifecycle does your platform manage?
- Do you have 24/7 customer support?
- What channels does your platform have?
It has to be noted that not all marketing automation platforms are created equal. That's why before implementing new technology at your company, shop around for free demos in order to find what features are best suited for your business.
REAL LIFE. REAL NEWS. REAL VOICES.
Help us tell more of the stories that matter from voices that too often remain unheard.
This post was published on the now-closed HuffPost Contributor platform. Contributors control their own work and posted freely to our site. If you need to flag this entry as abusive,
send us an email
.