There's a growing marketing practice that I think is a huge marketing mistake. I've seen a number of infographics being published by companies that require the reader to enter their name, email address and other contact information before they can even view the design. This "registration wall" is a way for marketers to gather the contact information from the readers so they can send out additional marketing emails later. In my opinion, publishing an infographic behind a registration wall just doesn't make any sense.
Here's an example of what you might see on one of these registration wall pages: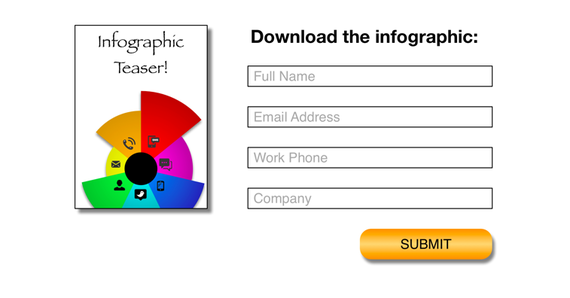 I completely understand putting valuable content behind a registration wall as a method to capture the contact information from potential leads. I get it. Assuming the hidden content is closely related to the company's business, the audience interested in that content is likely to represent a pool of potential customers. If they're willing to give up their valuable email address to gain access to that content, they are probably a fairly strong potential customer (or a competitor checking out your valuable content).
However, infographics are the wrong type of content to use for this purpose. The companies I see that are hiding infographics behind registration walls are missing the benefit of infographics, which is to deliver easy to understand information to the audience in a format that's also easy to share because it's completely contained within the image file.
First, online infographics are meant to be shared. Infographics are popular online for two reasons, easy to understand information and easy to share. Much easier than text articles or blog posts. As soon as one reader shares the hidden infographic image file on their blog or posts it in social media, the infographic is released to the public and available to everyone without registering. Even if you ask people not to share it publicly, the accepted practice online is to freely share infographics.
Second, the research commissioned by Janrain from 2012 indicates that 86 percent of people may leave a website when asked to create an account. Most of the audience will just leave instead of going through with the registration process to gain access to the infographic. They never see the infographic, never read the data and never hear the message.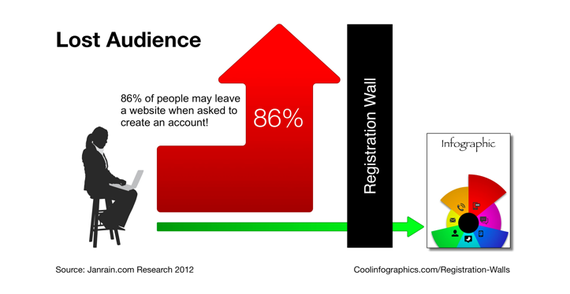 Third, the search engines can't see past the registration wall. No keywords, no meta-data, no text. The search engines can't index the content behind the registration wall, so your infographic won't show up in search results. Only the short, publicly accessible teaser information on the registration page has any chance of being indexed to appear in results.
Here's what I recommend. Use a compelling infographic as a top level summary of the more detailed content you put behind the registration wall. All of the people that share your infographic, are effectively advertising your more detailed information. You could even make the infographic landing page on your website also the registration page to get more information.
This way the infographics are available publicly to view and share, and the free content draws in readers to the registration page. The truly interested readers will also give you their contact information to gain access to the more-detailed report or white paper that you have available behind the registration wall. Now you have built your brand credibility with a widely shared infographic, and you have gathered a pool of potentially valuable leads.
For more statistics and information about registration walls, check out The Registration Challenge infographic from Janrain:

This post first appeared on Cool Infographics.
Calling all HuffPost superfans!
Sign up for membership to become a founding member and help shape HuffPost's next chapter