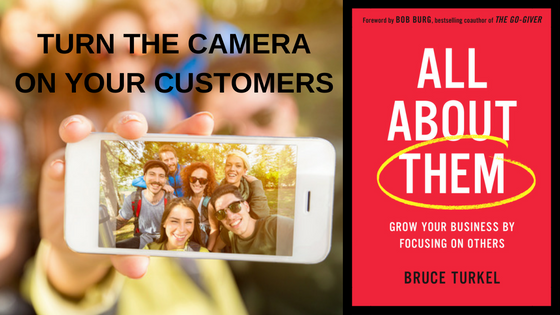 Branding expert Bruce Turkel's latest book, All About Them, represents an ode to change. As I have said many times, the marketing landscape has transformed so dramatically in recent years that many of the old rules are out the window. We can't sell function anymore because so many products fulfill the same needs, and we can't sell quality because everybody's products are good these days. And we have even gotten pretty good at brand building, which was hailed as the last great differentiator. Turkel himself wrote an excellent guidebook 10 years ago called Building Brand Value. Today, however, if you merely focus on function, quality and brand, you will soon be dead in the water.
Turkel's take, after speaking and consulting with executives from companies like Nike and Bacardi as well as professors at Harvard and MIT, is fairly simple in concept but trickier in practice. He learned (and now we learn from him) that we need to focus on our customer and explain why our product/service/offering will be better for them. We can't stand out anymore talking about how great we are, how durable our products are, or how technologically advanced our services are. We need to turn the camera around and make the discussion all about our customer. That's the change, the new wrinkle.
Now, of course, it's easy enough to say this about the big name brands that have already figured this out. Clearly, brands like Apple, Starbucks and BMW know how to make their products all about their customers. For example, Apple's IPhones are treated like biological appendages, we order caffeinated beverages from Starbucks with previously unseen specificity, and BMW makes us feel like we can slay the Autobahn while creeping through traffic.
But what about the little guy? And how can Turkel's All About Them translate to your business? Great question, right? You're welcome in advance.
I sat down with Turkel and he fluidly discussed how even the smallest business can change their outlook and refocus on their customer in a meaningful way. We chatted about a café that populates the small "hole-in-the-wall" space in an industrial park in "Anytown, USA." You know the one I'm talking about, right?
What's the typical marketing strategy for such an operation? Spread menus around the industrial park, brag about the three-egg omelet, chicken Caesar or "media noche" sandwich, and then hope that location and price will pull in some regular customers. That's the old way.
What if, instead of selling attributes of the food and the coffee, the café instead sold customers on their needs – like hyper convenience?
Beat the traffic and arrive early for breakfast. We have free Wi-Fi, complimentary newspapers and a great power breakfast. Start your day at the café and arrive at work well-fed and less stressed.
Or, instead of focusing on your proximity to the workplace, consider that you can make it easier for workers to bring food home for their family.
Tired after work and feeling guilty about feeding your kids fast food? Order pre-packaged healthy meals from the café, arrive home a hero and enjoy a healthy meal around the dinner table with your family. And don't forget to turn off the TV.
This was just one example that Turkel quickly drew-up ― like a sand lot football play. I'm sure he could go all day because the philosophy doesn't grasp for plaudits and attributes – but rather calls for a change of perspective that flows easily once you get it.
Some people may call this another twist on salesmanship, but the point is that any business can open new doors and add new customers by focusing on the needs of their audience – and not how great the food, the service or the quality may be.
Turkel's book is full of thought-provoking ideas, meaningful strategies and fun jokes. My favorite:
Q: "How many copywriters does it take to change a lightbulb?"

A: "None. That's my work, and I'm not changing a goddamned thing."
I have said it before and it bears repeating: We need to change as the marketplace waits for no one. Turkel embraces change in this enjoyable read and you will learn from it, so I recommend picking up a copy of All About Them.
Related
Popular in the Community