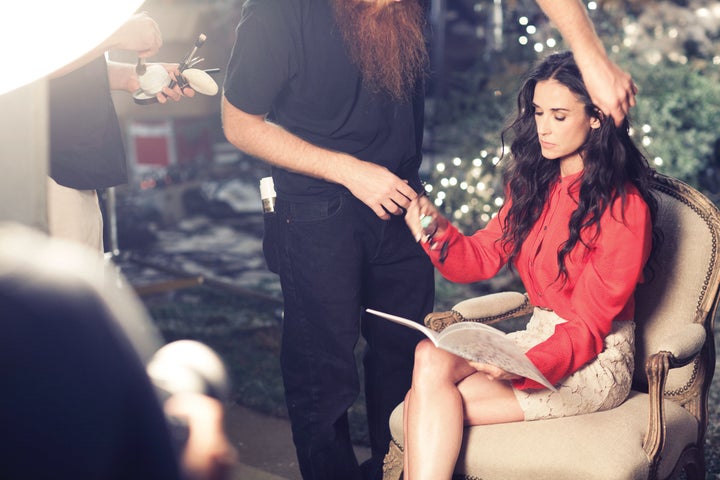 Lisa Anderson, 51, describes her fashion style as tailored with an edge. One recent purchase by the yoga buff from Charlotte, N.C.: a cheetah-print top from T.J. Maxx. Also, her favorite color is hot pink -- "the hotter the better," says Anderson, who was recently promoted to global managing director at an executive search firm.
"I don't want to wear my mother's clothes, and I don't want to wear my daughter's clothes, but I still want to dress in clothes that are fun," she said.
Lisa is not alone in her youthful style and outlook among her boomer peers. And marketers are taking note: Although the world of fashion and beauty continue to chase twenty-somethings, some surprising segments of these industries are slowly waking up to an older audience.
Ann Taylor tapped Demi Moore to be the face of its holiday ad campaign. J. Crew quietly capitalized on boomer first lady Michelle Obama donning its outfits. And in the beauty aisle, anti-aging cream Rose Arctica debuted this year -- from urban hipster brand Kiehl's.
Savvy brands are finally acknowledging the size and economic influence of boomer women. The 50-plus group accounts for between 70 percent and 75 percent of the financial assets in the U.S, with women 50-plus living in households that own 60 percent of U.S. wealth, according to AARP media sales. And over the past decade, the population of women 50 and up has grown at a rate of a million per year, 10 times the rate of 18-to-49-year-old women.
The post 50 woman today is more likely to be in the workplace than previous generations, often in positions of power. "She's much more in the mainstream than her generational cohorts from decades past," says Mary Brett Whitfield, senior vice president at Kantar Retail, a research firm that tracks retail and shopper trends. In addition, "today's 50-year-old is more relevant from a cultural and media lens than the 50-year-old year old from a couple of decades ago."
Despite that, post 50s feel woefully ignored by advertisers: 70 percent of women 50 and older say they feel invisible to fashion and beauty companies, according to a monthly poll by AARP media sales.
It's partly due to the generation's psychology, suggests Mark Bradbury, director of insights and integrated marketing for AARP media sales. Although fashion and beauty companies have shifted their focus to Gen X and Gen Y, the demographic that shaped youth culture is reluctant to cede the spotlight.
"Boomers have seen themselves on a mass level and individually as very powerful people with an ability to change themselves and others' lives," Bradbury explains. "They don't understand that they're not young."
Fashion Eyes A New Sweet Spot
When it comes to fashion, dressing according to one's age has become a dated notion for post 50 women, says Susan Scafidi, professor of the Fashion Law Institute of Fordham Law School. "We threw away the concept of age-appropriate dressing," she notes. "(Boomers) want to wear clothes that are flattering and make them feel beautiful and that transcend age."
Ann Taylor seems to have gotten the message. The retailer's sweet spot is the 30-something working woman, yet it's placed 49-year-old Demi Moore at the center of its holiday ad campaign, "something you wouldn't have seen 20 years ago from one of the major fashion chains" for fear of alienating younger shoppers, Whitfield says.
(Ann Taylor declined comment.)
The prolonged economic malaise has prompted marketers to take a fresh look at older shoppers. As companies saw their bottom lines shrink, Bradbury says, they had to turn their attention "to people who have the means to spend."
And sometimes a cultural moment can also help nudge change. Such was the case with Michelle Obama and J. Crew, the preppy brand laced with edgy glamour that targets shoppers in their 20s and 30s, as well as kids.
By regularly turning up in J. Crew's youthful, colorful tops, prints and dresses, the First Lady blew up sales at the retail chain. J. Crew quietly played along by highlighting outfits Obama wore in its stores and online.
Meanwhile, Obama's daughters Malia and Sasha were also decked out in J. Crew. Indeed, the rise of boomer mother-and-daughter shopping has helped inform boomers' trendy fashion sense and brought post 50 women into stores like J. Crew, experts say.
Recent studies show that 18-to-24-year-old women are as likely to want to shop with their moms for beauty products as their friends, says Karen Grant, vice president and senior global industry analyst for market research firm the NPD Group.
Anderson, for one, regularly shops with her kids. "It's a point of connection, especially with three teenage daughters," she says.
During a recent excursion with her 17-year-old daughter Sami to Plato's Closet, which sells gently used designer clothing, Sami was about to try on an empire waist, black-and-white print shirt, when Anderson said, "'Ooh -- I like that.' Then I tried it on instead. She (told) me it looked good."
Beauty companies have tiptoed around marketing to boomer women for fear of diluting their brand's youthful image and sex appeal. One result is nearly two thirds of women 50-plus say they feel forgotten by the beauty industry, according to AARP media sales. In the meantime, women 50 and up accounted for 40 percent of all lipstick, lip gloss, foundation and nail care product usage in the U.S in fall 2010, according to GfK MRI data.
Kiehl's has embraced the demographic with resounding success. The skincare brand with a young, urban edge started as a single apothecary in New York City's East Village neighborhood in 1851, and has since expanded to 43 stores and 300 upscale department stores. In 2000, women 50 and over accounted for under 20 percent of Kiehl's shoppers. Today, they're 40 percent.
"We're sort of growing up with each other," said Chris Salgardo, president of Kiehl's USA. "We needed to look at our product line up and decide to address this. As the baby boomers have aged, they have a lot of disposable income and they're looking for cutting edge product that really works –- and we have to bring that to market."
The result is launches like Rosa Arctica -- the most successful product launch in Kiehl's history. The anti-ageing crème formulated with haberlea rhodopensis, also know as a "resurrection flower," is designed to retain moisture and boost skin cell vitality. "We knew that this consumer was looking for a way to jolt their skin back to youth," Salgardo says.
The Advertising Conundrum
It's no secret that beauty companies generally don't use older women in beauty ads – particularly when it comes to color cosmetics. (Ellen DeGeneres as CoverGirl's spokesperson is a notable exception.) But marketers are not the only ones to blame for the dearth of mature female faces in ad campaigns: Boomers themselves want to see someone six to 10 years younger than they are in ads, Bradbury says.
Chalk it up to cultural conditioning: As a general proposition, boomer women "want to see images that are aspirational," Grant says. "They don't want to see a woman that looks too mature in an ad."
Older women often "reward beauty manufacturers when they show people we aspire to look like, and sometimes punish them when they show us people who we think look older than we do by not buying the product," Grant says. When a brand becomes -- in the mind of a consumer -- an old lady brand, "it begins to lose traction and cool."
Marketers are addressing that bias "by using more universal creative," Bradbury says. Kiehl's, for example, doesn't use any people in its advertisements or in-store visuals, which allows it to speak to all ages and ethnicities, Salgardo says.
Clinique also doesn't single out boomers in its marketing efforts. The company has recently launched a number of anti-aging products, unusual for a cosmetics firm largely associated with a younger target market, Grant says.
The company's Even Better Clinical Dark Spot Corrector claims to fade dark spots and age spots on the face, hands and chest. The product ads featured three eggs: One with many age spots, another with a few, and one that was pristine -- a bid to communicate results over time.
The tact appeared to have worked. According to the NPD Group, Even Better Clinical Dark Spot Corrector was one of the top-selling skincare items at retail last year.
Related
Popular in the Community