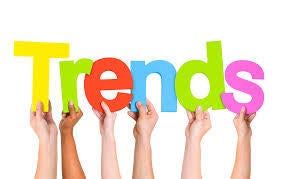 My e-mail has been full of 2017 resolutions and motivations for the coming year. Mixed in with them are some interesting reports and analysis of what is trending coming out of 2016 and projected for 2017 marketing.
There are some important hints and stats that marketers have identified that we should pay attention to.
ABM – Account Based Marketing. Several sources have indicated that there have been significant renewed efforts in 2016 towards account based marketing efforts. ABM simply means that your client base is your gold. Each account has specific buying patterns in terms of purchases and frequency. That data allows marketers the opportunity to create campaigns that increase the number of times they return as well as, entice them to broaden the profiles of items/services they have purchased. Simply stated – Buy More, More Often. ABM is not a new concept, but one that can be aided via the powerful data collection and CRM platforms available today.
Marry Sales and Marketing. Often working at cross swords these critical functions need to be on the same page. Marketing fills the funnel and sales does the converting. If sales is not synced with the marching orders that were given to marketing then the two will never be on the same page. Avoid losing opportunities by building close communication between the sales and marketing teams.
Data is King. This is not new, but 2016 has seen a jump in proper capture and use of data. The increase of programs, platforms and cloud based SaaS software has made data analysis affordable for every size company. Data collections, integrity and depth are the keys to success. Understanding your outbound and inbound content marketing success, results in having the ability to address your KPI's. 2017 promises to add new and exciting tools that will assist even the most basic marketing data collection and analysis.
Video. 2016 saw an exponential increase in the use of video by marketers. Responding to user preferences, marketers have adapted their messaging efforts to include significant video usage. Mobile has been one of the major drivers to market via video and promises to make quantum leaps with wearable and VR applications. In 2017, YouTube is no longer the only game in town for video. For example, GE has invested heavily in VR across the major platforms (Oculus Rift, Samsung Gear VR, Google Cardboard and YouTuber 360) to promote their work in technology.
The Numbers Tell The Story. Some very interesting and eye-opening statistics:
- Google reports that "content marketing" searches jumped 20% during 2016 (Google Trends)
- 2 million blog posts per day (Google Trends)
- 74% of companies are increasing leads with content marketing (www.curata.com)
- 41% of organizations report the content marketing increases brand awareness (www.marketinprofs.com)
- Content marketing costs 62% less than traditional marketing (Demand Metric)
- A whopping 168% increase in LinkedIn profiles that include content marketing (Fractl and Moz)
- 60-70% of people would rather search for products/services that they read about. (www.curata.com)
- $36 Billion is predicted to be the spend by advertisers and marketers on social media in 2017 (www.contentmarketinginstitute.com)
B2B eCommerce. U.S. B2B buyers purchase are about $780 Billion and are predicted to increase 45% to $1.13 Trillion by 2020 (www.internetretailer.com). The trend is digital-first. This is good news for companies who have reported that they have been able to decrease the cost of customer support for their online businesses. Executives are saying that they now have customers they can only serve profitably online.
An Important Take-Away. Only 1% of millennials trust the products in ads. (www.CMS-connected.com) They view user generated content as more authentic. As the millennials become increasingly important in the business world in terms of becoming the decision makers and buyers, B2B marketers must react to this trend if they are going to be successful via content marketing. Content generated By users – for users will be the gold standard for 2017.
In closing, 2016 has not been short on changes and important trends, 2017 is poised to continue and create new, unexpected and important trends.
Related
Popular in the Community