The announcement that the banks and stock market in Greece would be closed was made by the Greek Prime Minister on Sunday, June 28, 2015. Within 24 hours, markets around the world declined in value. There wasn't any country you could escape to for safety.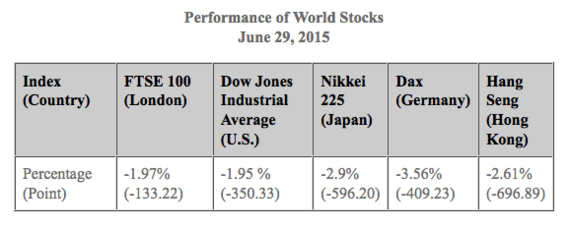 However, there was comfort in the tried and true market contrary and market resilient characters -- gold, gas, utilities and consumer staples. Utilities were relatively buoyant (after being killed earlier this year). Oil was only off slightly (though it is still 44% cheaper than it was in July 2014). Gold prices rose.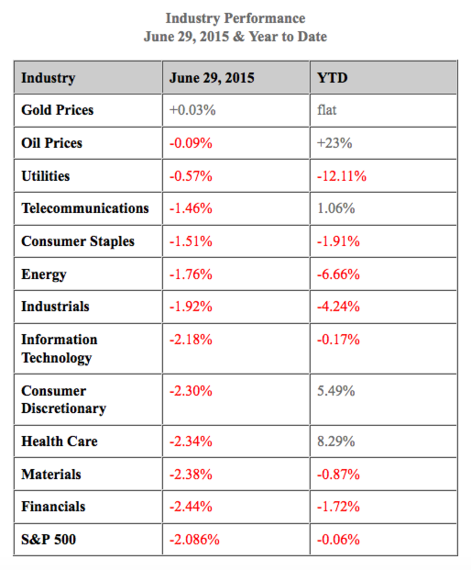 Sources: S&P Dow Jones Indices, Kitco.com, EIA.gov

As I pointed out in my article, "Crisis in Greece," the 2011 Greek crisis cost U.S. markets 15%, which was recovered by the end of the year. This time around, weakness in the banks and hedge funds that invested in Greece could weigh the markets down. It's hard to imagine a quick recovery. Not many people are predicting a happy ending to this saga. And there are far more problems waiting in the wings to sing their troublesome woes, including:
1. Liquidity concerns. Newly enforced regulations on banks mean that economists have real concerns about market volatility increasing as liquidity becomes a concern. Read an excellent overview by Brookings Institution economist Douglas Elliott.
3. Municipal bond market weakness. Puerto Rico just announced that they cannot pay on $73 billion in muni bonds that they owe. This is going to hurt the muni bond markets, muni bond fund investors and the insurance companies that insured the bonds. Due to the substantial losses at stake, this could have a ripple affect over to certain annuity and life insurance holders.
4. Sales have been sluggish. Good earnings reports are being purchased with corporate buybacks. So, it's financial engineering, not a real recovery going on. The last time there was this much buyback activity was 2007 -- the year before the Great Recession. According to Howard Silverblatt, the senior index analyst at S&P Dow Jones Indices, "Over 20% of the companies are buying their EPS growth via buybacks. The reduced share count has significantly increased EPS for 1/5th of the companies in the S&P 500 by at least 4% year-over-year in each of the past five quarters."
5. The U.S. is currently using extraordinary means to pay bills. Congress will have to raise the Debt Ceiling again by fall, or we will have to shut down the government and default on some of our bills. The current Congress is Republican majority meaning this could be a real fight, despite Mitch McConnell's promises. The debt is an astonishing $18.152 trillion.
6. This is the 7th year of the current bull market. Recessions occur on average every 5.5 years.
7. There are massive debt, pensions and other postemployment benefit obligations in many blue chip corporations. 2 of the top 10 most endebted have filed for bankruptcy within the last 10-years. Are investors really aware of the kind of risk they are taking on for those beloved dividends? Read my article, "Blue Chips Owe Half a Trillion," for additional information.
Here's a link to my "5 Investor Alerts" article from the June 2015 ezine. If I were writing it this month, we'd have to add Puerto Rico, Greece, blue chips, banking and insurance to the problem areas as well.
Get defensive. Invest a little in the utilities and gold and oil companies that are trading at a good price. Dig into your bond portfolio and determine how much risk you are carrying. Learn about other safer investments that are yielding a great return on investment. There are some excellent, easy, safe places to put your money, where you are assured of having more assets and liquidity now and in the years to come.
While I wouldn't sell my positions short, I would be examining areas where I could take profits and move my money to safety. I would define safety as capital preservation, keeping only short-term, credit-worthy bonds and not sticking my neck out on high-yield for such a measly low single-digit return.
If you do have some funds or stocks that are not in the money, then you should ask yourself whether or not you believe they have potential going forward. Don't toss the baby out with the bath water, and don't be tempted to try and "market time" your way into profits because not one of the alerts I mentioned is a problem until it becomes a headline. And even then, Americans are so busy trying to rectify their own personal problems, so fatigued with the ongoing economic crises, and so befuddled about what's going on and what to do about it, that everyone seems to have hearing and vision loss. Today Wimbledon was trending as high on Google as the tragic and rattling event of Greece closing banks for the week.
These are sobering times. There is no room for blind faith. There is a great need for financial wisdom, particularly if you want to start getting ahead.
That's why I'm in business. Call 310-430-2397 if you are interested in learning the life math that we all should have received in high school.
Calling all HuffPost superfans!
Sign up for membership to become a founding member and help shape HuffPost's next chapter