For many in the market, just a few months ago it would have been hard to believe that Citigroup could be a safer bet than Goldman Sachs.
But the bond prices for the most profitable securities firm in Wall Street history, Bloomberg writes today, suggest that the market, following Fitch's revision of the bank's outlook yesterday, is worried about Goldman. The risk of criminal charges being filed against the bank and the damage to Goldman's brand, it seems, is already making its way into the market.
Goldman Sachs Group Inc. bond yields show the firm's credit is more hazardous than Citigroup Inc.'s for the first time since February 2009 as speculation grows legal and regulatory risks will depress its revenue.

Debt from the most profitable Wall Street firm yielded 2.73 percentage points more than Treasuries on average as of May 4, according to Bank of America Merrill Lynch indexes. That compares with a spread of 2.29 percentage points for Citigroup, which got a $45 billion bailout in 2008 and repaid $20 billion in December. At the end of March, Citigroup spreads were 0.45 percentage point wider than Goldman Sachs's.
Still, if the market is worried about the fallout from the SEC charging Goldman Sachs with civil fraud, it doesn't seem terribly concerned about who's running the bank. Over at Intrade, the online prediction market, bets from users suggest there's only a 30 percent chance that Blankfein will resign this year. (Intrade sells contracts that allow users to bet on certain events.)
Since last week's hearing in front of a Senate panel, Intrade prices for contracts on Blankfein's departure have plunged from 50 (a 50 percent chance of departure) to about 30. (See Intrade's chart below.)
What do you think? Will Blankfein be forced to leave?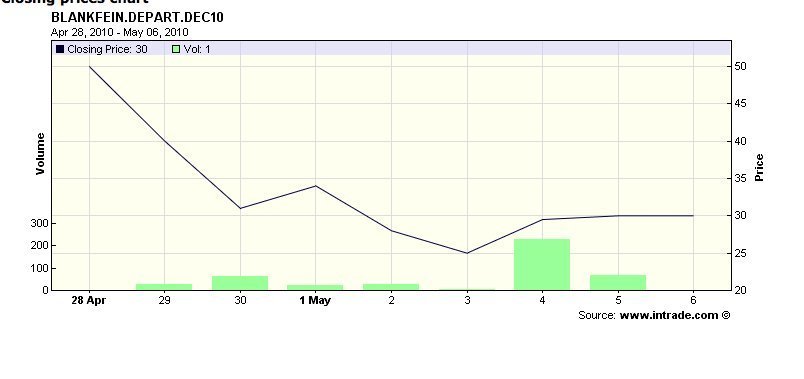 Related
Popular in the Community