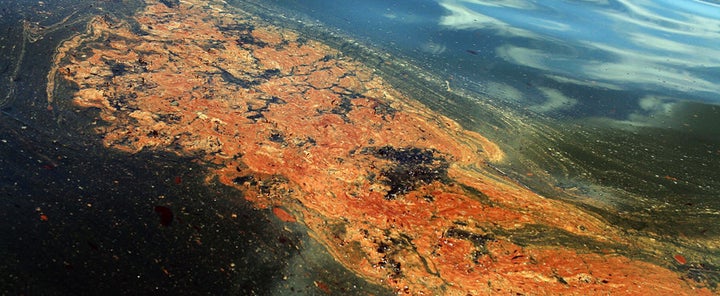 If BP really wants to "make things right" in the Gulf of Mexico, it should start by publicly accepting the latest federal estimate of oil spilled in the Gulf of Mexico, Rep. Ed Markey (D-Mass.) told the company in a letter on Wednesday.
"In light of BP's stated commitment to 'make things right,' the American public deserves to know whether BP plans on accepting the federal government's official flow-rate estimate for liability purposes," Markey wrote in the letter, "or whether it plans on litigating this number and low-balling the amount of oil that actually flowed into the Gulf."
BP -- and the federal government -- stuck to a 5,000-barrels-per-day flow estimate even well after video of the spill made a mockery of that figure. The federal estimates finally started to creep upward in late May, and last week settled on a flow of 62,000 barrels per day at the beginning of the spill, and 53,000 barrels just before it was capped.
"BP bears the black eye of the worst environmental disaster in our nation's history," Markey said in a statement. "It's high time BP own up to the true size of this oil spill once and for all."
It's not exactly a mystery why BP would want to low-ball the spill numbers. Minimizing its liability has been a key goal from the get-go, and explains a lot of the company's behavior, including its enthusiasm for the use of dispersants that have left much of the oil beneath the surface where it is harder to see and measure.
And in addition to clean-up costs -- for which BP has already pledged $20 billion -- the federal Clean Water Act allows the government to levy a fine of at least $1,100 per barrel of oil spilled -- and up to $4,300 per barrel if the company is found to be grossly negligent.
At 4.1 million barrels spilled (BP says it recovered 800,000 barrels directly from the wellhead), that adds up to somewhere between $4.5 billion and $17.6 billion in civil penalties. And as HuffPost noted last week, that's real money even for BP. For comparison's sake, $17.6 billion is more than the gross domestic product of half the countries in the world.
But now the pressure is on. "Oil may have stopped flowing from the well, but the suffering in the region continues," Markey said in his statement. "Low-balling or litigating the flow rate estimate would be just one more insult to the people of the Gulf."
*************************
Calling all HuffPost superfans!
Sign up for membership to become a founding member and help shape HuffPost's next chapter