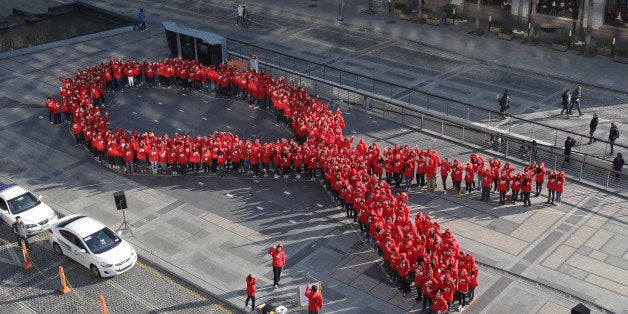 Thirty years ago, in an April 23, 1984 press conference in Washington, D.C., the world learned that American microbiologist Robert C. Gallo and his colleagues at the National Cancer Institute had proved that a retrovirus first seen by their counterparts at Institut Pasteur in Paris was the cause of AIDS.
Secretary of Health and Human Services Margaret Heckler also announced that day that the Gallo team had created a blood test to detect antibodies produced by the body to fight infection. With it we finally had the ability to know who was infected, to screen donated blood and to track the spread of the virus.
By the time of the announcement, 4,177 AIDS cases had been reported in the United States across 45 states. New York City alone accounted for more than 1,600 cases. San Francisco, far smaller than the nation's largest city and the East Coast's biggest gay mecca, had more than 500 cases. The majority of these cases were among gay men of all skin tones.
Although the HIV test was originally intended to screen the blood supply, it became available to the public in early 1985. After early uncertainty about what, exactly, a positive test meant, it became clear it meant that a microbial time-bomb was ticking inside you, set to explode at some unpredictable time in a nightmare that would eventually lead to your death from the cancers, dementia, brain infections and other horrors that attack a body when HIV has destroyed the immune system.
Fortunately, it has been nearly two decades since a positive HIV test meant an inevitable death sentence. I had to learn this myself after my doctor shocked me in 2005 with the news that I'd tested HIV-positive. I had no idea I was infected -- just like the startling number of people today who learn they are HIV-positive only after HIV has seriously damaged their immune system. The Centers for Disease Control and Prevention estimate that about 1.1 million people in the United States were living with HIV at the end of 2010, the most recent available figures. Of them, the CDC estimates that about 16 percent do not know they are infected. What's more, the centers say that fewer than 30 percent of those who know they are positive are adhering to their medical treatment -- the only way to keep the virus as close to 'in check' as it can be today and to reduce to nearly zero your infectiousness to others.
April 23 also marks another important anniversary in the HIV epidemic. It was 20 years ago -- April 23, 1994, the 10th anniversary of the Heckler press conference -- that a man described as "the father of the HIV prevention lobby in Washington" died from AIDS at age 34.
William A. Bailey, better known as Bill, was the reason I moved to Washington, D.C., after finishing journalism school in early 1986. We were a couple when Bill tested HIV-positive that year. We struggled together with the terror that was life with HIV in those days. To say it was tough is really an understatement.
With Bill's encouragement, I focused my reporting beginning in 1986 on the HIV epidemic and the drama unfolding in Washington as gay Americans mounted a political lobby with the aim of getting federal funding for what were largely volunteer community-based, volunteer care and support programs. For his part, Bill became a powerhouse lobbyist for the American Psychological Association -- advocating for the nation's mental health professionals to take a leading role in designing HIV prevention interventions aimed at those at greatest risk, which is to say gay and bisexual men.
As a co-chair of National Organizations Responding to AIDS (NORA), a Washington-based coalition of professional and trade groups interested in HIV/AIDS, Bill influenced and shaped important legislation with enormous impact on thousands of gay men's (and other Americans') lives. As a co-chair of the National Gay and Lesbian Task Force, he worked to make sure that gay men's needs didn't get shunted aside as the government focused on politically safe women and kids with AIDS while neglecting the largest single group of Americans affected by the epidemic.
Later in the spring of 1994, the American Psychological Association hosted Bill's memorial cocktail party in its impressive building on Capitol Hill. People were there from Congress, from the Centers for Disease Control and Prevention, from the National Institutes of Health and from every gay rights and HIV/AIDS organization in Washington. The APA created, and continues, the William A. Bailey Health and Behavior Congressional Fellowship to honor Bill's "tireless advocacy on behalf of psychological research, training and services related to HIV/AIDS."
Bill died only a year before life-saving combination medications became available. But it could never be said that Bill slipped quietly into that good night. He went out fighting, a proud gay man, unashamed to have had the misfortune of crossing paths with a particular microbe that many still believe is something shameful, a warrior.
The anniversaries marked on April 23 -- the 30th anniversary of the scientific discovery that unlocked the door to developing treatment for HIV and preventing new infections, the 20th anniversary of the passing of a key figure in gay America's heroic efforts to direct national prevention resources toward those most impacted by HIV -- will forever stand out in the history of the HIV pandemic, and, I would suggest, humanity.
I never tire of telling other gay men -- especially younger men -- about the proud legacy that men like Bill Bailey left us. But it's up to us to claim for ourselves the power of that legacy. Own it for yourself. Let it inspire healthy behavior. Believe you have a future worth living for because you can look to role models, like Bill, who faced some of the worst that nature and other human beings can throw at us -- and are still being remembered with gratitude two decades since departing this life.