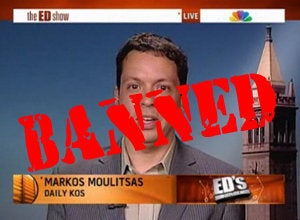 A Twitter feud between blogger Markos Moulitsas and MSNBC host Joe Scarborough has resulted in Moulitsa's temporarily being banned from the network.
The trouble started on May 29, when Moulitsas, who runs the Daily Kos blog, took offense at a series of tweets from Scarborough, who co-hosts "Morning Joe," about the news that the White House had offered a job to Congressman Joe Sestak in an attempt to dissuade him from running for Senate. Scarborough wrote that:
The Sestak story is as unbelievable a cover story as Nixon throwing little Checkers under the bus. A farce on it's face. Luckily for the White House, the media has been negligent on this story since Day 1. The press will let this laughable story slide.
This only escalated the Twitter war. Scarborough fired back, writing, "Unbelieveable. You have a long history of spreading lies suggesting I am a murderer. This is the 3rd or 4th time by my count." Moulitsas responded, "I've never suggested you're a murderer. I've noted media hypocrisy in going after [Congressman] Gary Condit [whose intern, Chandra Levy, was murdered in 2001]. But he was Dem. You aren't."
After I became aware of the ugly cheap shot you took at Joe on Twitter, I asked the teams to take a break from booking you on our shows for a while. I found the comments to be in poor taste, and utterly uncalled for in a civil discourse.

I'm hoping this will be only temporary and that the situation can be resolved in a mature fashion, but until then I just don't know how one could reasonably expect to be welcomed onto our network while publicly antagonizing one of our hosts at the same time.
On his blog, Moulitsas accused Griffin and MSNBC of catering to Scarborough because he is a conservative, saying that Scarborough "calls the shots" on the network. He also claimed to be "uncomfortable" on television, saying he would not miss his appearances too much.
"I don't recall the chief of MSNBC publicly banning Liz Cheney from appearing on the network when she cut an entire Web video 'publicly antagonizing' Keith Olbermann and Chris Matthews for allegedly being too frightened to debate her about terrorism," Sargent wrote. "See, conservatives are expected to demonize the media, and can always count on being granted a platform by the same major networks they hammer publicly on a regular basis. It's all part of the game, get it? But it seems Markos got publicly dressed down and banned by the president of the network, no less, all because he got under Scarborough's skin with a few nasty little Tweets."
Popular in the Community