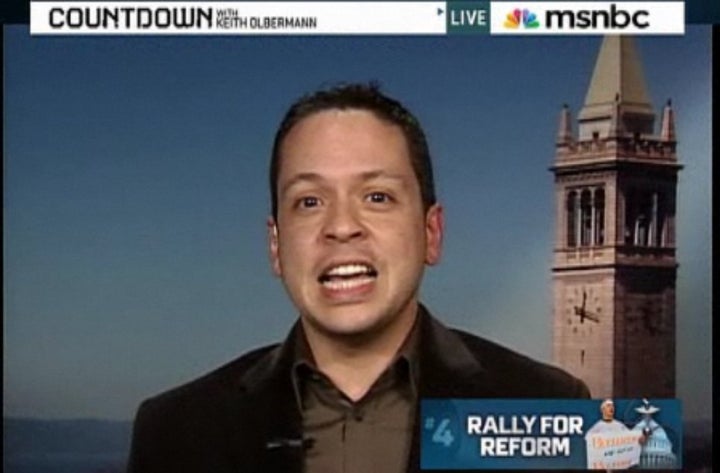 Daily Kos founder Markos Moulitsas warned on Tuesday night that if Rep. Dennis Kucinich (D-Ohio) plays a role in killing health care reform, a Democratic primary challenger would almost certainly await him in the next election.
In an appearance on MSNBC's Countdown with Keith Olbermann, Moulitsas conveyed pointed frustration with the Ohio Democrat's pledge to oppose reform on grounds that it doesn't go far enough. He said Kucinich was practicing a "very Ralph Nader-esque approach" to politics.
"The fact is this is a good first step and he is elected not to run for president, which he seems to do every four years," he said. "[Kucinich] is not elected to grandstand and to give us this ideal utopian society. He is elected to represent the people of his district and he is not representing the uninsured constituents in his district by pretending to take the high ground here."
Pressed by fill-in host Lawrence O'Donnell as to whether a Kucinich would get a Democratic challenger for his seat if he didn't support health care legislation -- and in the process kill it -- Moulitsas replied, "Yeah, absolutely."
"What he is doing is undermining this reform," he added. "He is making common cause with Republicans. And I think that is a perfect excuse and a rational one for a primary challenge."
Moulitsas's remarks illustrate a growing alarm among Democrats that a progressive lawmaker could prevent reform. Kucinich has stressed repeatedly that he will not support the bill as is because in his view it would fail to do enough to reform the private insurance industry. Of course, the congressman is not the only House Democrat opposing the legislation. Conservative Democrats have worried about its costs. Pro-life Democrats have questioned the abortion language. But the Ohio Democrat does appear to be the lone progressive in the caucus willing to follow through with a principled objection.
With respect to leveling electoral threats, Moulitsas has the capacity to draw funding and attention to individual races that can cause serious headaches -- even when it's a progressive being targeted.

Popular in the Community