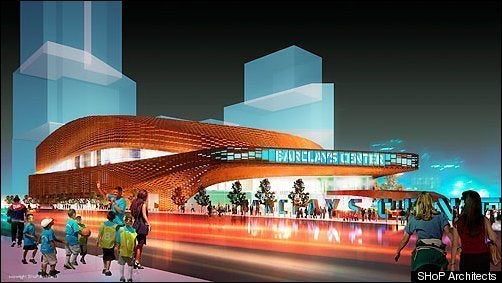 Even New Yorkers who've barely heard of Atlantic Yards, the Brooklyn mega-project with an under-construction arena for the basketball Nets plus 16 planned towers, know that it's been highly controversial since it was announced in December 2003.
(Why? Eminent domain based on dubious "blight," an arena encroaching on a residential neighborhood, significant government help and subsidies, and a process that bypassed local elected officials, just for a start.)
However, in lying blatantly to dismiss such division--"Brooklyn is 1000 percent behind Atlantic Yards"--Brooklyn Borough President Marty Markowitz has taken a quantum leap beyond his usual quota of boosterism.
Markowitz, who's endured jeers over the years for his fervent Atlantic Yards support, didn't make that claim in Brooklyn, or even in front of any American audience. Rather, he made it on a video aimed to recruit Chinese investors to the project, an effort that would save developer Forest City Ratner big bucks, perhaps $191 million.
Forest City Ratner is trying to raise $249 million from 498 millionaires (mostly Chinese, but a few Korean) seeking green cards for themselves and their families, under an obscure federal immigration program known as EB-5.
The investment is supposed to create jobs, which is dubious, and its promotion is riddled with deception, as I and Reuters have pointed out. A head of the New York City Regional Center (NYCRC), an investment pool working with Forest City, tried to deflect blame to foreign affiliates, an effort I called bogus.
The loyal Borough President
Markowitz, who backed out of a plan to accept a free trip from the NYCRC to China to boost the project, nevertheless appears multiple times in a video the regional center produced.
"Brooklyn is 1000 percent, 1000 percent behind Atlantic Yards," he claims, concluding, with his typical shtick, that "there's nothing better than China and Brooklyn together." (Here's audio of his additional statements.)
Markowitz knows Brooklyn's not close to "1000 percent behind Atlantic Yards." Did he really think no one would notice such a claim, or his chumminess (left) with developer Bruce Ratner?
Note that the version shown here is subtitled in Korean. Forest City Ratner and the New York City Regional Center have sought 498 investors, 40 from South Korea. The original video, produced by the NYCRC, was made available by a South Korean video-sharing site.
Calling all HuffPost superfans!
Sign up for membership to become a founding member and help shape HuffPost's next chapter