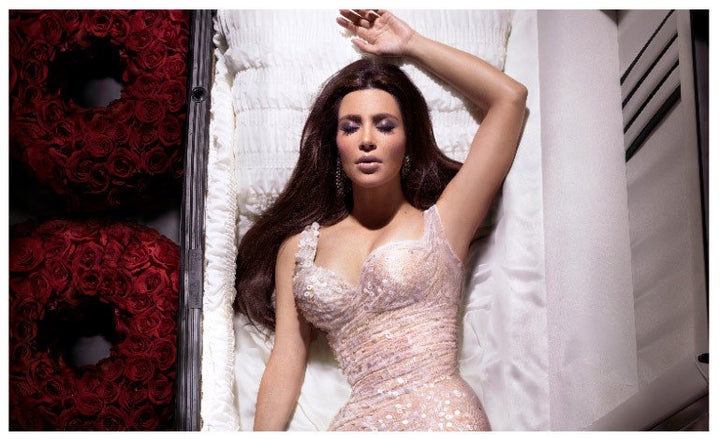 After Kim Kardashian posed nude for Playboy, Harper's Bazaar and W Magazine, we thought there was nothing left the camera-hungry celeb could do to shock us. Yet upon seeing the reality star in the Digital Dead series shot by photography duo Markus + Indrani, we have to say we were taken aback by her composure.
Markus Klinko, an ex-harpist, and Indrani Pal-Chaudhuri, an ex-model, teamed up to create glossy photos with an artful eye. For the unconventional shoot, the duo asked celebrities like Serena Williams and celebrity photographer David LaChapelle to face their own mortality -- or at least fake it -- for a coffin photography project. The grim setting was part of the Digital Death campaign, a project to raise awareness for Alicia Keys' charity "Keep A Child Alive," which provides care and support to families affected by HIV/AIDS in Africa and India. The photographs, equal parts glamorous and macabre, are now being featured in "Icons: The Celebrity Exposures of Markus and Indrani," a photography book that showcases the symbiotic relationship between image and power.
With clients including David Bowie, Lady Gaga and Beyonce, the passionate duo aims not to make celebrities seem "just like us," but to revel in the bizarre, iconic status that they've acquired through the paparazzi's lens. Indrani says on her website: "In a world where authenticity is an autograph and reality a genre of TV, our images provide society a mirror to reflect upon its ideals and devotions." You can see the results in "Icons," a collection that doesn't merely create art featuring celebrities but turns celebrities into living works of art.
Do you think celebrities have a place in fine art? Let us know your thoughts in the comments section below.
Calling all HuffPost superfans!
Sign up for membership to become a founding member and help shape HuffPost's next chapter
BEFORE YOU GO