*Scroll down for the full slideshow of images
In 2007, we launched on this site a column called Lets' Bring Back -- which has, over the past three years, celebrated hundreds of forgotten-yet-delightful fashions, pastimes, objects, and personalities.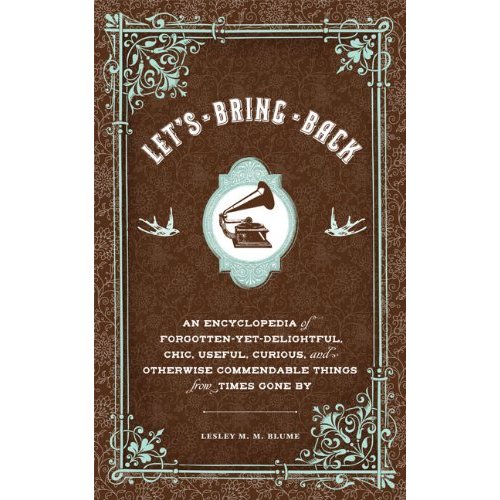 Over the next ten days, you will become reacquainted with some of the twentieth century's seminal tastemakers, designers, and muses -- many of whom are now unjustly fading from public memory. Once you've spent some time with them, you'll agree that each of these women deserves to remain in the limelight.
After all, fashion is fleeting, but true style glimmers forever.
Today's subject, actress Marlene Dietrich, is one of my personal heroines. The epitome of Old Hollywood glamour, Dietrich also exuded sex appeal - and yet never veered into crassness. Mystery and subtext were Dietrich's forms of currency; today's bare-all stars could take a lesson or two from her.
Read on, and make sure to see the slideshow below.
The following excerpt is from Let's Bring Back (Chronicle Books, November 1):
MARLENE DIETRICH (1901 - 1992)
When Marlene Dietrich died at age 90, the headline of her New York Times obituary decreed her a "Symbol of Glamour."
"Dietrich artfully projected cool sophistication, self-mockery, and infinite experience," said the article. "Her sexuality was audacious, her wit was insolent and her manner was ageless. With a world-weary charm and a diaphanous gown showing off her celebrated legs, she was the quintessential cabaret entertainer of Weimar-era Germany."
Dietrich's infamous role as Lola-Lola in iconic German film The Blue Angel (1930) made her an international star. Yet she shed none of her risqué sexiness as she became a household name: rather, she brought it along with her, and helped pioneer Victor-Victoria chic, often donning tails and a top hat in her films and on stage.
"She has sex but no positive gender," critic Kenneth Tynan once wrote. "Her masculinity appeals to women and her sexuality to men."
Yet Dietrich's bravest and most defining moments had little to do with shimmering costumes or red carpet posturing. When the Nazis rose to power in her native Germany, Dietrich became an early and outspoken opponent of Nazism. Hitler reportedly offered her a "blank check" to return to Berlin and reign as an icon of German cinema. When she rejected the offer and applied for American citizenship, her films were banned in Germany.
She officially became an American in 1939, and during World War II entertained half a million Allied troops and war prisoners across North Africa and Western Europe. The United States eventually awarded her the Medal of Freedom.
All of these facts are well-known. What is less-known about Dietrich is that she was also a wonderful, witty, sage writer. In 1962, she published a now-forgotten book called Marlene Dietrich's ABC. In this tome, Dietrich offers her thoughts on a wide array of topics, from the best recipe for beef broth (her personal variety was served with gusto to her many paramours) to the meaning of true love.
What follows are some of the loveliest excerpts, which reveal a woman who was at once the emblem of glamour and the most humble of mensches.
ON TENDERNESS
"Tenderness is greater proof of love than the most passionate of vows."
ON BEST-DRESSED LISTS
"Best Dressed list[s are] reserved for the rich, those who can afford to buy from the great designers, who have time for endless fittings, and then can be seen wearing these creations in the right surroundings."
ON BOOKS
"You do not love a book necessarily because it teaches you something. You love it because you find affirmation of your thoughts or sanctions."
ON FASHION
"Don't follow it blindly into every dark alley. Always remember that you are not a model or mannequin for which the fashion is created."
ON GRUMBLING
"Grumbling is the death of love."
ON HAPPINESS
"I do not think that we have a 'right' to happiness. If happiness happens, say thanks."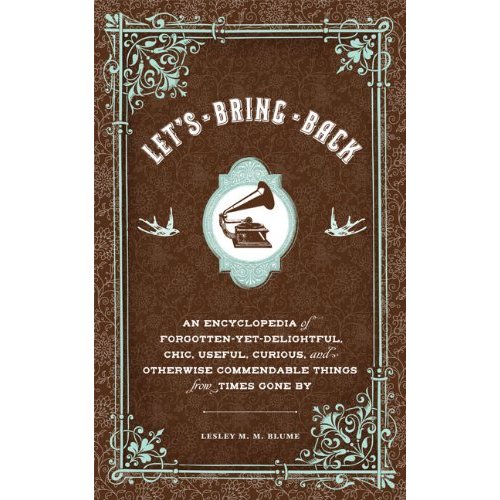 Follow Let's Bring Back on Twitter: @LetsBringBack
For publicity inquiries, please contact April Whitney at Chronicle Books: April_Whitney@chroniclebooks.com

Related