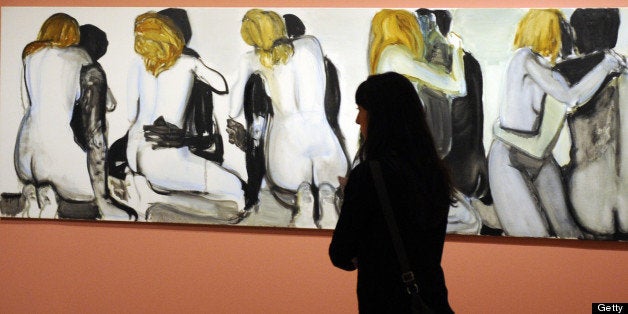 In honor of Marlene Dumas' birthday, we are revisiting a post originally published last year honoring the artist's life and work.
Today is the birthday of South African artist Marlene Dumas. The painter, who is known for her rough-edged nude figures and distorted depictions of the life cycle, is turning 59 years old today.
Dumas stands out as one of the most successful contemporary female artists to date, and her reach has expanded across the globe. She now sells pieces at auction for record-breaking prices. This summer, her is being shown as part of "This Will Have Been: Art, Love & Politics in the 1980s," an exhibit on display at the Walker Art Center in Minneapolis. But it wasn't always so easy for the South African artist. "Black Drawings," 1991-92
In 1953, Dumas was born in Cape Town during the apartheid era. As a result, the Afrikaan-speaking Dumas, who demonstrated an early interest in photographs and cartoons, grew up in an environment that lacked an open, unregulated art culture. She only began to formally study painting at the city's university during the 1970s, drawn to various methods of representing the human form.
It wasn't until 1976 that Dumas was able to fully experience the global art world. That year, the artist won a two-year scholarship to a small art school in Amsterdam that favored conceptual art. Her early work there consisted of abstract paintings and collage, veering far from oil painting, a medium heavily associated with the great Dutch masters. But her fascination with photographic forms, particularly the work of Diane Arbus, never left Dumas, and in 1984 she turned away from conceptual studies and instead toward the traditional style of figure painting.
PHOTO GALLERY
Happy Birthday Marlene Dumas!
It was at this point that Dumas truly began her prolific career, producing her famous oil and watercolor portraits and nudes. While she made a decision to embrace the conventional methods of figure painting, the content of her work revolves around unconventional themes of sexual exploration and social identity. She depicts an array of subjects including terrorists, family members, and victims of physical violence, some equipped with the faces of menacing babies -- others with the bodies of zombie brides. Weighed down by layers of neutral paint and contained by harshly drawn lines, the artist creates visions of death and life that carry a surreal uneasiness.
Dumas' focus on photography has persisted throughout her career, as she still draws inspiration from her personal catalogue of snapshots and Polaroids. Treating the canvas like a camera frame, she crops her images and adjusts their color palettes, creating new interpretations of the original source. Healthy subjects are transformed into figures on the verge of death as the artist emphasizes the psychological aspects that transcend the physical realities of her nudes and portraits.
So in honor of Marlene Dumas' birthday, raise your glass to the painter as she turns 59 today. If you can't make it to Minneapolis to see her work, check out the slideshow of Dumas' work below.
REAL LIFE. REAL NEWS. REAL VOICES.
Help us tell more of the stories that matter from voices that too often remain unheard.