Marlene Pinnock, the 51-year-old great-grandmother seen in a video being punched by a California Highway Patrol officer, has settled her case against the agency.
The July 1 video recorded by a passerby along the I-10 on-ramp near La Brea Avenue in Los Angeles shows Pinnock attempting to walk away from Andrew.
"He grabbed me, he threw me down, he started beating me, he beat me," Pinnock said when when later describing the incident to the AP. "I felt like he was trying to kill me, beat me to death."
"When this incident occurred, I promised that I would look into it and vowed a swift resolution," CHP Commissioner Joe Farrow said in a statement cited by KTLA. "Today, we have worked constructively to reach a settlement agreement that is satisfactory to all parties involved."
Farrow added that the agreement "establishes a special needs trust for Ms. Pinnock to provide a mechanism for her long-term care."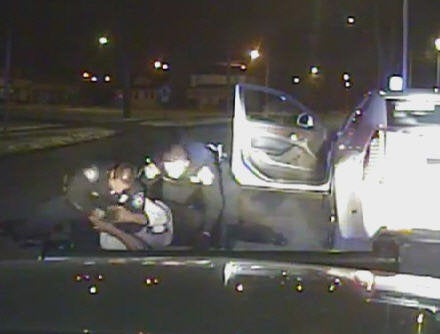 Police Brutality Incidents