If you're in the natural hair game, you may have heard that the companies behind various Marley hair brands - brands that have quite fab hair I might add - will have to change their names because the Marley family didn't endorse the creation of said fab hair brands. A Google search doesn't yield much to this mysterious story except for a small amount of social media chatter. As I dig for details, suffice it to say that Bob Marley's children are not playing, and the likelihood that the clan has sent at least a cease and desist letter to the several hair companies that have "Marley" in the name is probably in the neighborhood of the truth.
The Marley children, through their company Fifty-Six Hope Road ("Hope Road"), are fiercely protecting their ownership of the property right to Bob Marley's name, voice and likeness. The company is also exercising their right to make money using the name Marley and licensed Zion Rootswear to put Marley's name and likeness on t-shirts. Oh, if it could all be so simple. When Hope Road tried to enter into a merchandising deal with Walmart and Target, it was discovered that A.V.E.L.A. had already beat Marley's children to the Jamaican punch. T-shirts and other merchandise bearing Marley's image, had climbed up the cultural ladder to racks prominently placed in Target and Walmart. Hope Road then sued A.V.E.L.A. and won $2 million. After a long legal appeals battle that began in Nevada, the legal journey came to an end after 4 years in 2015 with the Marleys as the victor.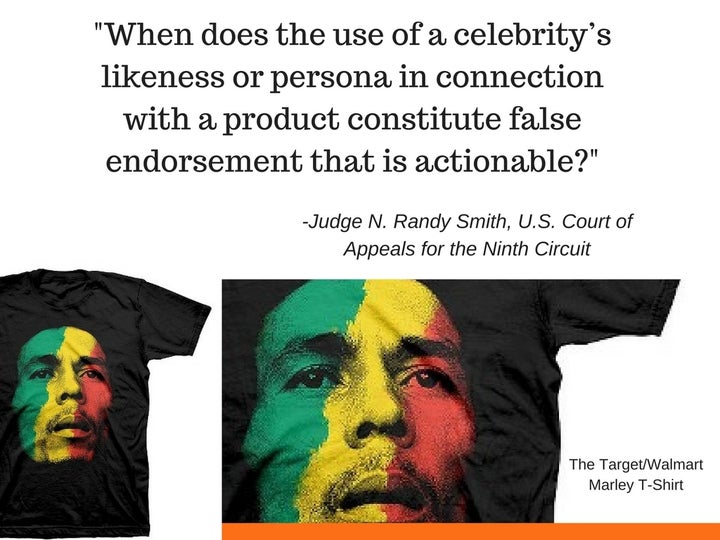 Judge N. Randy Smith of the U.S. Court of Appeals for the 9th Circuit noted "This case presents a question that is familiar in our circuit: when does the use of a celebrity's likeness or persona in connection with a product constitute false endorsement that is actionable." Apparently, this use qualified. One factor that led to the Marley estate winning the case was a shopping mall survey. Some 509 people were shown an A.V.E.L.A. Marley shirt and asked "Who do you think gave their permission or approval for this particular T-shirt to be made or put out?" Thirty-seven percent said 'yeah mon', it was approved by the Marley family.

Hope Road has not stopped there. They are plaintiffs in several cases defending the Marley brand, making sure it's not exploited. Protecting brands is a billion dollar industry and if you are entrenched in the natural hair game, whether you are a vlogger or a major hair care line, must know about intellectual property to win the game. Trademarks. Copyrights. Patents. If you consider yourself a brand, then a legal consultation about these terms is in order - and not a consultation found on YouTube.
Guess what? Hope Road has yet to get into the market of creating packs of fake hair for women and men who want to sport a look that resembles that of the committed Rastafari. This legacy of Bob Marley represents a much bigger cultural picture, one that contains intellectual and emotional messages about him. Protecting messages and the good will of a brand is how brands survive.
Bottom line? Any company with the name Marley in it - beware: if you don't have an agreement with Hope Road, all hope for your Marley brand is probably lost.
Candace Kelley is Multi-Media, Emmy-nominated Reporter, Writer & Producer and Professor of Television at Rowan University. Visit www.candacekelley.com
Take Note: At the time this article was published, Run-DMC announced that they filed a lawsuit to protect their brand. The group is accusing Amazon.com, Inc. and Wal-Mart Stores, Inc. of selling clothing and accessories that bear the RUN-DMC name. They are suing for $50 Million.
Popular in the Community