Marnie Weber has worked in just about every medium, from photography and video to performance-based art and installation. But while the LA-based artist's unique brand of sculpture, collage, and assemblage might appear to be redefining multimedia, it's part of an ever-evolving tradition that defines California art, rising above an already-transcendent discipline that is by definition not one medium, but many.
The daughter of an art scholar, Weber spent her early childhood in Connecticut before her father received a grant to research art in Asia. Her family spent a year traveling across the massive continent before its patriarch accepted a post at the University of Southern California. Without having the chance to return "home" to New England, Weber moved to LA at the age of ten, and in many ways, her work reflects a semi-romanticized nostalgia for the Northeast woodlands, as well as a haunting isolation resulting from her abrupt relocation to California.
"I think the sense of longing and sentimentality came from being uprooted from all my friends and my home," says Weber. Accordingly, her idyllic, hyper-real dreamscapes are tinged with slightly disturbing, carnivalesque imagery, with doll-like, sculptural visages juxtaposed against bucolic backdrops. While she manipulates perspective, proportion, and form, Weber also poetically unifies elements that appear to be initially irreconcilable, just as assemblage synthesizes seemingly disparate components into entirely new compositions.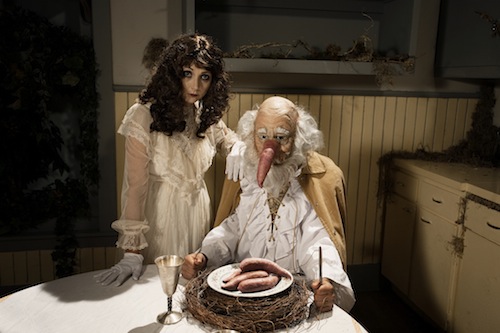 In many ways, Weber represents the logical continuation of the California assemblage tradition, having studied under legendary artist George Herms at UCLA. Weber welcomes the assemblage connection, recalling her introduction to the art form after seeing Ed Kienholtz's Back Seat Dodge '38, now a part of LACMA's permanent collection. "It was perhaps one of my major inspirations to becoming an artist," she recalls of the large-scale mix of sculpture, collage, and assemblage. "The piece really was unlike any artwork I had seen, and I think it was the lack of boundaries which was so thrilling to me."
Weber's own work is as much a mélange of various art forms as it is evidence of a cutting-edge genre, and as is the case with her antecedents, emblematic of her environment as well. Working primarily with costumes, masks, and sets, she repurposes artifacts of the movie industry into a type of meta-tableaux vivant, or what she describes as suspended moments on a fabled stage set. "I try to use my costumes as stand-ins for actors [and] the films as stand-ins for landscapes," she says. "The sculptures are like subconscious equivalents of props."
Likewise, Weber describes her own creative process as a kind of "subconscious scavenger hunt," yielding a visual representation of her innermost fears and fantasies. "I equate it to a dream," she says. "Later on, you can analyze it and interpret it, but on the surface, it really comes across as a visual disjointed narrative."
The artist aims to present her dream-like reality with formal considerations, and her self-referential (and self-realizational) execution often has unforeseen results: "A lot of times, I'm really surprised at what comes out was completely unexpected," she says. "My subconscious was perhaps indicating something which I hadn't really anticipated."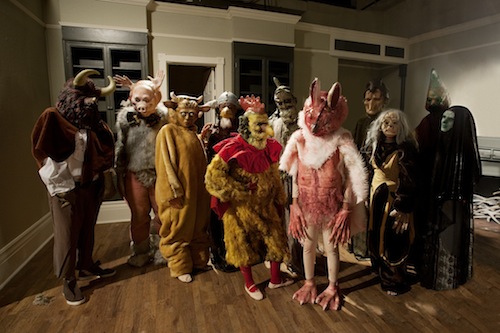 The boundless nature of assemblage allows for further exploration of the psyche, and according to Weber, it's this sense of limitless possibility that is part of California's ideology as well. "I know there's been a lot that's been said about the light and weather," she says. "For me, it's more about the freedom. There is something spontaneous about being able to go into a costume shop and walk out with, say, a pair of bunny ears, a fake meat cleaver, plastic trailer-park teeth, red fishnet tights, and a blond pigtailed wig which creates a juxtaposition that otherwise wouldn't exist. It immediately sets up a narrative that wouldn't spontaneously occur if I were working in Santa Fe buying things on the Internet."
As much a product of California art as one of its creators, Weber continues to draw inspiration from the region's lifestyle, imagination, and sense of limitless possibility. "I think Los Angeles has a lot to do with the freedom to step aside and let the subconscious do its work," she says. "The real world doesn't quite exist so strongly here; there is this sense that you never have to grow up and join the real world. If I had to grow up, I wouldn't be an artist."
Marnie Weber's most recent art project, Eternity Forever, features a film screening and exhibit of her collages at Mountain View Cemetery and Mausoleum (2300 N Marengo Ave, Altadena, CA 91001). It's presented by West of Rome Public Art, an LA-based nonprofit arts organization that focuses on projects, exhibits, and public interventions that foster creative dialogue within the community. Eternity Forever opens Thursday, November 11 (7-10pm), and is on view November 13 - December 20, (Saturdays-Mondays, 11:30am-3:30pm). Tickets to the opening-night performance are $12; the exhibit is free. For more information on Marnie Weber's Eternity Forever, visit Flavorpill LA.