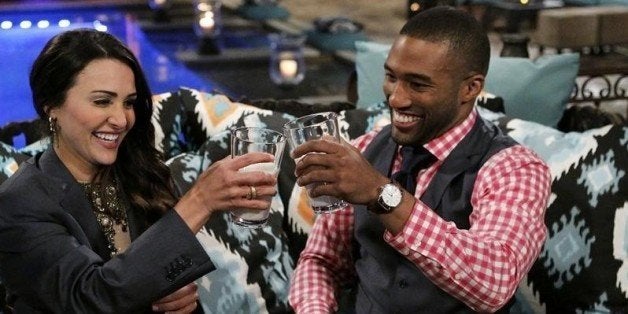 Welcome back to the wonderful world of white wine tears, roses, grammatical incorrectness and two-month journeys toward engagement. That's right, "The Bachelorette," has returned -- this time with Andi Dorfman, the badass Assistant District Attorney who shut down Juan Pablo, at its helm. This season, we'll be recapping the highlights of each episode.
"The Bachelorette" isn't a reality show known for confronting reality.
With a few notable exceptions, the franchise exists in a world where the political, social, racial and economic dynamics of American society magically disappear (or rather, are ignored) for a few love metaphor-heavy months. But after 12 years of whitewashed "Bachelor" and "Bachelorette" casts, not only did contestant Marquel Martin make it past the first two episodes -- sadly, a feat in itself -- but he delivered a thoughtful monologue about what it's like to be a man of color.
In the fifth episode's group date, JJ "Pantsapreneur" O'Brien tells Marquel that during the first rose ceremony of the season, Andrew leaned over to him and said: "Oh, she gave it to the two blackies." (Or "black guys," he wasn't quite sure of the wording.) Understandably, Marquel was upset and offended, and last night JJ even tweeted the below photo as proof that the interaction had taken place:
But what was far more interesting than whether or not Andrew made tokenizing and/or racist comments, was Marquel's emotional reaction. He expressed a simple truth that exposed why it's so damaging to see nearly all-white faces year after year on "The Bachelorette" -- and across much of mainstream pop culture.
"It's crazy to think that the first thing people are gonna recognize about me is 'Ok, he's a black guy.' And that's the reality of it," Marquel says to the camera. "It's not like, 'Hey, that dude's a good dude, he was respectful, I'm sure he was raised right, I'm sure he has strong beliefs.' It would be nice to not be seen as just, 'Hey, this is the black guy.'" (Watch below.)
Tokenizing people of color certainly isn't an issue unique to "The Bachelor" and "The Bachelorette," but the franchise has a very obvious race issue. The shows have come under fire in recent years for not only ignoring the complexities of race, but never having a person of color in the title role and rarely having contestants of color make it into the latter part of the season, when audiences actually start to get attached to individual players. A class-action lawsuit, alleging racial discrimination, was even filed against "The Bachelor" in 2012.
All of this makes Marquel's aired commentary feel like ABC's tacit acknowledgment of their own subtle racism. Because the truth is that if there were more men of all colors on "The Bachelorette," Marquel and Ron wouldn't have been "the black guys." (If Andrew did in fact use the term "blackie," that deserves its own rage-inducing thinkpiece.)
Not only does having a more diverse cast make for far more interesting television, but the outpouring of social media love for Marquel over the last few episodes proves that a man of color as "The Bachelor" is pretty damn marketable. (Especially a man who is charming, smart, well-dressed, attractive and chock full of sweet platitudes about love.)
Even former Bachelor Sean Lowe is on board:
Marquel's minute-long on-camera interview and a Twitter campaign to make him the next Bachelor won't do away with deep-seated racial prejudice -- not even close. But visibility is a powerful thing. So for now, I'll celebrate a baby step in the right direction, and continue wishing that Marquel, his honesty and his fabulous socks/shirts/ties had made it to episode 6.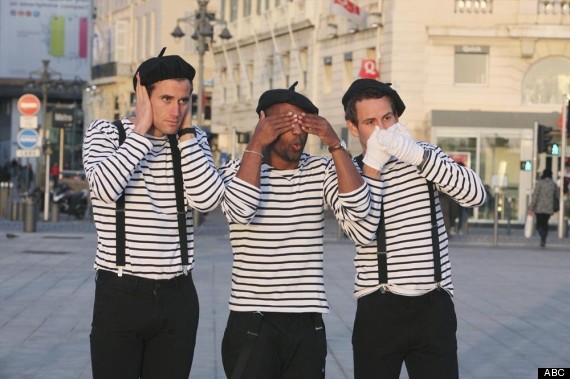 Just look at that adorable-ness.
And The Final Rose Goes To...
SAFE: Josh, JJ and Brian already had roses. Marcus, Nick, Chris, Dylan... and beefcake Cody.
ELIMINATED: Marquel (tragedy!), Andrew and Patrick (who?)
Next Week, In Venice...
Venice! Cody gets a one-on-one! Most romantic city! Gondolas! Masks! Making out! Nick is falling in love! It works! Lie detector test! Josh wears a scarf! True colors! Playing games! Andi tears! Andi was so wrong! Andi can't take someone next week!
The Best Tweets About This Week's "Bachelorette"
Related
Popular in the Community