You need only look in the hotel guest books to see that the so-called Red City has always drawn an artistic crowd. From Doris Day and Gary Cooper to Kate Moss and Yves Saint Laurent, the movers and shakers of past generations and today have gravitated to the Moroccan city that seems to have a limitless reserve of color and light. Marrakech's appeal comes from the fact that it's both a theater of life a thousand years old and an apex of modern style.
"Moroccan design is defined by strong architectural shapes, saturated colors, and complex patterns," says hotelier Maryam Montague who is the author of new coffee table book Marrakech By Design (to be released by Artisan Books in May 2012). "But the Marrakech spin freshens and modernizes the aesthetic and makes it more useable and accessible."
To get the scoop on what makes Marrakech so exciting now, Indagare reached out to insiders in the fields of fashion, design and culinaria. Their tips and picks will surely inspire a new wave of travelers to Marrakech and beyond.
Here are some highlights. To read the complete interviews visit Indagare: Marrakech Now.
What are your favorite Marrakech restaurants?
For a big night out, I head to Djellabar, DJ Claude Challe's new bar and restaurant, which is best on weekends. For a hip scene, I recommend going to the bar at Bab Hotel in Gueliz, on Friday nights, for mini burgers. If visitors are looking for local cuisine, the Moroccan restaurant in Mamounia is expensive but the best Moroccan cuisine I have ever had. For a better deal, Dar Moha is run by a great chef who knows how to reinterpret Moroccan cuisine, adding modern touches. ~Yehia Abdelnour, co-owner of cool new concept boutique 33 Rue Majorelle

What is your favorite Marrakech "secret"?
Flower Power Café is an organic café that serves freshly-made salads, sandwiches, and baked treats. Best of all, it's located in an enormous and beautiful plant nursery. Whenever I'm there, I feel like I'm in a little jungle oasis. ~Maryam Montague, owner of Peacock Gardens and author of Marrakech by Design

What are your favorite Marrakech dining rituals?
In Marrakech, my first night's meal is usually at La Maison Arabe, but the second night I hit Djemma el Fna for dinner on the square -- a bowl of snails with broth or some harira (an herb-laced tomato soup) and then to a stall called Hassan #31 for spicy grilled merguez lamb sausages eaten with disks of bread. I love sitting at the crowded stainless steel counter among the billowing smoke as the action of the square swirls around. When I can, I try to have an afternoon snack of bread fresh from the oven, some bold salt-cured black olives and a glass of sweet mint tea. This is especially the case when I am in the Berber-dominated Atlas. In winter, I ask for other fresh herbs to be added to the mint -- marjoram, sage, and verbena. Divine! ~Jeff Koehler, author of Morocco: A Culinary Journey with Recipes

What should no visitor to Marrakech miss?
The Majorelle Gardens really are lovely. And the concept store across the street, 33 Rue Majorelle is a must for some more unique artisanal finds. This sounds totally corny, but a sunset ride in a horse-drawn carriage around the city and through Djemma El Fna is really fun. We lived here for almost six years before trying one and did recently with my mother and our two-year-old daughter. All of us were enamored.
~Caitlin and Samuel Dowe-Sandes, designers and owners of Popham Design, a Moroccan tile company.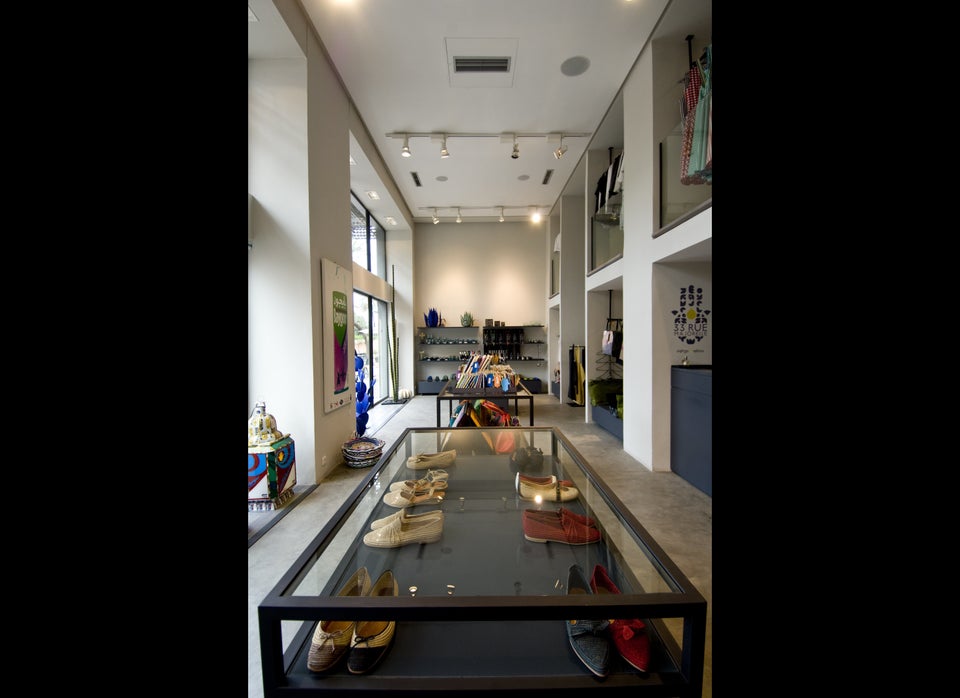 Marrakech Style
Related