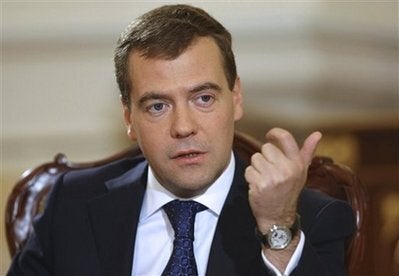 co-authored by Matt Rojansky The relationship between Washington and Moscow has sometimes resembled a hot-and-cold romance over the past ten years. In 2001, when then-President Bush looked into the soul of Vladimir Putin at their first summit meeting in Slovenia, the two countries seemed headed for a period of unprecedented trust and cooperation. In spite of this, the relationship soon stumbled over Iraq, missile defense, and NATO expansion, reaching a low point during Bush's second term punctuated by mutual recriminations and thinly veiled threats.
With the Obama administration now in office, many are hoping for an improvement in US-Russian relations. This hope was initially challenged only a day after Obama's election victory last year, when Russian President Dimitry Medvedev announced plans to place short range Iskander missiles in Kaliningrad, just a few miles from the Polish border. But Putin and Medvedev both quickly backpedaled, warming to the new Administration as a potential "partner," and apparently putting the missile deployment on hold. When Vice President Joe Biden asked for a fresh start with Russia, the Kremlin offered Russian help getting supplies to US and coalition forces in Afghanistan. (This, of course, came at the same time that Moscow was pressuring Kyrgyzstan to close the US air base in that country, which provided the best alternative supply route into the region.)
Even if US-Russian relations improve, conflicts of interests between the two countries are still likely to exist. A top foreign policy objective of the Kremlin appears to be securing a "sphere of influence" around its borders, and it continues to apply political, economic and military power to lay claim to this privileged space and to keep the U.S. at bay. Moscow's repression of domestic political dissent, and its heavy handed tactics in Russia's economy are also cause for concern. Nevertheless, the Obama Administration is right to pursue renewed cooperation based on identifying and pursuing mutual interests.
Repairing the US-Russia relationship will pay significant dividends for both countries. To get there, however, far more needs to be done on both sides. Our organization, Partnership for a Secure America (PSA), has released a bipartisan policy roadmap to suggest some of these steps. Among the recommendations are:
• Emphasizing the importance of the NATO-Russia Council and inviting Russia to participate fully in a collective security strategy, beginning with peace and stability for Afghanistan; • Engaging in discussions aimed at securing Russian cooperation to establish effective defenses against missile attacks for Europe while providing Russia with security assurances; • Encouraging Russia to take a leadership role in multilateral negotiations with Iran to stop uranium enrichment; • Advancing the US-Russia dialogue on arms control and non-proliferation, and working to extend or replace the Strategic Arms Reduction Treaty (START), which could be followed by another stage of verified nuclear disarmament; • Reiterating U.S. support for Russia's WTO candidacy, calling on Congress to repeal the "Jackson-Vanik" trade sanctions, and encouraging other member states to offer Russia a clear path to membership based on its commitment to the WTO Charter; and • Expanding the US-Russia dialogue on energy and climate change, to include seeking common ground on environmental concerns and new oil and gas pipelines to guarantee reliable energy supplies for the entire North Atlantic region.
(The complete text of the statement and the full signatory list is available on PSA's website.)
Clearly, this is neither a detailed policy prescription nor an exhaustive list of all possible high level initiatives the Obama Administration could pursue with Russia. What these ideas offer, however, is a path towards improving levels of collaboration.
As new leaders, Presidents Obama and Medvedev have an invaluable opportunity to reestablish trust and work toward a stronger partnership based on shared interests. This should be a top priority for the President as well as for Democrats and Republicans in Congress. As difficult as the issues dividing the United States and Russia may seem, there is too much at stake to miss this opportunity for reconciliation. Divorce is not an option, so we must all work to make this relationship as strong as it can be. Jamie Metzl is Co-Chairman of the Board of Partnership for a Secure America. Matt Rojansky is the organization's Executive Director.
Calling all HuffPost superfans!
Sign up for membership to become a founding member and help shape HuffPost's next chapter