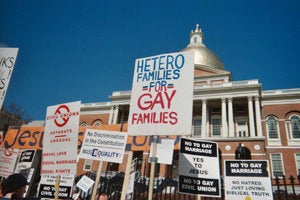 As the Golden State saw record, 60-percent voter turnout, Barack Obama inspired ethnic and minority voters like never before -- with many of them voting for the first time in their lives. But here's the catch: while voting for Obama, many of these folks also voted for Prop 8.
Communities of color, who voted in historic numbers, make up over one-third of all California voters (and a majority of the state's population). Since Prop 8 passed by only 4 points, "yes" votes from the African American community and, to a lesser extent, from the Latino community made a huge impact.
Marriage should be sacred, not a political prop. We need to put another initiative on the ballot -- this time to undo Prop 8.
At the same time, the cup is definitely half full. The Golden State -- and the country as a whole -- has been gradually warming to marriage equality. In 2000, 61 percent of Californians voted against same-sex marriage, when they approved Prop 22 (which the California Supreme Court struck down last May). Eight years later, only 52 percent voted against marriage equality: a refreshing, nine-point drop. This trend line gives ample cause for hope.
As we await our country's first African American President, we must all unite by speaking out for tolerance and understanding.
We have our work cut out for us.
Calling all HuffPost superfans!
Sign up for membership to become a founding member and help shape HuffPost's next chapter