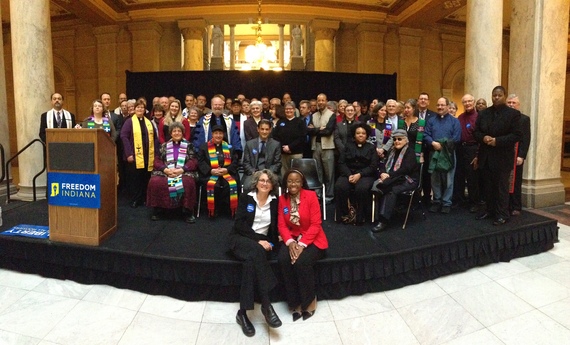 Certain folk in Indiana have breathed new life into their decades-long attempt to amend the state's Constitution with HJR-3. Not only has the bill number changed -- but it has become increasingly discriminatory by defining marriage as between one man and one woman -- and not recognizing any legal status identical or substantially similar to marriage.
(FYI the faith leaders above belong to over 18 denominations and communities that affirm and bless same sex marriage or civil unions).
Originally passed in 2011, the bill needs a second passage in the same wording before it becomes a ballot issue. In 2013, after enormous pushback from faith leaders and corporations, along with research from medical students, (Marriage Equality for Public Health) and with longtime GLBT grassroots organizations, Speaker of the House Brian Bosma announced in February of 2013 HJR-6 wouldn't be introduced.
The pervasive shift against this bill continued throughout 2013. Public testimony has grown exponentially along with major corporations, universities and an entire coalition (Freedom Indiana) adding resources to the longstanding entities, such as Tri-State Alliance from Evansville pictured below) and the PFLAGS against HJR-3. Poll results are shifting to not amend the Constitution.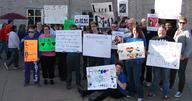 Even though Indiana has a statute prohibiting same-sex marriage, what hasn't changed is the fixation of those in power to pursue the bill in 2014. Attorney General Zoeller, Governor Pence, and Speaker of the House Bosma have dug in their heels promoting HJR-3. That's the hubris. How far will they go to push their personal views into the Constitution? It seems they are willing to alter the legislative committee process.
On January 13th, the House Judiciary Committee listened to public testimony before their scheduled vote to either send the bill through or let it die. After four hours of testimony they didn't vote -- they adjourned.
During the past week, numerous reports have surfaced that Bosma is ready to replace members of the Committee to insure the vote is what he wants -- passage of the bill. According to the Northwest Indiana Timesarticle: "Our rules clearly provide for it," Bosma said. "Members serve at the pleasure of the speaker." Do a google search of HJR-3, and Bosma depicts the enormous attention to this issue.
The ensuing media blitz highlighting this proposed change of committee members mid-session has increased the fear and emotional state of many Hoosiers. Indiana Code defines the timetable to record committee members after the start of each session. Yes, the Speaker has the power to replace members who resign or are removed. But the power to remove members mid session with no cause, after the committee has already convened and heard public testimony?
Moreover, the rule seems to be one of those unwritten ones: None of the media stories cite the source. When asked , reporters, lobbyists and some legislators aren't sure. It seems to be acceptable -- the Speaker of the House can do what he wills. That in itself shows his power. Whether there is a rule or a new one is being written, when it comes to HJR-3 what is often said by some politicians doesn't match actions.
Before the landmark June SCOTUS decision on Windsor (DOMA) and Hollingsworth (Prop 8), Governor Pence issued a statement conveying in order 1). his view personal of marriage as one man/one woman, 2). disappointment in SCOTUS and 3). his confidence in lawmakers to place HJR-6 on the agenda in 2014. He also mentioned "civility and respect for the values and dignity of all of the people of our state. "
Pence's Facebook page was inundated with comments on both sides of the issue, until he censored them. As an example, he removed most of the posts that supported same-sex marriage. The Governor apologized and continued to voice his respect for all Hoosiers, along with an overhaul of said Facebook page removing many more posts.
And what about the respectful dialog and continued discussion? The Interfaith Coalition on Nondiscrimination, comprised of faith leaders and houses of worship working toward justice for LGBT Hoosiers requested a meeting to talk with the Governor. Their "Response to Governor Pence on HJR6 ,subsequent phone calls and emails over two months were finally answered with a standard form letter. "Hoosiers are capable of having civil discussions about difficult issues and I trust they will engage in this debate with respect for the values and dignity of everyone." He then directed them to his website -- which might be where all authentic dialog takes place. Or does it?
Shortly after HJR-3 was introduced, (which was shortly after the GOP Caucus said it wasn't a priority) and before the scheduled hearing/vote -- an invitation went out from the Indiana Family Institute for the January 23 "Faith and Community Leader Legislative Luncheon-" with Governor Pence as the keynote. IFI has been relentless in pushing this bill's passage. Their certainty that a voting down of HJR-3 would not come before the luncheon is evident in their confirmation email:
As part of the program you will get a tour of the Statehouse and an opportunity to meet with legislators to encourage their support of the Marriage Amendment. They will be in Session that day and may even be voting on the Marriage Amendment!
Indiana has a Speaker of the House to whom everyone is ceding the power to change committee make-up to push his own agenda; and a Governor who dialogs with the camera and same-minded folks more than with people who share an opposing view. That leaves the Attorney General's dedication and dollars to HJR-3.

Since his December 2012 announcement to work as lead counsel for Amicus briefs on SCOTUS, the Attorney General's office has spent countless hours, hired new deputies, made trips to DC, conferences,etc. His office's response to a Freedom of Information Act requesting expenses and noted costs related to SCOTUS was no expense -- the duties discharged "were completed within our existing budget." It seems the Attorney General has no billable hours, can expend the budget on cases as as he sees fit.
These are the top three most powerful positions in Indiana. All have the same view of what constitutes marriage for others -- yet they want dialog and discussion. The three took an oath to uphold the rights of all Hoosiers. Why wouldn't anyone take them at their word?
Calling all HuffPost superfans!
Sign up for membership to become a founding member and help shape HuffPost's next chapter