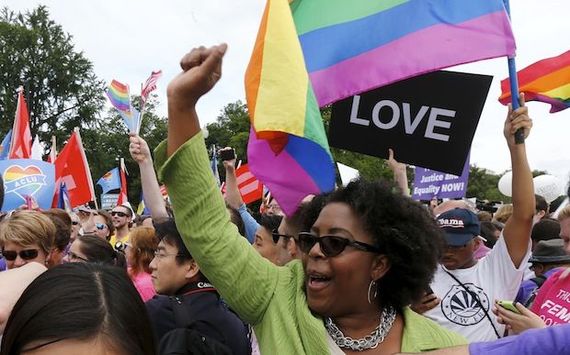 But there's something we noticed about the White House crowd that was largely representative of this issue's perception as a whole: most of the folks celebrating were young people. Yes, America, though the youth vote in local elections may be down, and more and more young people are being forced to deal with the unholy trinity of skyrocketing university costs, high interest rates, and strenuous student loan payments, the millennial support for marriage equality and the LGBTQ community has been overwhelming. Whether it be attending marches, joining LGBTQ or ally groups, or protesting discriminatory acts by state governments or employers, American's youth have been vocal and visible in their support for Marriage Equality.
But as our generation pushes for more rights and acceptance for the LGBTQ community, let us remember that injustice anywhere is a threat to justice everywhere. And let us also remember that not too long ago, interracial marriages were illegal in this country. We are the generation that can and will change our nation for the better -- we saw it two weeks ago -- but we need to take that momentum and redouble our efforts to not only the fight for LGBTQ equality, but also for racial and gender equality.
There are too many black young males being killed for being black, too many LGBTQ folks being fired for being gay and too many women being paid less than their male counterparts.
I grew up in the church and would always hear our Pastor say "the harvest is plentiful, but the workers are few." Our fight for human right is real and we can make major strides if and when we make the choice to all come together to fight for a more fair and just society.
Richard Fowler is the youngest syndicated progressive and/or African-American radio host in the United States.