WASHINGTON -- When waiting for marriage equality, make sure you bring binder clips.
On Sunday afternoon -- still two days away from the Supreme Court's oral arguments on whether there's a constitutional right to marriage equality -- nearly 50 people were already in line to secure some of the coveted tickets given to the public to get into the courtroom.
Many of the people in line were paid placeholders. Most refused to reveal how much they were making, but one said they generally received between $10-$35 an hour.
Kathleen Perrin from California and Jason Hewett from Georgia were the first non-placeholders in line, in the 14th and 15th spots. To get that far up, they had to arrive Friday morning at 8:00 a.m. and endure a Saturday night of cold rain. They said a water-resistant tarp was a must, as was a sleeping bag, a comfortable chair, an umbrella, sunscreen, a flashlight, clean clothes, snacks, a phone charger and ... binder clips.
"Binder clips! That's the secret to line-standing," said Perrin, showing off her gear. "Especially if you have to have a tarp, the tiniest bit of wind blows it up. So you can secure everything."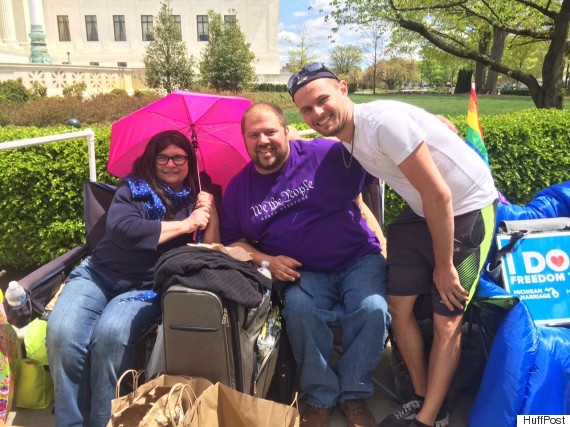 Kathleen Perrin, Jason Hewett and Brandon Dawson.
This binder clip pro tip was gleaned from past experience waiting in line for marriage equality. Hewett said he befriended Perrin in 2013, when they were trying to get tickets for the oral arguments against the Defense of Marriage Act and California's Proposition 8.
"I met a girl the last time we were here," said Hewett. "The first thing she did was sat down, put her tarp out and grabbed a giant bag of binder clips. I said, 'You win, I'm with you.'"
She was a bit of a celebrity, with one passerby stopping and asking for a photo when he heard who she was.
"Oh my gosh, are you Equality Case Files? I follow that all the time! It is my No. 1 source," said a starstruck Patrick Scarborough, who was in town from Birmingham, Alabama, with his husband, C.A. Lee III, and their neighbors, Jason Turner and Robert Listerman. Scarborough and Lee have been together for 14 years and married in Boston in 2013. Turner and Listerman have been together for 19 years and married about a year and a half ago, right on the steps of the Supreme Court.
"There are a couple of things that come with marriage equality. It's important at birth, it's important at death and important for securing yourself for the unknowns of the future," said Scarborough, discussing what it's like to have a marriage that many officials in his state don't recognize.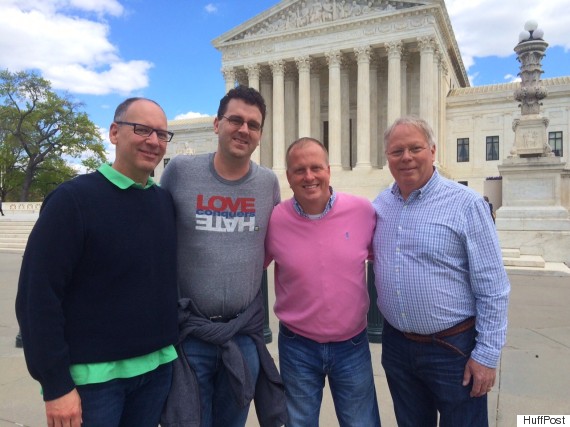 C.A. Lee III, Patrick Scarborough, Jason Turner and Robert Listerman.
The line in front of the Supreme Court was a reunion for many people there. Perrin and Hewett were catching up with Frank Colasonti Jr. and James Barclay Ryder from Birmingham, Michigan, who were also there two years ago and were Nos. 17 and 18 this time.
Colasonti and Ryder married last year after 26 years together. They were the first couple to get married in Oakland County on March 22, 2014, when same-sex marriage became legal in the state.
The two of them were some of the lucky ones. After just a few hours, an appeals court halted same-sex marriages in the state and later upheld the state's ban, leading to the Supreme Court case Tuesday.
Colasonti and Ryder, however, were part of the group that sued the state of Michigan to recognize their marriage. A judge ruled that the state had to recognize the 300 same-sex marriages performed during that brief window of opportunity and in February, Gov. Rick Snyder (R) announced he would not be appealing the ruling.
"That's why we're here, to continue to show support for everybody else. It's not just about us," said Ryder.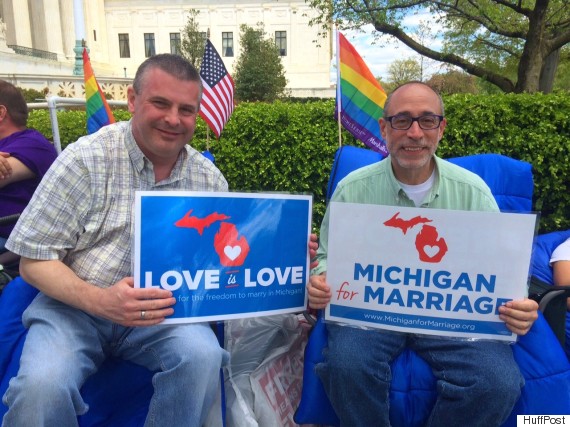 James Barclay Ryder and Frank Colasonti Jr.
Even though many of the people in line had been there for days, they seemed far from tired and bored -- especially since Sunday turned out to be warm and sunny, a nice break from the rain the previous evening.
The pop-up community largely operated on a trust system, although one of the placeholder organizers was keeping a list of where everyone was in line to prevent cutting. People would occasionally take breaks to use the restroom, visit family or go get some food, and it was up to their neighbors to save their spot. Some people in line had rented rooms nearby where they would run and take a hot shower now and then.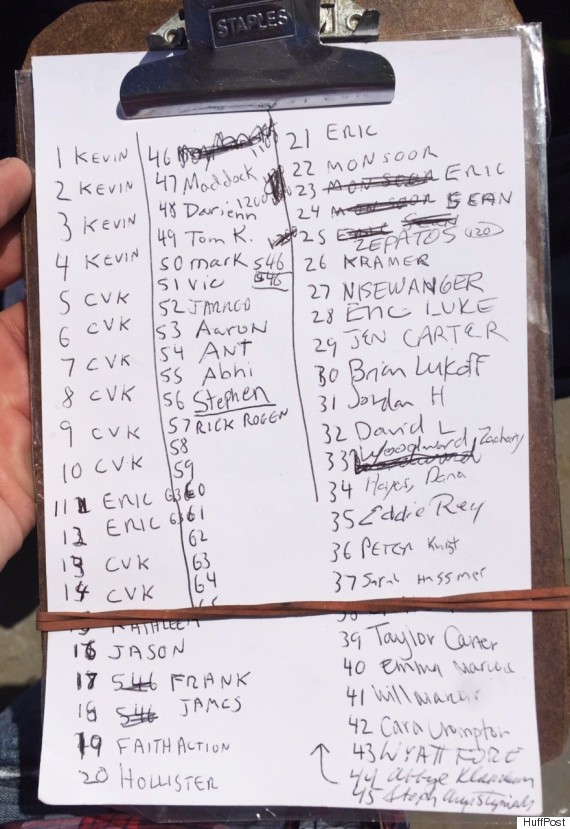 List keeping track of people's places in line.
Well-wishers frequently came by with food, and Tracy Hollister, a longtime marriage equality advocate, said she was surprised by how little time she has had to simply relax and read a book.
"I've had probably 16 offers of free food. People keep feeding me!" she said. "We're doing well with the food."
Hollister, who was No. 20 in line, said she's thrilled to see the momentum marriage equality has had across the country and wanted to come to the Supreme Court to "celebrate our success."
"I am going to be taking copious notes in the courtroom. ... I'm just going to be soaking it up," she said.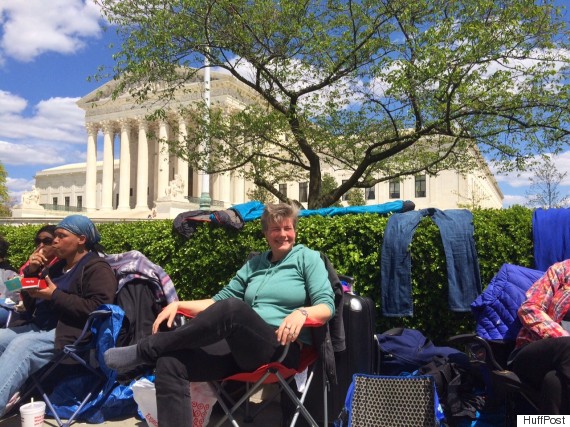 The folks in line or hanging out nearby seemed to be overwhelmingly there to support marriage equality, with the exception of one woman standing alone on the steps of the Supreme Court, holding up a sign that read, "Warning! God draws a line on gay marriage. ... Woe to those who cross it!"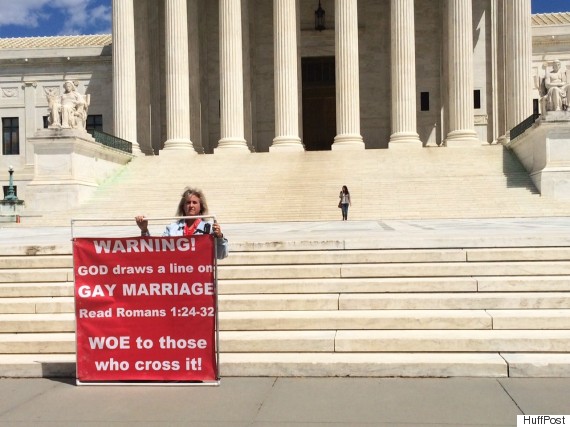 The lone marriage equality opponent.
On Saturday, anti-marriage equality protesters marched by for the National Organization for Marriage's rally. Many of the people in line stood by Eddie Reynoso's Pride Constellation flag, which he made to track each state that legalizes same-sex marriage with a pink star.
"Yesterday, when NOM was here, we used it as a shield from the hate," said Reynoso, who was No. 35 in line. "We were able to open it up and stand our ground and remind them that we have a consecutive 37 victories of winning this. And we're not far away. We have 13 states to go, and we're not going to leave until we gain those 13 states. It's just become a symbol of marriage equality"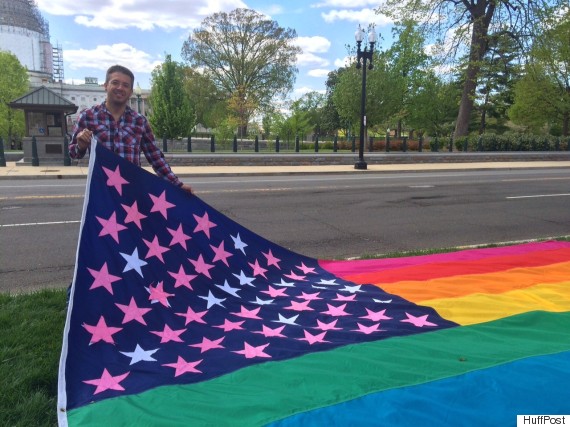 Eddie Reynoso with his Pride Constellation flag.
Reynoso, like the others, has been overwhelmed at the support he's received. He tweeted Sunday morning that they were hungry and wanted some pizza for lunch. The result? The California-based group Out in the Vineyard, which organizes LGBT-friendly wine tours, responded and sent over 16 pizzas.
Want more updates from Amanda? Sign up for her newsletter, Piping Hot Truth.
Calling all HuffPost superfans!
Sign up for membership to become a founding member and help shape HuffPost's next chapter
BEFORE YOU GO
PHOTO GALLERY
10 Incredible Improvements For LGBT People Since The First State Legalized Gay Marriage