The Supreme Court Ruling just opened an attractive market segment in the LGBT community to U.S. Businesses
Why are we open to all families?
Global business today is about scaling up a niche. That is why firms across the United States are heads over heels about the June 26 ruling that unleashes the critical mass in an attractive market segment that had been locked away in the gay community for so long. By Kinsey Institute estimates, 10-15 percent of 319 million people in the U.S. are gay. That is a market of between 31-48 million people larger than the combined Scandavian markets of Sweden, Denmark, Finland and Norway. But while scale is important, it is not the only factor that concerns consumer driven businesses.  Income counts.  What determines income level in today's post industrial knowledge-based economy?
Chris Carpenter, a University of California (UC) Irvine economist, found that sexual minorities are more likely to be college educated than their heterosexual counterparts. His study data showed that gay men (data available for males) had higher rate of college attendance and completion, significantly higher grades (GPA) and attached higher importance to academic work. 
In a non-related U.S. job study by Berkeley's Enrico Morretti,  it highlighted the correlations between earnings and level of education. His findings showed a college graduate at career peak earned 2.5 times more than a high school graduate plus, hourly wage increased by 32 percent over 20 years compared to 14 percent for the latter. These two independent studies do not conclude that all gays have a higher income than the rest of the population, but evidenced that they are within the higher income category with growth prospects and consequently a profitable market segment.
A Prudential survey backs this argument where it found that gays in the U.S. earn more than the average American does, and are more likely to be employed with an average household earning of $61,500, surpassing the national by $10,000. 
Smart Business reaching out "Rainbow Marketing"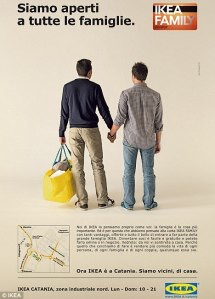 June 27 2015, the day after the supreme court ruling, Facebook launched a tool that allowed users to color their profile pictures with the gay rainbow. This was one of the most recent and powerful displays of public support by a big business for the gay community. Business always knew that this day was nigh and some started wooing the market even earlier on.  For example, take "smart cookies" IKEA and Hyundai.  Anticipating the change, they started reaching out through targeted marketing campaigns to the same-sex loving community long before the case landed on the Justices' desks.
Note IKEA Italy's flashy "gay friendly" commercial featuring two men holding hands with the inscription "we are open to all families" or Hyundai's featuring a man in his late-fifties inclining his young hottie's seat to escape a neighbor's prying eyes.
Those are just a few; not to mention the explosion of gay characters and scenes in films, television and mainstream media. What signals were these market trends sending?
Policies long over due
The expanding market potential of the gay population was suggesting it was time to put an end to patchwork legislations that left businesses unable to fully reach them. Equal opportunities such as marriage equality and its full protection could bring more legitimacy to the market and help businesses tailor products to this segment. Delaware reported economic boost of $7mil in tourism and wedding spending by extending marriage licenses to same-sex couples; a similar pattern was observed in Massachusetts.
With the Supreme Court ruling, certainly, more couples can now jointly purchase homes. Hence, higher demand for IKEA's furniture.  They can now purchase another Hyundai with less worry about obtaining a couple's insurance and look forward to seeing themselves in the next season of Modern Family.
Calling all HuffPost superfans!
Sign up for membership to become a founding member and help shape HuffPost's next chapter