Just like that, seven years have passed. In the blink of an eye, my husband, Jason, and I got married, bought a house and had three kids (and a dog). I catch myself looking at the boys and feeling shock and admiration. (When they are misbehaving, I'm shocked that I haven't lost my mind, yet.) I can't help but wonder how we -- two young, in-love and slightly irresponsible kids -- were able to get married and create this family.
Our romantic love affair began in eighth grade (actually, it was a little romance and a lot of awkwardness). Through high school, college, breakups and makeups; not to mention different states and careers, we find ourselves right back in our hometown in Florida, where it all began. Today, on our seven-year anniversary, I sit back and wonder how best to celebrate our marriage.
I'm lucky to have married a man as laidback as Jason. He is almost always in a good mood (unlike me), and he is easy to get along with. Neither he nor I are big on romance. Homecoming in tenth grade was celebrated with a quick dinner at Taco Bell. We didn't want the whole corsage and overly posed pictures routine, and we certainly didn't want a long (and boring) four-course meal (especially dressed up as we were). At our wedding, we decided to forgo the traditional romantic lovey-dovey feel. We wanted the night to be a big celebration: lots of dancing, drinking and eating. We skipped right over the first dance and just as easily did away with all traditional wedding day details. Rest assured, I did get my big white wedding dress and a beautiful long veil. Our honeymoon was a quick trip to Buenos Aires, Argentina to visit my extended family. There were no rose petals or champagne upon arrival, which was fine by me because before check-in was even complete, I had kissed Jason good bye and was already shopping -- and taking full advantage of the exchange rate. No need to feel badly for Jason. He too enjoys his independence and was happy enough to lounge around the hotel room and watch Argentine soccer on TV.
So, today on our seventh anniversary, I know I'd like to do something special for Jason, but I am out of good ideas. My friends joke that he and I both always wait until last minute, and they are right. Then again, it wouldn't be our style to plan an elaborate dinner and romantic walk. In the past, we have always given each other gift certificates. He knows I have a weak spot for designer handbags and shoes, and I love a guilt-free shopping spree at Saks. Likewise, he is happy to buy a new suit or a watch--as long as he can purchase them with a gift card. So we have often exchanged gift cards to our favorite stores. Very unromantic, yes, but very practical.
I decided this year that I would try to do something different (I warned him that I was upping the ante). I spent some time at the computer, googling "perfect anniversary gifts for husband." I was shocked to see so many references to traditional gifts. Who knew that to celebrate 15 years together one should expect crystal? Even silver, wood, lace and pearls have spots on the list. Thankfully, Jason knows I am not a traditional girl. I love a sentimental note (attached to my flowers), but I really don't have any use for a wooden tree plaque, and on our 25th anniversary, you'd better believe that I will expect something much nicer than a silver windchime. Don't get me wrong, I know anniversaries are not about the material gift exchange. But, in celebration of our years together, we also must stay true to ourselves and each other. Part of what makes our marriage work is how well we know each other. I'm happy to buy him a Dunkin Donuts gift certificate (not Starbucks)--because his morning drive includes a pit stop at Dunkin. He knows I am a picky eater. A romantic dinner at a classy restaurant, offering intricate French cuisine is not high on my list. Case in point: My 31st birthday plans resulted in a cancelled reservation and a comfy meal at Chipotle.
So today, I'm proud to say that our anniversary gifts were just perfect. The real gift, for us, is realizing just how well we know each other. I received two cards. Both written upside down and one that read "Happy Birthday Mommy." Jason had taken the time to take our three boys to Hallmark and have them pick out special cards for me. He had them draw, scribble, and half-spell whatever they wanted. My middle son dictated a long, comical note to Jason. Along with the cards was a perfect small box which contained an emerald ring I had been admiring (there's nothing like having your jeweler as your spy, friend and confidant). Jason had connected with the jeweler and asked what it was that I had been pining over lately. And, although Jason said he didn't need or want to spend money on yet another watch, I know all too well that he can never turn down a nice timepiece. As we exchanged gifts -- me, in my running clothes, and Jason in his after-work apparel -- we both smiled and put on our new gifts right away. We are both impulsive too, and love instant gratification. We thanked each other, but quickly became part of a family chant. The boys wanted to celebrate with us and what better way to honor seven years of marriage than to sing, dance, and wrestle to ... the Happy Birthday song?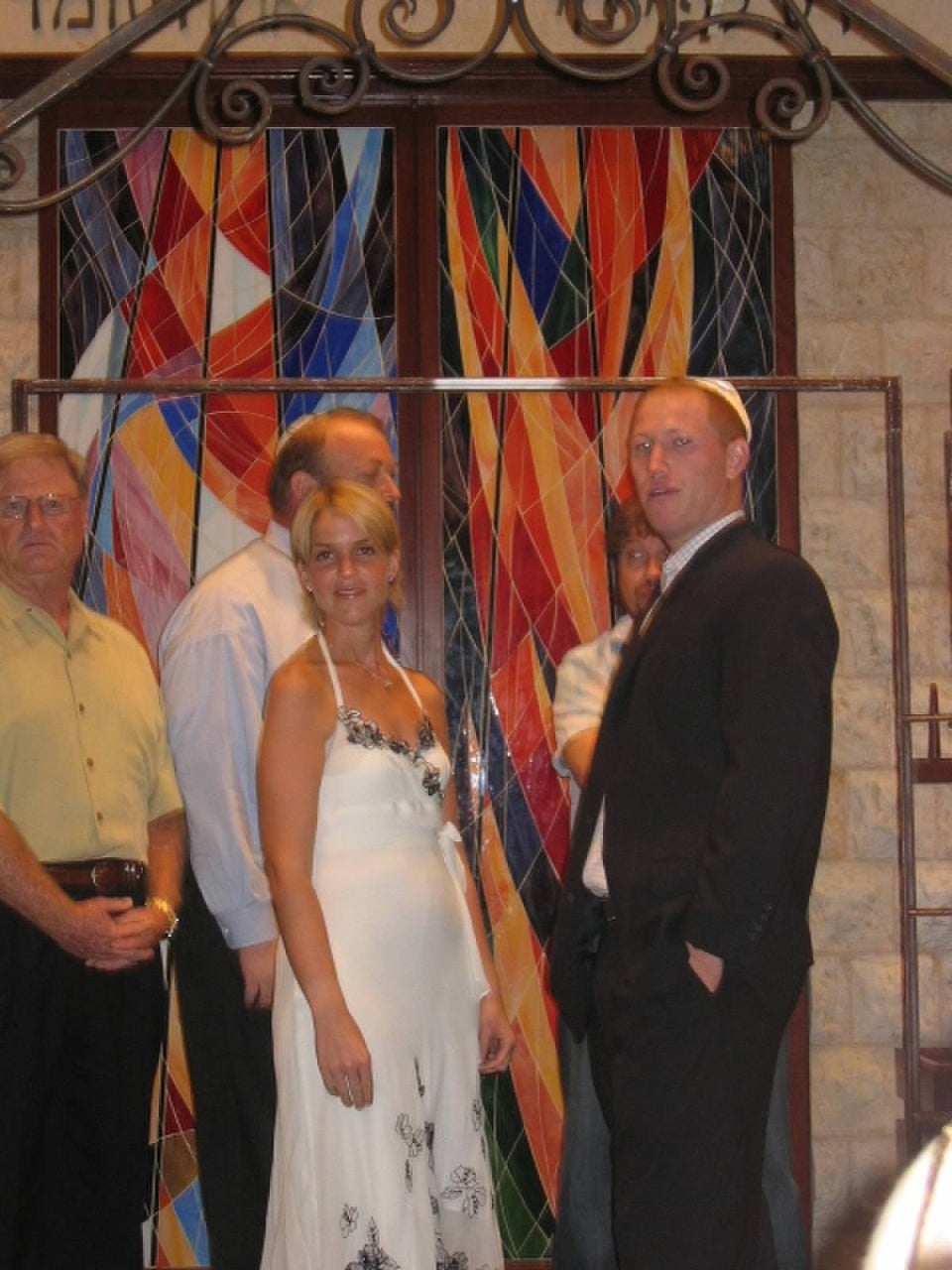 My Seventh Wedding Anniversary