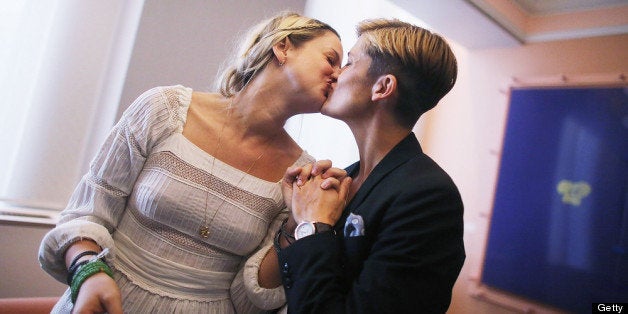 In the month since the U.S. Supreme Court overturned the Defense of Marriage Act, a handful of same-sex couples living in Southern and Midwestern states have filed lawsuits aimed at expanding same-sex marriage to their turf. But some leaders in the gay rights movement are urging patience for these eager plaintiffs and their lawyers. Among the mainstream gay-rights groups that led the successful effort to overturn DOMA, there is growing anxiety about the possibility that the new wave of lawsuits could lead to a backlash.
"We have seen time and again that filing cases in states where the odds are stacked against victory can create adverse precedent and interfere with momentum, making future cases harder to win," the leader of Lambda Legal, a a gay rights advocacy group, cautioned in a blog post outlining the group's plan for winning marriage equality after DOMA.
Freedom to Marry, one of the leading groups advocating for same-sex marriage in the U.S., announced a plan to win marriage equality in Hawaii, Illinois, New Jersey and Oregon within two years. Not included in this list are Arkansas, Kentucky and Virginia -- states that have recently seen lawsuits brought by lawyers from outside the national gay rights movement.
"There is no question that there is a wave of litigation going forward, but one of the lessons of our movement should be that if it were as simple as hiring a good lawyer and filing a lawsuit, we would have been done 40 years ago," Evan Wolfson, the head of Freedom to Marry, told The Huffington Post. "In order to succeed, you not only have to have the right cases at the right time with the right judges hearing them, but you also have to have political organizing and education that creates the climate to get the rulings you want."
Kentucky attorneys Shannon Fauver and Dawn Elliott said they're aware of the anxiety they provoked this week by filing the first lawsuit challenging the constitutionality of Kentucky's same-sex marriage ban.
Although they received plenty of enthusiasm and offers of help from the lesbian, gay, bisexual, transgender legal community, including Lambda Legal, Fauver and Elliott said they also have heard cautions. "I talked to the ACLU," Fauver said. "They explained the reasons why they thought other jurisdictions were better."
While support of gay marriage is on the rise nationally, Kentucky voters still lagging far behind the national consensus, with just 27 percent of the state's voters in favor of legalization, according to Public Policy Polling.
"We are completely aware that Kentucky as a venue is probably not a lot of people's ideal choice," Elliott said. "But we both felt very strongly that the law in Kentucky be that same-sex marriages are recognized just like any other legally recognized marriage in the state."
Elliott and Fauver's lawsuit was filed on behalf of two Kentucky men who have been together for 31 years and were legally wed in Ontario, Canada, in 2004. Their home state, however, treats them as legal strangers, and the suit aims to force Kentucky to recognize same-sex marriages performed outside state lines.
The attorneys have seen some indications that their suit will be successful. In Ohio -- a state on the same U.S. Court of Appeals circuit as Kentucky -- a federal judge last week ordered the state to recognize the out-of-state marriage of two gay men, one of whom is dying of Lou Gehrig's disease. Additionally, in a recent bankruptcy case for clients who wed out of state, Fauver successfully argued that her clients should be allowed to file as a married couple.
"We're hoping that Kentucky will be on the front end of change, instead of the back end, for once," Elliott said.
As veterans of same-sex marriage legal battles advised caution, many acknowledged that the legal landscape has changed since DOMA's demise. "We're in a new era after Windsor," said Camilla Taylor, a lawyer with Lambda Legal who has been working on an upcoming lawsuit in Virginia that will be the second case since the Supreme Court ruling seeking to legalize same-sex marriage in the state. "What's still important is that people do their best to act
strategically and avoid making bad law that could set us all back."
Bowers V. Hardwick, a 1986 Supreme Court decision that upheld the constitutionality of a Georgia sodomy law, still serves as a powerful reminder for Taylor and others in the movement of what can happen when the wrong case reaches the Supreme Court. "It was a devastating decision that was used to justify firing police officers and school teachers across the country," Taylor said. It wasn't overturned until 2003. "That was a long generation for many people who lost their children in custody battles, who lost their jobs, who were the victims of hate crimes and bullied, all because of a very negative U.S. Supreme Court decision," Taylor said.
Elliott and Fauver said it's possible their case could end up at the Supreme Court, but losing their lawsuit wouldn't likely have national repercussions. "The worst-case scenario is our state continues to discriminate against same-sex couples," Elliott said. The two attorneys plan to file a second, similar lawsuit, in Kentucky's western district later this week.
Michael Deleon and Gregory Bourke, the plaintiffs in the Kentucky lawsuit, began considering a lawsuit as soon as they heard that the Supreme Court was going to consider the two marriage cases last spring. "There weren't any scenarios there that would do what we needed to do in Kentucky," Bourke said. "So while we were thrilled at how it played out, we were thinking, well, what about Kentucky? What's it going to take to bring change here?"
Before You Go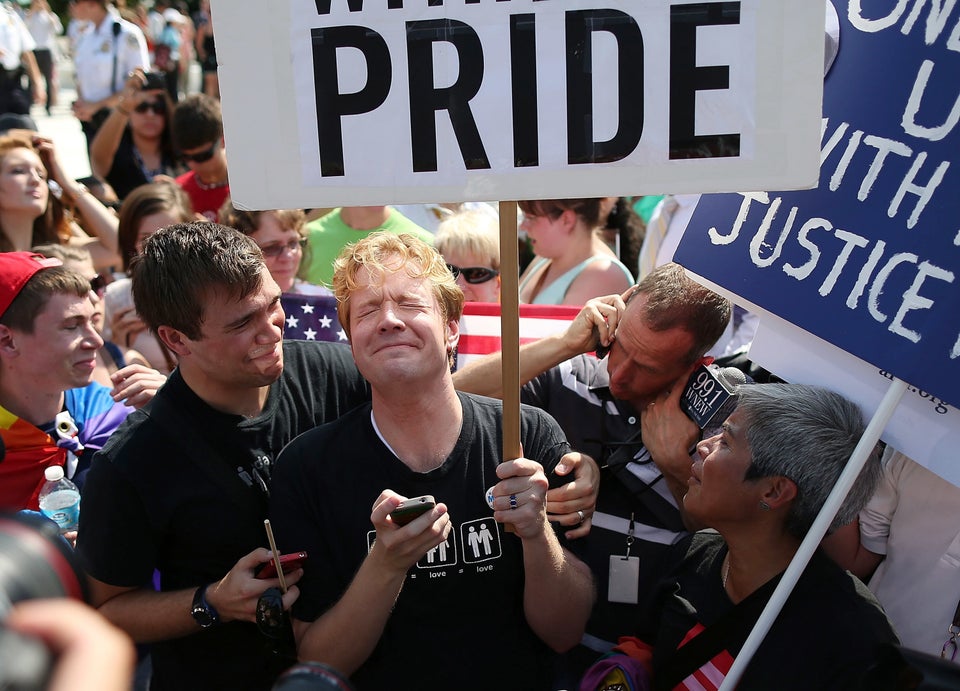 SCOTUS Decisions On Prop 8, Defense Of Marriage Act
Popular in the Community