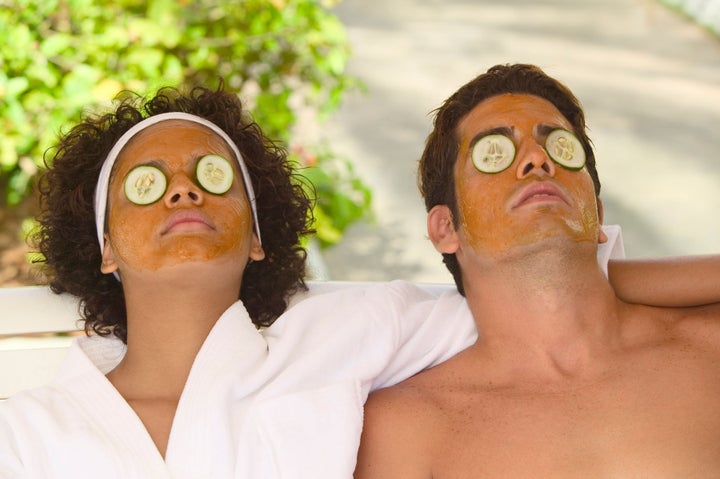 We vow each year to make over sagging bodies with fewer fatty foods and more exercise. We can also makeover sagging marriages. I've seen it happen often in the relationships I dissected in The Secret Lives of Wives, turnarounds that are inspirational for any couple struggling with their own roadblocks, large and small.
Here are lessons from a few wise women who have transformed their marriages:

"I taught him how to love."
The most dramatic before and after story was with Beth, a 50-year-old librarian who taught a verbally abusive husband how to love. This was a spouse who routinely called her fat and withheld sex for years. He grew up in a house in which his father always barked at his mother, and never gave her a compliment, then replicated that behavior with Beth. Fed up and ready to walk, Beth told her spouse, "Look buddy I'm leaving and taking the kids with me, and you are going to die a lonely old man."
Through a series of meltdown discussions he admitted that he never saw love or felt loved growing up, thus didn't know how to give love. Beth is teaching him the art of loving and is riding a romantic revival in her marriage, that includes leaving naughty text messages that prompt him to leave work at lunch for a mid-day romp. "This after four years of not even touching me," she says.
Hopefully your situation isn't as grave as Beth's was before making-over her husband. Yet it underscores something I heard often in my interviews with wives about their marriages. That is, if you're not talking you're generally not touching. And if you're not touching the resentment builds.
"Don't be afraid to ask for what you want," says Beth. "You just might get it."

"We escape our children and have hotel sex in Las Vegas."
Roz is a 38-year-old public relations executive married to a school teacher. They are parents to 7-year-old twin sons, one afflicted with autism. So aside from dealing with the normal stress of balancing two careers with two young children, they are also saddled with the constant challenges that come with responding to one boy's special needs.
"He became the center of our universe and the marriage went to the back burner," says Roz of a routine that includes three therapy appointments weekly and daily phone session with his school counselor. "I realized we absolutely had to makeover our marriage."
The turning point came one day when Roz's mother, married for 50 years, said to her, "Honey, I know you love those kids. But your marriage is the most important relationship." Grandma offered to take the kids for an upcoming weekend, and Roz and her husband booked a trip to Las Vegas.
"We now go to Las Vegas three times a year," says Roz, who lives outside New York City. "The minute we are on that plane I literally flip a switch, leaving the kids behind and just focusing on my husband. Those getaways have helped preserved the intimacy in our marriage.

"We take a total break from worrying about our son and flip that switch into pure escapism. We indulge in the food, the wine, the shows, the beds with mirrors on the ceiling. Having great hotel sex is a remedy for anything. We feel like those giddy college students that met 20 years ago, and the fire of Vegas stays with us once we get back home."

"I stopped bugging him about money."
The sputtering economy has taken its toll on many couples I interviewed. When Jade was laid off from her six-figure job with an international food supplier, she was actually relieved. Throughout her marriage she has earned two to three times as much as her husband, and he had finally procured a lucrative senior position in finance. "Finally, I could take a break," she says, "I could spend more time with our one child and more time with my aging parents."
Her relief was short-lived; six months into his new post her husband's company filed Chapter 11 and let him go. As he scoured the meager pickings in the Want Ads for openings in corporate finance, she was forced to go back to work as a freelance restaurant consultant.
"Oh yes, I was really upset about this," says Jade. "I shouldered the majority of the financial weight for our whole 20-year marriage. Finally, it was his turn to get out there.
"When finances get rocky your whole life feels rocky. If you are worried about day-to-day sustenance, guess what? Are you going to be in the mood for sex? Are you going to be pleasant and happy? Probably not."
Her transformation came one day while listening to a girlfriend in a similar situation complain that instead of rigorous job hunting, her own out-of-work husband had started to take guitar lessons. Jade began to let go of her anger and feel compassion as she observed her husband ruthlessly pursuing every lead and going on countless interviews.
"I started being open to hearing what's in his heart, which is a lot of frustration with the job hunt," says Jade. "And in the meantime, this little consulting business of mine is starting to really grow. I love being my own boss with a flexible schedule after years of being ruled by a huge organization.
"Once I stopped bugging my husband about money our relationship turned a corner."

"After 8 p.m., I stay away from subjects that will piss him off."
This is my own advice for a marital makeover: Stay away from combustible subjects at night. My husband of 23 years and I used to have our worst arguments after our four sons had retreated to their own rooms to do homework. I'd use that opportunity when it was just the two of us to bring up touchy topics I didn't want the boys to hear; about money, about house repairs he said he'd do and didn't, about how he seems to love watching hockey more than talking to me.
About a year ago I brought up one of his least favorite reminders, that our fireplace still didn't work after 18 years living in the same house. He was watching his beloved Capitals hockey team lose, and he turned to me, the vein throbbing in his neck:
"Don't talk to me about stuff that will piss me off at night," he snapped. "It keeps me awake. This is the only time all day I get to relax."
Too riled myself to fall asleep, I lay in bed and really got what he was saying. Being pissed off is no way to end a long day. One of my resolutions in January 2011 was to avoid inflammatory conversation after 8 p.m. That has led to the creation of a more attentive husband who is more eager to warm me in other ways since our fireplace still isn't fixed.