In "How I Met Your Mother," Ted and Robin make an agreement that if they're still single at 40, they'll just marry each other.
Spoiler alert: They do eventually end up together (with a whole lot of ups and downs in between). But to our surprise, this kind of thing isn't just a pop culture trope; it happens in real life too.
Read on for seven stories of real couples who made similar "if we're not married by..." pacts and actually ended up together. Some didn't wait until the agreed-upon age, but that doesn't make their love stories any less sweet.
1. We made the pact as a joke in high school. At 30, we tied the knot.
"Brittany and I were in each other's lives longer than my memory will go back. We were always good friends, but got really close in middle school and high school. Sometime in high school we started joking that if we were both single at 30, then we would get married. At 24 we started hanging out a lot. By 25 we were in an official relationship. And on our 30th birthday (yes, we share that) we were married. We didn't force anything because of the pact we made. It all happened as it was supposed to. We celebrated our first 'birthiversary' earlier this month, and we are still madly in love!" ― Byron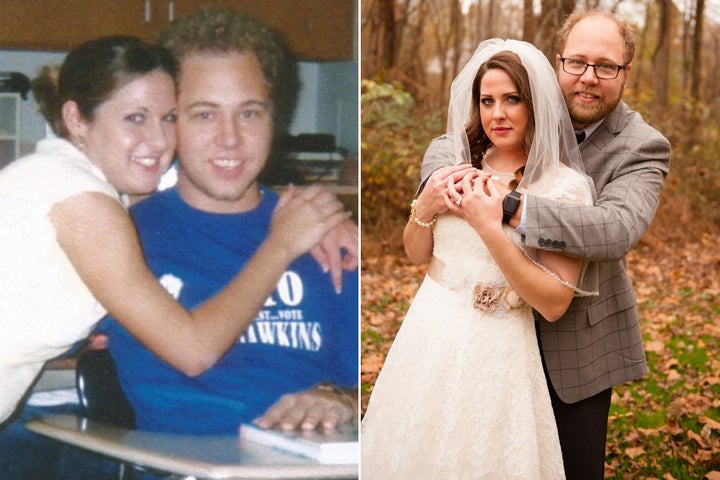 2. After some heart break, we made the marriage pact in jest. Now we're 30 and planning a wedding.
"Rey and I met online and became good friends when we were both 23, and since we lived 2000 miles apart, it was only a friendship. After each of us had a few bad relationships and shared mutual heartaches, we jokingly made our pact; If by 30, if we were still single, I'd take the leap of faith, move across country and we would date for a year or two before getting married. We both tried dating others, but by 28, we reconnected through social media. Our friendship grew and when the pact was mentioned again, we both embraced it. I moved to Texas in 2014, and now at 30, we are happily engaged and planning a wedding for the spring of 2018." ― Heather W.
3. We decided on age 33, but destiny couldn't wait that long.
"Jason and I met in high school in 1996 (we were 17) and ended up going to senior prom together since neither of us had dates. We decided that we were such good friends that if we weren't married to other people in 2011 by the time we turned 33 (our birthdays are five days apart) that we'd marry each other. Fast forward to 1997 when we had our first child before getting married on Valentine's Day in 2000. We were both so scared of finding 'the one' so young that we fought it, but fate had plans for us and they couldn't wait until 2011! We now have two children, 16 years of marriage and are looking forward to old age together. Even when we are angry with each other, we can find a laugh because our friendship is so strong. It's pretty damn awesome." ― Dawn-Maia S.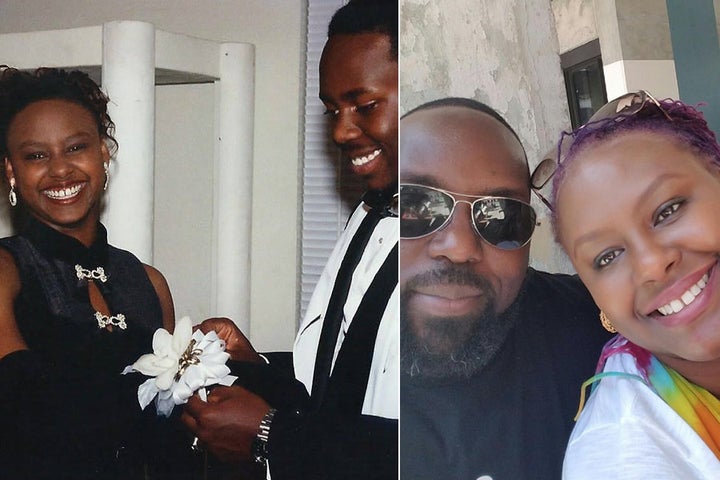 4. We agreed that if we were single at 30, we'd get together. At 34, we were married.
"I first met Burnill in fourth grade and didn't like him one bit. When we were 13 we met again at a skating rink while I was on a date with his friend and he was on a blind date with my friend. We eventually started spending time together, and we became a couple at 16. We broke up and lost touch for about a year after, and ran into each other again when we were 18. That's when we made our pact that if we weren't both married at 30 then we would get married. After this I didn't see him for about nine years until he found me on Facebook. At the time I was married and had two kids. About six years later, I was single and he contacted me again via Facebook. We got married at 34 and have one beautiful little boy together, along with my two older children." ― Rae M.
5. We started out as best friends with an "if we're still single at 30..." agreement. Six months later, we were husband and wife.
"My best friend of 10 years said to me one day in a group conversation that if we weren't with anyone by the time she was 30 (she was 25 at the time) that we would have to be together. As beautiful as she was/is, I never made a move because I used to date her best friend, so I thought the 'girl code' would halt my advances. Sure enough, once she said that, I was like, 'Hold up, she's possibly into me?!' So I made the move! Six months after that conversation, we got married. It was a fairly easy transition. Currently married for three years with two children. I'm loving every moment of it."― Korderius D.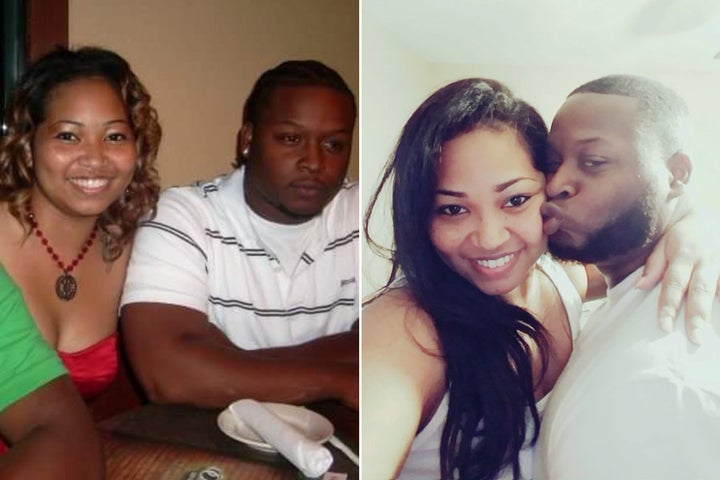 6. We made the pact in college. Two years later we were married ― long before age 40.
"Sarah and I became best friends after working as EMTs on our college ambulance service. We were never single at the same time, so when I was 20 and she was 22 we made a pact to get married when I was 40 if we were both single. I made it to age 22 before asking her to marry me. Our wedding was in 2013 and it was a ton of fun ― she's a private pilot and I'm in the Air Force so we had a formation flight before exchanging vows on the taxiway at the small airport where she learned to fly." ― Ahmed H.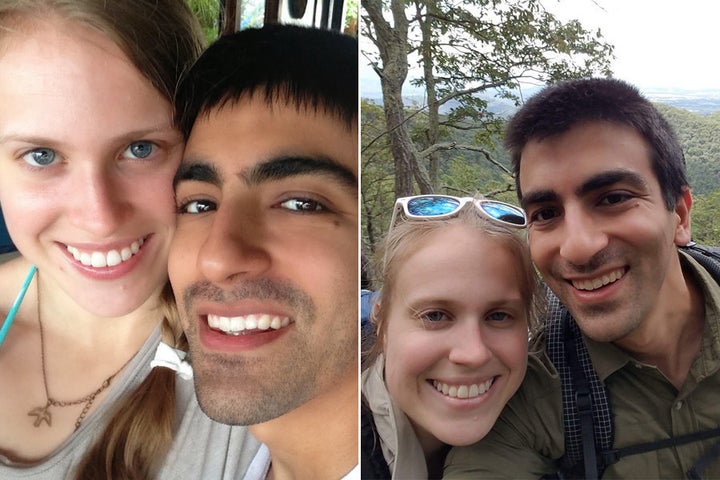 7. We agreed to be each other's backup spouse if we weren't married by 30. Just a few years later, we got married.
"I met Sam in 2010 during our freshman year of college. At the time we were both seeing other people, but we became very good friends very quickly mostly because of our mutual interest in self deprecation. Sometime that year we were talking about the inevitability of our current partners giving up on us and decided we should probably have some sort of contingency plan so we didn't die miserable and alone. We decided if we were both single when we were 30, we would give up on love and resign ourselves to lives of senseless banter. She and I were 18 and 19, respectively. We decided we did actually love each other, so we moved our timetable up a bit and got married in April of 2013." ― Ethan W.
Related
Before You Go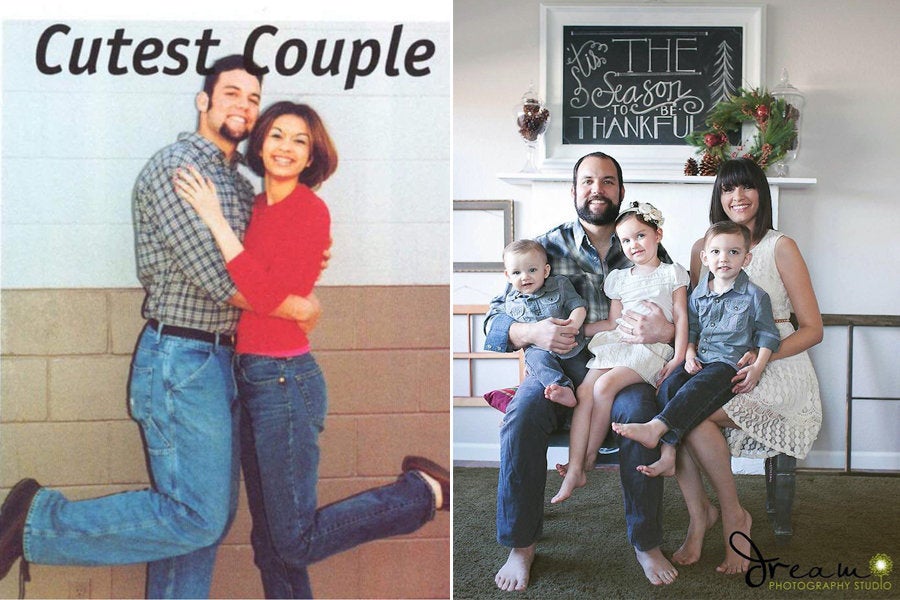 High School Sweethearts