Atlanta couple Ari Weitz and Rachel Fox dated a year and a half before Weitz popped the question in a -- literally -- super-sweet way. The pair got engaged at Jake's Ice Cream shop on Friday April 27, 2012 over a special new flavor that Weitz created especially for Fox. HuffPost Weddings asked Fox about the proposal. Below, the story in her own words.
While walking to what I thought was going to be a quiet date night dinner, Ari held my hand and started walking towards our favorite neighborhood ice cream shop, Jake's Ice Cream. I jokingly asked, "Are we going to eat dinner at Jake's?" Ari replied that Jake's had my favorite ice cream (salted caramel) in stock but worried they might sell out of the flavor due to a busy weekend ahead. I went along with it because I wasn't going to argue with eating dessert before dinner.
Upon Ari pointing out that salted caramel was my favorite flavor, the woman behind the counter asked if I wanted to sample a new concoction that Jake's was debuting in honor of the Inman Park Festival (taking place in our neighborhood over the weekend). I asked what it consisted of and was amazed when she spouted out a list of flavors that I, as a sweet/savory fan, have always talked about and dreamed of: salted caramel ice cream with pretzels, chocolate-covered cookie dough and peanut butter swirl. I tasted it and was instantly in heaven.
The woman said that they weren't going to formally unveil the flavor's name until the next day but that since I liked it so much, they'd go ahead and do it now. I looked behind her, and on the chalkboard where Jake's usually lists their flavors of the day, there was a sheet covering half of the board. She pulled it down, revealing the following: "New Flavor: Rachel, Will You Marry Me?" I immediately let out a huge smile and turned around to find Ari down on one knee.
In his proposal, he said that I was the sweetest girl he has ever known so it was only fitting to ask for my hand in marriage over such a sweet treat. I couldn't stop smiling and of course said yes. Flashes were going off and I turned to see some of our family members watching, taking photos, smiling and even crying. It was perfect.
I was surprised. We had talked about getting married at some point, but I didn't think he would propose that night. Ari worked really hard to keep it a surprise while asking my parents for permission, coordinating the events with Jake and his staff, and making sure that everything was in line to create the sweetest -- and most perfect -- proposal.
We had just passed the one-and-a-half year mark. Ari likes telling people that we met in a bar, but it's a little more complicated than that. We met through mutual friends, initially at a friend's party. A couple months later Ari sent a mass e-mail out when he was looking for new roommates, and I was on that list. I e-mailed him back about a friend that was looking for a place to live, and that started a daily e-mail thread between us that lasted for several weeks. When other mutual friends were in town, we saw each other at a bar and talked the whole night. He called the next day (just like he said he would -- no three-day rule!), and we had our first date at another Atlanta festival and a local restaurant. The first date lasted over six hours, and we haven't looked back since.
We're starting to plan a 2013 wedding in Atlanta. We're still figuring out the details, but one thing's for sure: we know what we'll be serving for dessert!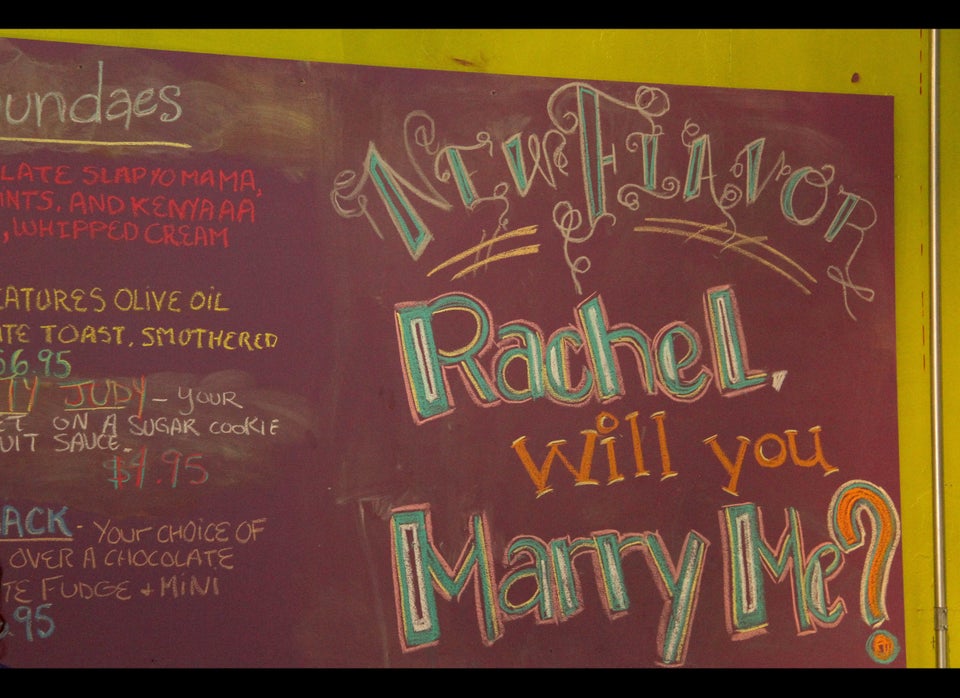 Rachel, Will You Marry Me?
Related