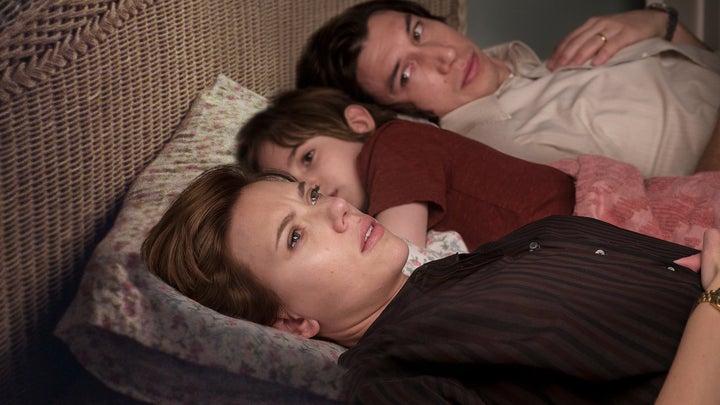 The Netflix Highlight: "Marriage Story"
What's up: Netflix's "Marriage Story" is a movie about divorce. Noah Baumbach directed the movie and wrote the script loosely based on his own divorce from actor Jennifer Jason Leigh. Adam Driver and Scarlett Johansson play the couple. Johansson has also said that she shaped the story to reflect aspects of her own recent divorce, which she was still going through while making this movie. Johansson has divorced twice and her parents also divorced.
The movie's story focuses on a married couple, Nicole and Charlie, who have an eight-year-old son. Charlie runs a successful theater company and Nicole stars in the plays. She wants to move to Los Angeles, but he wants to stay in New York. The tension of wanting to be their own people (and individual desires to be stars) pulls the relationship apart.
The movie begins with Nicole emerging from a black background, wearing black clothing and looking distressed. Charlie starts a voiceover with the phrase, "What I love about Nicole..."
Nicole emerges from the New York subway. Charlie's voiceover continues, "She makes people feel comfortable about even embarrassing things." Then a person with a clipboard persuades Nicole to stop and talk to her. If you've ever been a New Yorker, you know that's an uncommon move.
Alan Alda, Laura Dern, Ray Liotta and Merritt Wever also appear. Baumbach wrote and directed.
"Marriage Story" runs 2 hours, 16 minutes.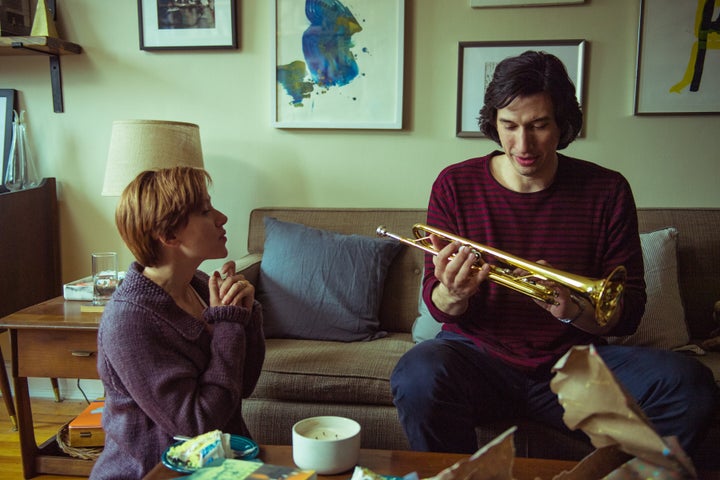 Sum-up: Most Academy Award prognosticators believe this will earn multiple nominations, including for Best Picture, screenwriting, directing and in the acting categories.
The movie certainly warrants the praise. Baumbach has created a hyper-detailed story about a painful topic, while still finding ways to inject humor into the direness.
Moments of pain are coupled with realistic absurdities. In a particularly fantastic scene, Nicole, her sister and her mother are freaking out about how the sister will, for legal reasons, serve the divorce papers to Charlie. A long list of complicating factors make this attempt a mess, but a few inspired ones include Charlie getting a text he won the MacArthur Fellowship "Genius Grant" right beforehand, the sister getting nervous and holding a pecan pie for no reason and the son having pooping problems in the bathroom. After the serving occurs and Charlie is devastated, he asks what the pie had to do with everything. Nicole has to explain the pie wasn't part of the plan. In a funny bit of dialogue, Charlie explains that somehow having the pie involved makes it all worse.
Well-executed and decently budgeted movies that tell small, realistic stories don't happen much anymore. Sure, these characters are still wealthy and successful artists ― not exactly the most relatable of professions ― but the quiet plot of a family going through a painful breakup is a worthy story amid a sea of historical dramas and superheroes. That Baumbach finds a way to tell such a story in a fast-paced, engaging way is a testament to his talent.
Heads up: The movie centers around characters working in the theater and often has strong "theater person" vibes of over-acting and self-seriousness. The movie also features a movie cliche involving the actors walking around and "doing things" while having conversations that normally would simply involve two people sitting down and talking to each other. When done right, these movements make scenes look and feel more dynamic in movies, hence the cliche. When self-serious "theater person"-vibe characters do this though, the scenes come across as cringey.
Close-up: Early in the movie, while Nicole does a voiceover about what she loves about Charlie, the script has a strong moment of physical comedy. Nicole's voiceover says that Charlie is very good and tireless about being a dad. Meanwhile, their son wakes up Charlie and says he has had a bad dream. "It's okay," Charlie responds.
Charlie lies down in the son's bed, struggling to stay balanced while on his side. His son has a goofy pillowcase covered in colorful nobs like it's a spaceship controller. The sheets feature comic book panels of "The Avengers." The son seemingly falls asleep, but when Charlie gets up, the child asks him to stay.
So Charlie lies on the ground. The son joins him. Charlie gets up and lies back on the small bed. The son joins him again. This sweet, nearly wordless moment establishes the deep affection Charlie has for his child, which ultimately deepens the viewer's understanding of the eventual pain in divorce.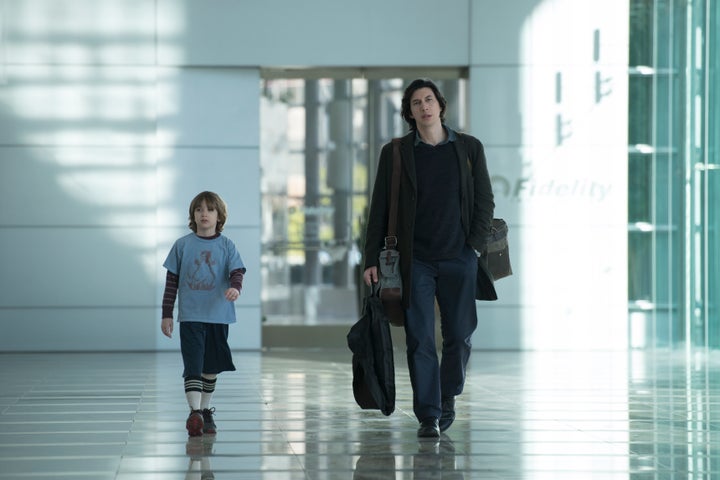 History: The divorce between Baumbach and Jennifer Jason Leigh was finalized in 2013. In 2016, Leigh told The Guardian, "I don't think it's that important for people to know" about the breakup. In the movie, the Nicole character praises Charlie for mining their life for his art.
Comparable Movie: Many comparisons have been made to the 1979 movie "Kramer vs Kramer," which similarly featured a family of three going through a divorce. One similarity involves the separation occurring right as the male protagonist learns big career news. And although "Marriage Story" is more muted, the movie certainly has similarities to the 2011 separation movie "Crazy, Stupid, Love," in that both movies mine comedy out of the characters' haplessness.
The Characters And Money: These characters live in a big New York apartment (at least big for the city) full of expensive-looking art and appliances. Before the divorce, the family life is seen as idyllic, as the characters sit around a family table and play Monopoly. These characters might not be monopolist-level rich, but they seemingly earn enough money from theater to pay for the relatively opulent surroundings. Nicole claims Charlie is "self-made" and doesn't come from money. Whether that's exactly true doesn't matter, but it's important to note the characters are thinking about concepts like that at least to some extent.
Bonus: Netflix released a short video about Baumbach directing the movie. You can watch that here:
"Marriage Story" Trailer:
A Couple Of Netflix News Stories From This Week
1. The long runtime of Martin Scorsese's "The Irishman" became a meme this week. While the movie has earned widespread critical praise, its 3-hour, 29-minute runtime, slow-moving plot and sub-par CGI have made this a hard pass for many. Fans of Scorsese and the movie seem to be getting increasingly defensive:
2. I wrote my annual ranking of the year's best shows and I included three Netflix Originals. "Tuca & Bertie," "BoJack Horseman" and "Russian Doll" all made the list.
"Dead Kids" (Netflix Film)
"A Cinderella Story: Christmas Wish"
"The Adventures of Sharkboy and Lavagirl"
"Austin Powers in Goldmember"
"Austin Powers: International Man of Mystery"
"Austin Powers: The Spy Who Shagged Me"
"Cut Bank"
"Eastsiders" (Season 4)
"Malcolm X"
"Searching for Sugar Man"
"Sweet Virginia"
"The Tribes of Palos Verdes"
"Nightflyers" (Season 1)
"Team Kaylie: Part 2" (Netflix Family)
"Especial de Natal Porta dos Fundos: A Primeira Tentação de Cristo" (Netflix Film)
"Tiffany Haddish: Black Mitzvah" (Netflix Original)
"War on Everyone"
"The Last O.G." (Season 2)
"Let's Dance" (Netflix Film)
"Los Briceño" (Netflix Original)
"Magic for Humans" (Season 2, Netflix Original)
"A Christmas Prince: The Royal Baby" (Netflix Film)
"Apache: La vida de Carlos Tevez" (Netflix Original)
"Greenleaf" (Season 4)
"Home for Christmas" (Netflix Original)
"V Wars" (Netflix Original)
"Astronomy Club: The Sketch Show" (Netflix Original)
"The Chosen One" (Season 2, Netflix Original)
"The Confession Killer" (Netflix Documentary)
"Fuller House" (Season 5, Netflix Original)
"Glow Up" (Netflix Original)
"Marriage Story" (Netflix Film)
"Spirit Riding Free: The Spirit of Christmas" (Netflix Family)
"Teasing Master Takagi-san" (Season 2, Netflix Anime)
"Three Days of Christmas" (Netflix Original)
"Triad Princess" (Netflix Original)
"Virgin River" (Netflix Original)