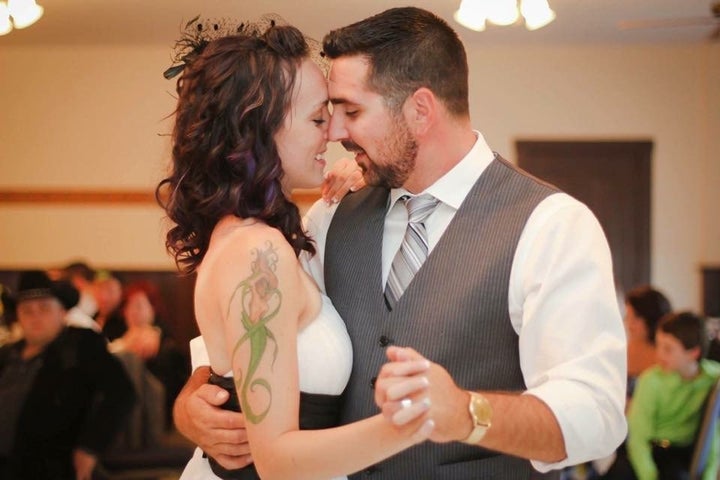 "Tough Love" is a HuffPost series about the real-life challenges couples face during the course of a relationship.
Jessica Grogan was pregnant in 2013 when her then-boyfriend (and now-husband) Ben's drug addiction resurfaced. She refers to those five or so months as "the dark days."
"It started with him going out for drinks with the boys after work," said Jessica, who lives in Edmonton, Alberta, Canada. "The story I would get is that he wasn't able to come home because he drank too much so he'd stay out and come home the next day. Then all of a sudden he wouldn't come home for two or three days and I'd be getting to the point of, am I allowed to report him as a missing person yet?"
Ben said he doesn't remember what he was doing at the time.
"Probably something stupid, though," he said. "I was always under the influence. In typical addict fashion, I would lie and deny, and when I was questioned I would get defensive and angry."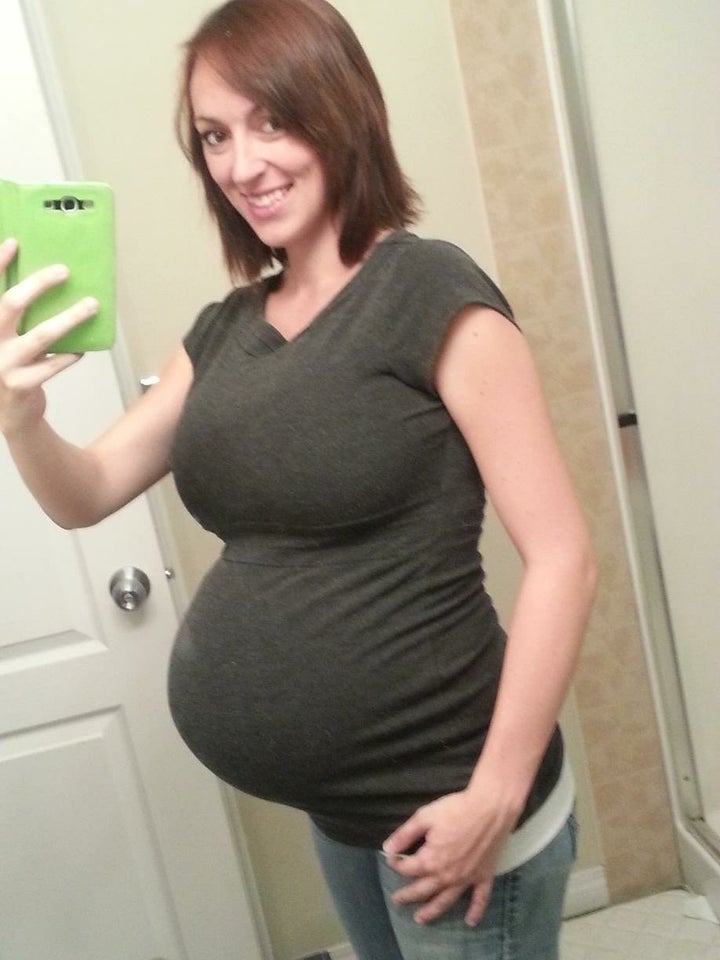 Ben told Jessica he had a history of misusing drugs shortly after they met through dating site Plenty of Fish in 2012. Though he was several months clean at the time, he told her on one of their first dates that he had been addicted to methamphetamine (also known as "meth" or "speed").
On Sept. 23, 2015, after Ben had relapsed and gone to rehab and relapsed again, he and Jessica went to an Alcoholics Anonymous meeting together. At the time, Jessica thought she was just there to support her husband. But after a few meetings, she realized that she, too, was an alcoholic. Both have been sober since.
How did the Grogans get through all of this and come out the other side? This is their story.
The Early Days
Ben started using meth, and then cocaine, just before he turned 15. He initially did drugs on the weekends, but by the end of the year, he was using every day.
"I would do it as soon as I got to school, morning break and lunch and then just leave school early and do more speed," Ben said. "My behaviors were harmless but that escalated fairly quickly into more questionable behaviors ― robbing people in the drug scene, assaults and some minor thefts."
He was upfront about his history with drugs when he met Jessica.
"He told me that he lived in a rehab and that he didn't go to school past grade 10. He went through everything," she said. "He told me about his addictions, and basically he would kind of stop in the conversation about every couple sentences, and be like, 'You want to leave yet?'"
Ben added: "I told her about 90 percent of everything, all the cards were on the table, and that was just our first date. I don't think she believed most of it to be as bad as I said."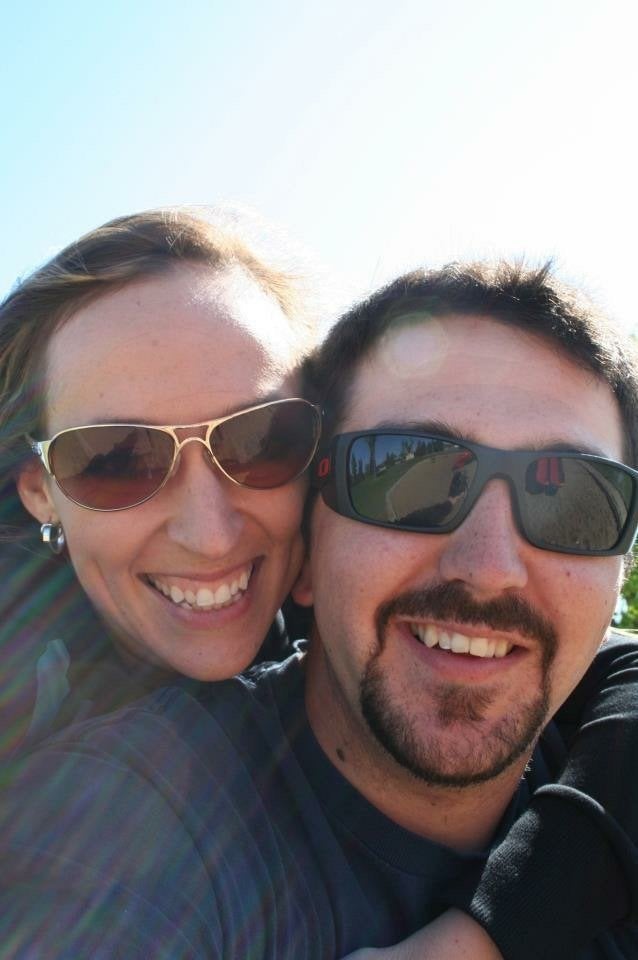 "It was kind of terrifying, but I was so over the moon for him that at the same time," Jessica said. "I was like, 'It's OK. Either I can change him or it's going to be different now.'"
The first relapse during their relationship happened while Ben was out of town visiting some friends in the fall of 2012. It was only a one-night slip-up, and he said it wouldn't happen again.
"Addicts are really good at convincing people there's no problem," Jessica said. "So he convinced me there was no problem, and that it wasn't something I needed to be worried about, and it only happened because he was with those certain people in that place at that time. And that if he wasn't in that situation again it wouldn't happen."
The Dark Days
Halfway through Jessica's pregnancy in 2013, Ben began using again. Only this time, it wasn't a one-night relapse; it lasted roughly five months.
"I started hanging around some new people," Ben said. "I got drunk one day in Edmonton and a buddy was handing out rails at the bar. I did some and quickly realized that that wasn't strong enough and bam ― I was back into it."
Ben was gone a lot. He and Jessica fought a lot when he was home, often about money, because he was spending so much while they were in the process of buying a house. All of this put extra strain on Jessica, the baby and their relationship.
"I ended up with a lot of false contractions and things like that because of the stress load," she said. "I'd end up in the hospital by myself because he wouldn't pick up his phone."
Jessica wanted to everything to be OK, so she pretended that it was. On Facebook and in conversations with her friends, she talked about how her pregnancy was awesome. Behind closed doors, she was miserable.
"Addicts are really good at convincing people there's no problem. So he convinced me there was no problem, and that it wasn't something I needed to be worried about."
"On the rare occasions that he would run to the store and get me my favorite type of ice cream or whatever, that's the stuff that I would talk about to everybody else to make it seem like my life was still bright and shiny and perfect," she said.
When Jessica confronted Ben about his absence and the noticeable changes in his appearance, he would apologize and chalk it up to being stressed about the baby's arrival. Or he'd say it was Jessica's fault because she was too needy.
"I finally approached him and was like, 'OK, so you've lost 80 pounds, your skin color is gray, and you're never home. I obviously know what's going on. Let me help you. We need to do something about this. I'm about to have a baby,'" Jessica said. "And then he's like, 'No, no, no, I've been sick because of work.' Literally nothing worked. The more I talked to him about it, the less he'd come home."
Jessica worried that Ben might be absent on the day of their daughter's birth. Fortunately, he came home the night before she was born. But shortly after the delivery, he was gone again.
Hitting Rock Bottom
A month or so after their daughter, Scarlet, was born, Jessica decided she had had enough. She implored Ben to go to rehab and he agreed. He returned from rehab right before Christmas 2013. Things were good between the couple for a while, and they decided to get married in August 2014.
Ben wasn't using drugs post-rehab, but he and Jessica began to drink together again. He had never been a heavy drinker, always more into drugs, so neither of them thought it was a big deal. They hadn't yet made the connection that, for Ben, the drinking often led to drugs.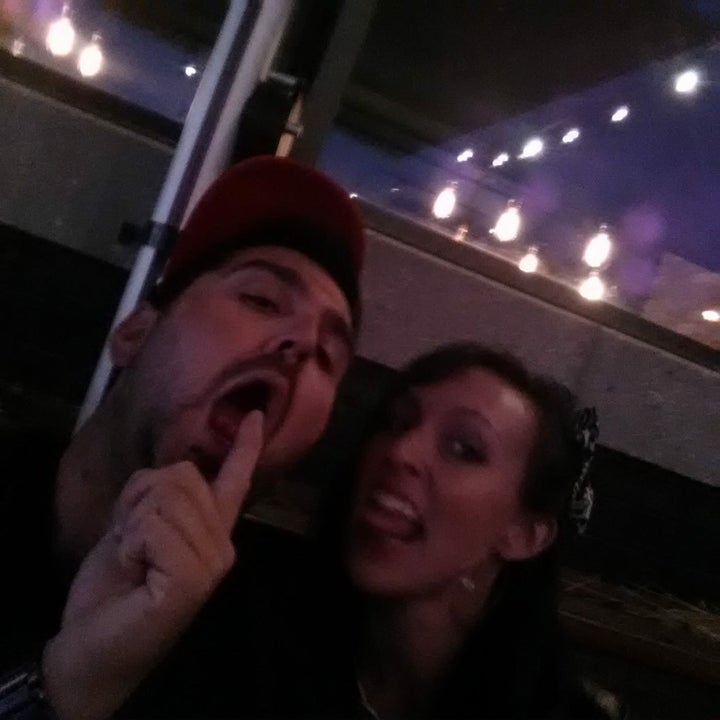 "We kind of got back into like, let's have a bottle of wine with dinner, if we're going to go out I'm going to have a glass of wine and he's going to have a scotch or something," Jessica said. "We slowly got back into partying together. But the lifestyle that drinking comes with is what would lead Ben to drugs in the end."
Ben and Jessica were both doing well at work, often celebrating making more money with booze. But the partying gave way to alcohol-fueled fights about their finances, the kids (they each had a son from a previous relationship in addition to their daughter together), responsibilities and other things that "didn't even make sense to fight about," Jessica said.
"I gave myself permission to be awful to him, to drink too much, to party all night because he had done all those things to me in 2013," Jessica said. "All the while telling others and him that I had put it all behind me."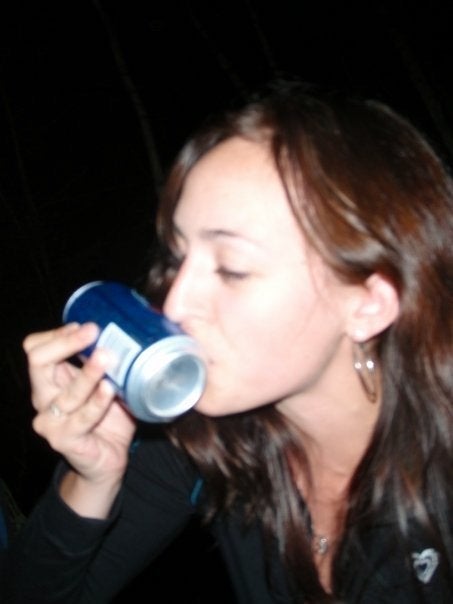 After one particularly bad screaming match, Jessica kicked Ben out of the house. They separated for several months, and Ben got his own apartment.
Ben hit rock bottom when he relapsed again during the separation.
"I woke up at a rest stop pull-out in Hope, British Columbia ― about a nine-hour drive from Edmonton ― with two dogs in my back seat but no money, no food, no drugs and no idea how I was going to get home," he said. "I suddenly realized everything I had done."
Jessica picked him up and they spent most of the drive talking and reconnecting. Jessica had her own low point not long after. She went out to a concert with some friends and hired a sitter to watch the kids. She drank a lot that night and ended up cornered in a hotel room by a man who accused her of knowing someone who owed him money. Jessica didn't make it home in time that night, so Ben had to come relieve the babysitter.
"That was my moment when I was like, OK, I need to change," she said. "Clearly I am doing something wrong in life."
Getting Sober
After those incidents, Jessica and Ben decided to get back together. Ben had previously gone to Narcotics Anonymous meetings, but he didn't like them so he started attending AA meetings instead. Jessica agreed to go with him as a show of her support ― not because she actually thought she needed to go. After a month, though, she realized she wasn't in control of her drinking; she, too, was an alcoholic.
"For me, it was, 'I'm not an alcoholic because I don't have to get up in the morning and have a drink. My kids don't miss meals, I still have a house, two kids, two dogs, and I still have a job.' I didn't have any of those stereotypical alcoholic traits," Jessica said. "When I finally made that connection between 'I don't have control over it, it has control over me,' that was the moment when I was like, all right, I relate with some of the people in this room."
At the time, Ben said he was "fairly self-absorbed" so he hadn't recognized that Jessica had her own issues with alcoholism.
"We were young and she'd never done hard drugs, so how could she have a problem?" Ben said, remembering his thinking at the time. "It's not something we ever talked about, or that she expressed she might have a problem with until the end. There were times where I knew she drank irresponsibly but I never saw it as more than that until the end."
Sober Life
For the first year of sobriety, the Grogans attended an AA meeting together every week. These days, Jessica still talks to her sponsor and tries to make it to a meeting when she can get a babysitter. She has since connected with a sober community on social media and through her blog. Ben no longer attends meetings, but he surrounds himself with supportive people who help keep him sober.
"I have people in my life who hold me accountable," he said. "This might sound dumb, but it just kind of clicked. I made my amends and I chose to move forward, and [partying] is not a life I want anymore."
Sobriety has changed their marriage ― and lives ― for the better. But like any couple, they still have their struggles.
"It's not all sunshine and rainbows," Jessica said. "We are both still learning how to cope with having feelings, I think. We are definitely able to talk more and reason with each other. Our family life is much more stable. We create better and happier memories."
Advice For Others
Sobriety is a personal journey. Different things work for different people, and there's no one "right" way to go about it. But both Ben and Jessica stressed that even though they got sober at the same time and supported each other through the process, they didn't necessarily get sober together.
"Believe in yourself, and while your partner may be your strongest help in recovery, don't become codependent," Ben cautioned. "If you become codependent, any time you have a fight, your first response will be to turn back to drugs or alcohol."
Jessica said it's also important to practice forgiveness — true forgiveness that allows you to let go of grudges and deep resentments. It takes time and you have to work at it, but you can't move forward in the relationship without it.
"If we get in an argument tonight or something, I'm not going to bring up things that happened because of his addiction," Jessica said. "You don't have to forget things; forgetting things is just not realistic. No one's going to forget traumatic experiences in their life. You definitely have to forgive and you have to mean it. You have to move on."
Ben, who has three years of sobriety under his belt, said he is proud of himself but acknowledged it sometimes "doesn't feel real."
"I'm proud of myself for getting here. I'm thankful for those that helped me along the way," he said. "And I'm happy with the person I have grown into and the father I am able to be for my family."
Need help with substance abuse or mental health issues? In the U.S., call 800-662-HELP (4357) for the SAMHSA National Helpline.
Have you gone through a major challenge or difficult period in your relationship and come out the other side? Email us about it at ToughLove@huffpost.com, and we may feature your story in a future installment of this series.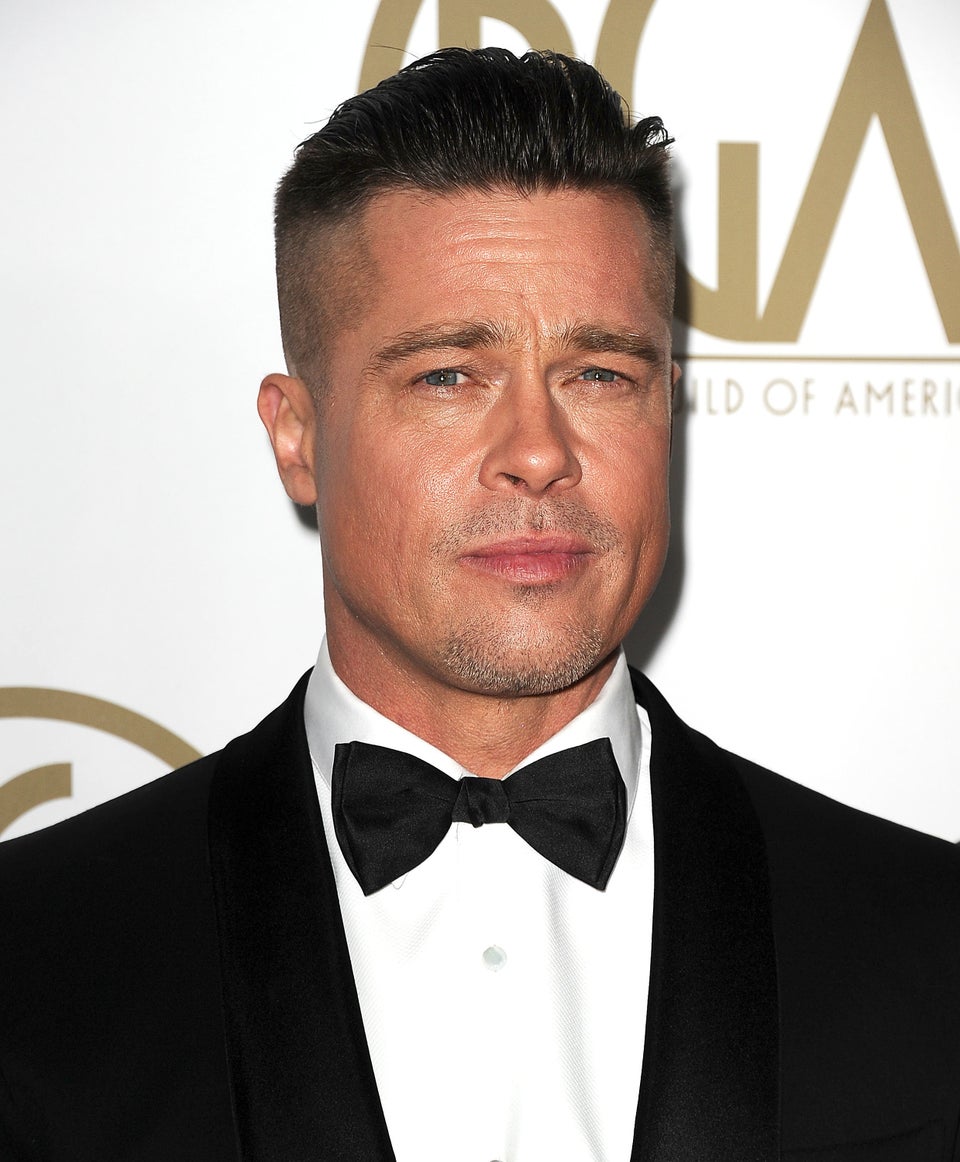 Stars Talk About Addiction