If there was a breakout star of Bravo's "Married to Medicine" it's Quad Webb-Lunceford. Since she hit our screens during Season One of the Bravo hit show (airing Sunday nights 9/8c), has started her own business, Picture Perfect Pup" and managed navigate herself through the choppy waters of the Atlanta medical community. With her business and her house both overly busy, this sassy Georgia peach shows no signs of slowing down. Miss Quad sat down to chat with me about the latest season of "Married to Medicine", why the gay boys seem to love her as much as they do, and those pesky rumors about her hopping over to another popular Atlanta franchise...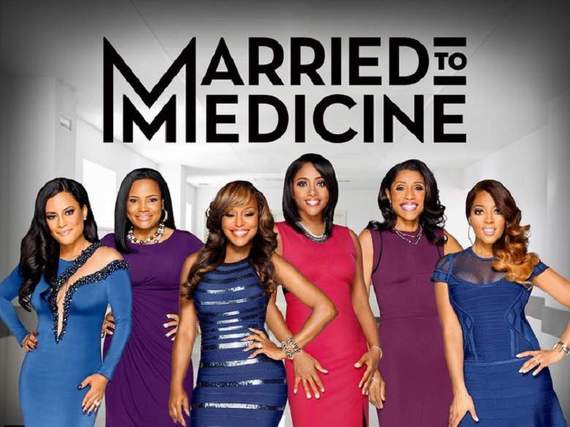 Last season you had a very controversial and stressful season it seemed. Will we be getting back to the Quad we all know and love this season?
You know, that was the "fool.com" last year! Who would go throwing water and then cut a beautiful woman in the face with the glass? That will never happen again, and the outcome would never be the same. I was very proud of myself though, and that was extreme pressure to be under at that time. It took me a lot of strength to navigate under that extreme pressure. I had been working diligently outside of "Married to Medicine" to expand both my brand and my business acumen, and my relationship with entertainment in general. I knew that would be the best idea (to keep my cool), but that is last season!


So during this season of "Married to Medicine", what can you tell me will be happening for Miss Quad this season?
Let me tell you something, for me, this is the best season ever. I am very pleased with it and very happy. Normally around this time right before a premiere, I would have a bit of anxiety, and I will tell you why I use the word "anxiety". It's very strategic; this job, this career, this business, even the relationships with this group of girls, it's a very strategic type place and I'll tell you what I mean by that. Trying to see when a person knows that they have wronged you and when you are a person that operates in "real" real life, seeing a person that has done "x, y & z" to you, let me put myself in their mindset and see how they are going to try to spin it and make me look bad and see how they are going to make people question my character.
This season, that's not happening. I have been going into this season without any anxiety of having to put myself in anyone else's shoes to see how much of a snake they are. I don't have to worry about that. It's quite exhausting honey. It's very draining at times, it takes a lot out of you mentally and emotionally. You think everything is good and you have good relationships with the ladies, you let your guard down, you possibly begin to trust, and then one of them stabs you in the back. Mentally trying to put yourself in their shoes, and then when they are scandalous and treacherous individuals trying to see how this person will spin this situation.
Maybe like co-star Mariah Huq?
Oh honey yes, and Lisa Nicole Cloud too.
Many of the fans don't like the fact that you and Mariah are not as close as you once were since you were such a fun duo. Any chance of a reconciliation?
You know, it is, I don't like either. It was out my control and I had no power in that. She decided to take the relationship in that direction and that's just what it is. I don't personally have any beef with her, but we just don't have any relationship. I really have put a pin in it and walked away from it. You saw me last year and saw that I was concerned during her health scare and went to her home with flowers, bearing gifts, and then the next clip over she is taking a dig at me saying I had a tear stuck and things like that. That's the kind of stuff I'm not with. You either have to be real or you have to leave me alone. I can't operate in the fakery. That is a strategic individual and I am not interested in playing her game. I think a lot of people initially were a bit surprised because they loved that Quad and Mariah duo. As time presented itself, the real Mariah presented herself. I think people started to see that how could this girl present her self as this girls's best friend when at every turn, she's stabbing her in the back or saying negative things about her, or trying to say negative things about her? I think at a certain time, people just wrapped their heads around the fact that there would just never be another Quad and Mariah
A huge part of what people love about you is that you are just so damn real! As expected, you are one of the breakout stars of "Married to Medicine" and for the LGBT community specifically. Why do you think that is?
YASS honey YASSS, I live for the children! You know what, I don't feel like I don't put on a persona, I don't act like I'm perfect, I don't portray that my life or may marriage are perfect. My family has issues, we are working through them daily. I present growth. I present a sense of hope. That you can start somewhere in your life and you can excel to many other places that people never thought you would be. All it truthfully takes is being honest. I believe in treating people fairly, I am sold on that.

I am not going to try to attach myself to someone because they have a status, they're famous, or they're popular. Nor do I need to attach myself to them to see where i can get with them and move forward with an agenda. I don't need to move forward with an agenda at all. I look at their heart, where their integrity and character lies, and I think people see that, it's real. I never said that I was perfect and I never will. I can tell you about growth though. I can tell you, with me sharing my story and talking about my story and growth, people see a person that could be their sister or their aunt. I think they feel that when they see me.

From a personal perspective, you have been very honest about your relationship with your husband and your business. You share some of the more intimate details on the show.
Yeah, I don't cherry pick what I am going to show the audience and what I am not. There is no script between my husband and I, about what we are going to say on camera. I want him to live and be who he is in the moment because i can respect that. When the cameras go off at the end of the day, I want to know that I am with the same person that I started with. I don't want to be thinking "is the marriage even real"? It blows my mind because i do see that with some of the other couples. They always say though, what happens in the dark is going to come to the light! I don't have time to cherry pick though, you can like me or you can not, and that is ok.
You know, with the amount of love and attention you seem to get, many people have called for Miss Quad to make the jump the "The Real Housewives of Atlanta"!
You know what, what's really funny, is that's another reason some of the girls hate me. Unlike some of my other cast mates who have tried to break down the walls of "Real Housewives of Atlanta" and been rejected on numerous occasions, I have never tried. I do hear that a lot, and have had conversations with (producer) Carlos King but I am where i am and I think God put me hear for a reason. A lot of those women are good friends of mine, and I wish them good luck over there! I know the pockets are deeper and the purse is wider over there, I get it. But I think I am right where I am supposed to be. I think people say that because of the personality you know? I think they think "Quad would be a better fit as a Housewife". In all reality, I could be placed in any situation and excel.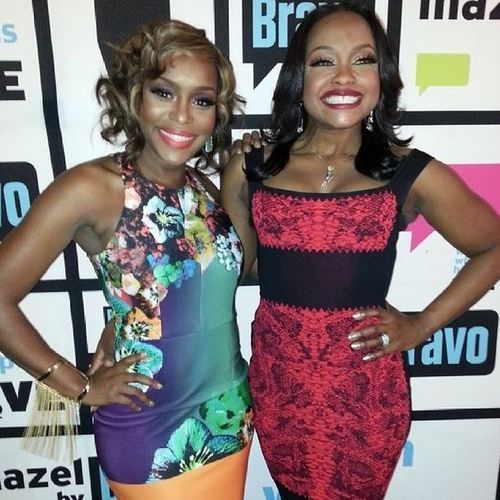 You have now launched a franchise "Married to Medicine Houston" just premiered!
What about those good girls in Houston?! You better watch them, the have been ready to come out for a long time. Like a gay man ready to come out of the closet honey! (laughs)
Honestly, I am so proud to be a part of "Married to Medicine". The "Housewives" franchise is well established and my hat goes off to them, but there is something about being on the forefront that is groundbreaking. The fact that "Married to Medicine" was a concept and then it was brought into reality, and then you had these women that came together, with such a force, you had people that wanted to take this on a tour that started nationally in Atlanta, and who knows? I am proud to be a cast member and a trailblazer on this show. I am so proud of Purveyors of Pop, because they didn't know, this was a shot in the dark, they believed enough in themselves and us, and I am so grateful for my good "Judy's" at Purveyors of Pop.
What would you tell the Quad that walked into Season One of "Married to Medicine" now that you can look back?
You know, its so amazing I have always known the leader that I am. I was a leader since day one, God meant it for me. For me, I would just tell her no matter where someone starts, cream always rises to the top. No matter the pitfall you may fall into or obstacles in front of you or adversity you face, stay true to yourself. Prevail as the leader you are.

You can find Quad on social media @ the links below;
Twitter;@AbsolutelyQuad
Website: http://quadisverybusy.com/
"Married to Medicine" airs Sunday nights at 9/8
"Married to Medicine Houston" airs Friday nights at 9/8
Calling all HuffPost superfans!
Sign up for membership to become a founding member and help shape HuffPost's next chapter