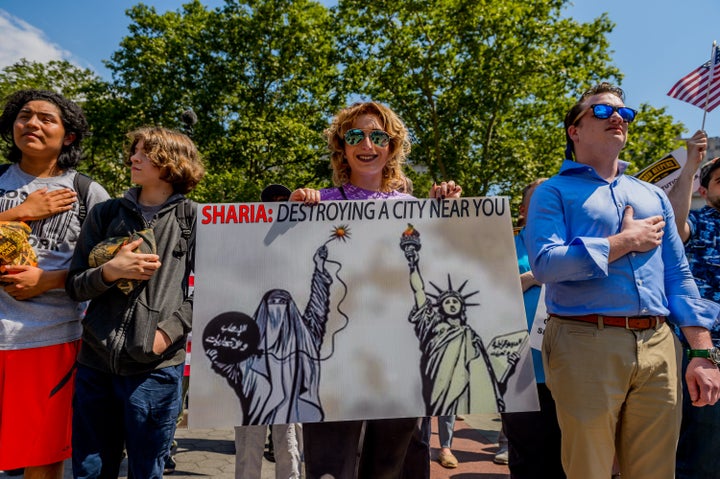 A Muslim advocacy group called on Marriott International to cancel an upcoming event at one of its hotel locations hosted by a group that promotes anti-Islam rhetoric.
Muslim Advocates, a civil rights organization, sent a letter to Marriott CEO Arne Sorenson on Sept. 11, urging his company not to host the ACTCON2017 event.
The event is organized by ACT for America, a self-professed grassroots group focused on national security, at the Crystal Gateway Marriott Hotel in Arlington, Virgina, on Oct. 2 and 3. 
"The leftist Islamic coalition is waging war against the rule of law and against you and me," she said. "That's why I need you by my side as we descend on Washington, D.C."
In an interview with HuffPost, Simpson noted that Marriott has been vocal about promoting diversity in statements about LGBTQ rights, immigration reform and the proposed travel ban. The company recently launched an ad campaign called "Golden Rule," which highlights the humanity and dignity of diverse communities.
"If they're declaring that their corporate values are centered around diversity and inclusion, then hosting an anti-Muslim hate convention would be counter those values," Simpson said.
The company hadn't responded to Simpson's letter as of Friday, he said. A Marriott spokesperson told HuffPost: "We are a hospitality company that provides public accommodations and function space. Acceptance of business does not indicate support or endorsement of any group or individual."
"ACT for America has never, and will never, tolerate any bias, discrimination, or violence against anyone, based on their religion, gender, race, or political persuasion. Freedom to practice one's religion in peace is afforded to each of us by the U.S. Constitution and we will defend it vigorously," the organization said in a statement provided to HuffPost.
The statement claimed that Muslim Advocates and SPLC are attempting "to redefine legitimate political differences as hate, in an effort to stop any public conversation about them." It also noted that the conference will include a Muslim speaker, as well as other presenters from underrepresented groups.
"By attempting to pressure the venue to cancel it through the distribution of outright lies, Muslim Advocates simply exposes itself as a dishonest political partisan on issues important to millions of Americans," the statement said.
Despite the group's claims of promoting religious liberty, Gabriel has been quoted as saying, "Every practicing Muslim is a radical Muslim," according to The New York Times. ACT's Facebook page also attracts many anti-Muslim users who regularly echo rhetoric that frames Islam as inherently violent and at odds with American values.
ACT organized a series of "March Against Sharia" events around the country this summer, attended by a smattering of Islamophobic hate group members, neo-Nazis, white supremacists and armed anti-government militia members.
If Marriott refuses to cancel the conference, Simpson said he hoped the company would alert its staff and guests about the event.
"The folks who will be staying at the Crystal Gateway Marriott on Oct. 2 and 3 should be made aware that their hotel is not going to be a hate-free zone," he said. "The employees should know that as well. There are people who are known anti-Muslim bigots who will be there."
REAL LIFE. REAL NEWS. REAL VOICES.
Help us tell more of the stories that matter from voices that too often remain unheard.
BEFORE YOU GO
PHOTO GALLERY
Muslims Of America