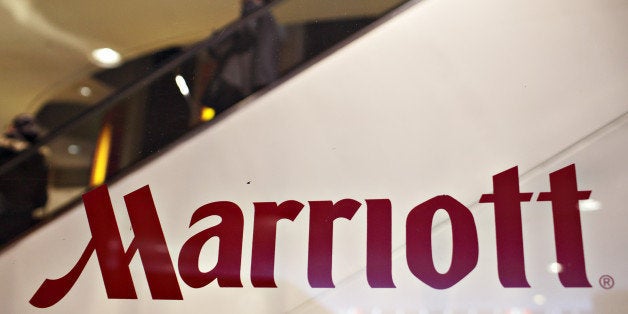 Just three months ago, Marriott got in trouble for illegally blocking guests from accessing their own Wi-Fi networks in a conference room at one of its hotels. But the hotel chain is still defending its efforts to block guests from using personal devices to access the Internet in its conference rooms.
Last Tuesday, Marriott issued a statement saying that its goal is to prevent cyber attacks against the company and its guests.
"To set the record straight it has never been nor will it ever be Marriott's policy to limit our guests' ability to access the Internet by all available means," Marriott said in the statement. "The question at hand is what measures a network operator can take to detect and contain rogue and imposter Wi-Fi hotspots used in our meeting and conference spaces that pose a security threat."
The hotel chain clarified that it's only attempting to restrict Internet access in conference rooms and meeting spaces, not in guest rooms or even hotel lobbies.
At issue is the use of personal Wi-Fi networks established via smartphones and mobile Wi-Fi devices. Back in August, Marriott petitioned the Federal Communications Commission to request permission to block guests from using these devices at its hotels. That request is still pending, but in October, the FCC fined the hotel chain $600,000 for using Wi-Fi jammers to block Internet access at a hotel in Nashville.
The company's recent defense might not appease critics who have flooded the FCC's website with comments about Marriott's petition. Some say that Marriott, which charged between $250 and $1,000 per device for wireless access at the Nashville conference room where the jammers were used, wants to block personal Wi-Fi access in order to force guests to pay for its Internet services.
As Consumerist notes, personal Wi-Fi hotspots are especially useful when attending conferences because the large number of people trying to access the Internet can slow network speeds.
Representatives from Marriott did not respond to The Huffington Post's requests for comment.
It's not just Marriott hotels that are looking to block personal Wi-Fi access. Hilton Worldwide submitted a comment to the FCC in support of Marriott's petition. The American Hospitality and Lodging Association, which is the lobbying organization for the hotel industry, is also behind the request.
The FCC is currently accepting public comments about Marriott's petition. You can submit a comment here.
Related
Popular in the Community