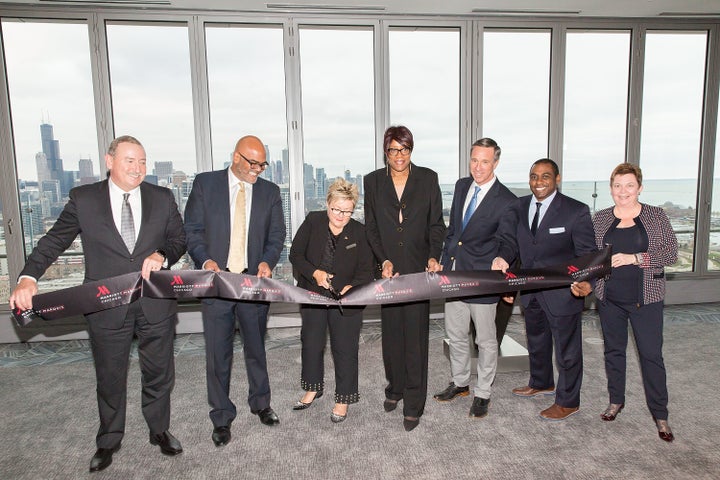 The Marriott is undergoing a re-branding campaign. Newly built Marriott hotels showcase a modern, minimalist look with interiors that pay homage to their locale, but keeps the global traveler in mind. The grand opening of the Marriott Marquis at Chicago's McCormick Place highlights this marriage of local, modern, and global. Within two months of opening, the Marquis Chicago hosted former President Barack Obama and Michelle Obama and their Obama Summit, a feat for a newcomer to the Chicago skyline. The hotel adds much needed housing at McCormick Place, the largest conference and trade space in the US. The Marquis Chicago has over 90,000 square feet of meeting space with 1,200 guest rooms on 40 stories and a covered pedway to the McCormick Place convention halls and neighboring Wintrust Arena. The hotel's official grand opening was celebrated on November 17th with a ribbon cutting ceremony with Alderwoman Pat Dowell and Michael Merchant from the Metropolitan Pier and Expansion Authority in attendance. The ceremony was held at Level 33, the jewel in the crown meeting space with city views to the north and south and phenomenal lake views that include: Navy Pier, Museum Campus, and Soldier Field.
Arne Sorenson, President and CEO of Marriott International, took pride in noting that the Marquis Chicago, although located in a big city still retains the "gentleness of a midwestern welcome." As Marriott prepares for its 90th anniversary, Mr. Sorenson stated that "one new Marriott hotel is being built every 14 hours for the next three years" with each hotel being a "living community" that reflects the location. He stated that in the past, "the way people worked was different" with travelers used to hotels being "similar everywhere offering familiar and comfortable" surroundings. However, "with changing trends in travel, today's travelers want experiences and social and communal spaces within the hotel where environment plays just as much a role in the travel experience." Therefore, the new Marriott is geared towards offering travelers "rich and authentic local experiences that are interesting and creative." Yet, the company's core value remains to "treat associates with dignity and respect so that associates feel a connection with the company" as a place to build careers and a place to innovate.
Julius Robinson, Senior Vice President & Global Brand Leader of Marriott International, was also in town to celebrate the grand opening and share the vision of the new Marriott. Mr. Robinson expanded on the changes noting that food options and the fitness centers have been modified to reflect travelers desire to remain fit and healthy while traveling. Marriott menus have been revamped with grass-fed beef, gluten free, and vegetarian offerings, not only in the restaurant, but also for room service. He was particularly proud that in addition to hosting the Obama Summit, President and Michelle Obama extended their stay at the hotel with President Obama making use of the fitness center. For a newly opened hotel in Chicago's hospitality market, the Marquis Chicago now boasts a true "presidential suite."
Marquis Chicago: Rich in History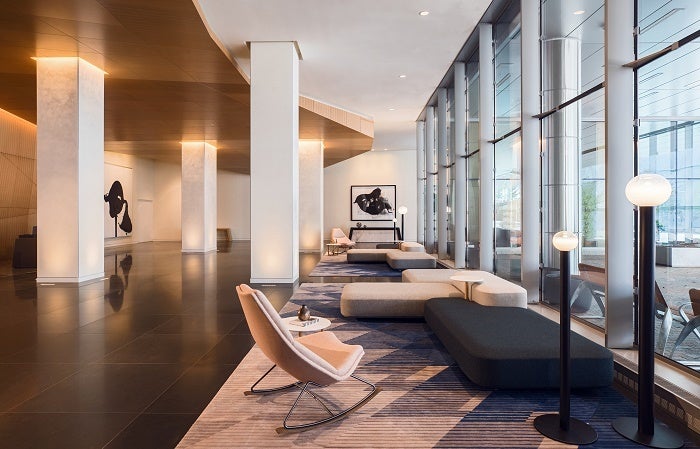 From the moment guests enter the lobby, the spirit of Chicago is on display. All of the artwork throughout the hotel, in the common areas and guest rooms, feature local Chicago artists. The artwork contains QR codes that guests can scan with their mobile devices to receive information on the artist and artwork. Guest rooms include artwork of Chicago bridges and graffiti art. The Marquis Chicago is located in the Historic Prairie Ave District featuring the Glessner and Clark mansions and the landmark gothic revival structure of Second Presbyterian Church. Marriott bought and renovated the adjoining American Book Company landmark building for additional meeting and event space with breakout communal areas equipped with tables, outlets and USB ports throughout. In homage to the building's history, event rooms are named after textbooks.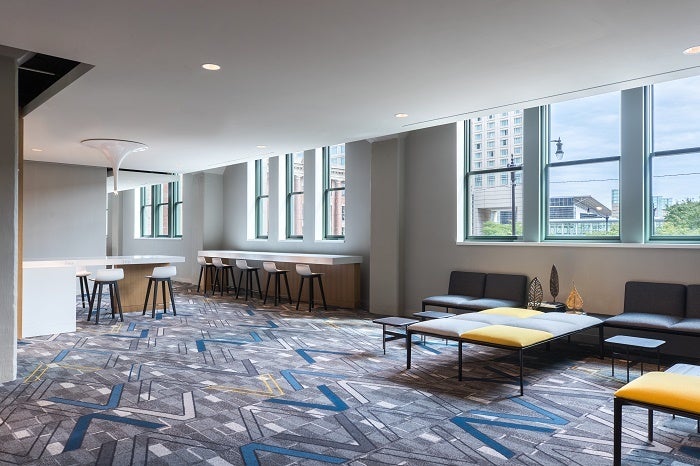 History buffs can walk to the historic Chicago Defender building on Motor Row. Chinatown and the Chicago Transit Authority's (CTA) red and green line subways are a short walk. Even the menu in the lobby restaurant of Woven & Bound feature a nod to Chicago food favorites. In-room service provides Chicago's own Garrett's Popcorn – no need to wait in line on Michigan Avenue. Additionally, the new "Fresh Bites" room service delivers hot food in twenty minutes or less! At Your Service Room Service delivers to your room or you can pick-up in the lobby. In 2018, a marketplace cafeteria will open in the lobby offering Asian, Italian, and healthy bites in a more casual dining space.
Interiors with Views & Tech Convenience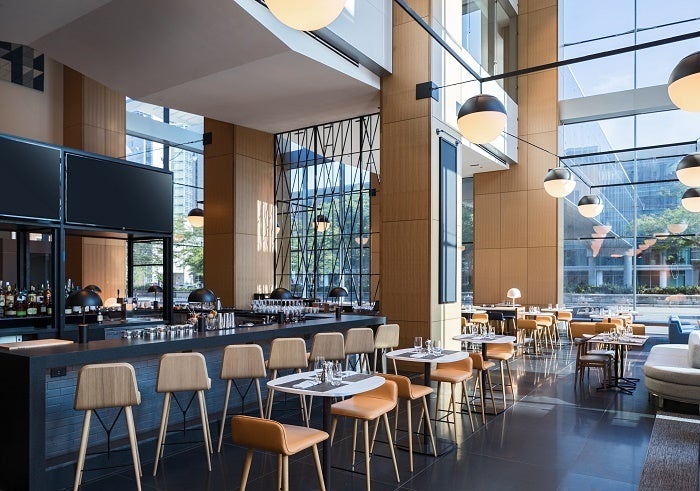 The modern and minimalist theme is throughout the building. All of the furniture is minimalist with a nod to Chicago's bungalow mid-century modern look. Guest rooms boasts a chaise sofa with a floating table to eat or work that moves easily from the sofa to bedside. Floor to ceiling windows in guest rooms provide natural light while taking advantage of the tremendous city views. Guests in south facing rooms get a view of the Chicago White Sox ballpark, Hyde Park, South Shore, and Jackson Park, where the Obama Presidential Library & Foundation will be housed. Those with a north view see the splendor of the Chicago skyline. For the fortunate guests with an east view – Lake Michigan, Northerly Island, Navy Pier, Museum campus, the beach and bike path are yours. Throughout the lobby outlets with USB ports abound. Even the lobby bar features hooks for coats and purses along with outlets to charge your electronic devices. For guests who have forgotten their charger, fear not because the clocks in guest rooms come equipped with charger adapters.
Breakout and communal spaces are throughout the hotel in the lobby and event floors. From mid-century modern rocking chairs to Little House on the Prairie styled nooks – all equipped with USB ports and outlets – staying connected has never been so easy and comfortable. Think you're in love with that rocking chair or mattress? Marriott online shop allows you to purchase furniture featured in their hotels.
For those afraid of the blustery winter wind or muggy summer heat, covered pedways to Wintrust Arena and McCormick Place provide shelter from Chicago's brutal winter and sweltering summers. The hotel campus maintains 72 degrees year-round. No need to worry about lugging an umbrella or winter gear. Access to Chicago's lakefront, with walking and bike paths, is via the original lakeside McCormick Place or the 18th street underpass. For families, there is a community playlot with an adjacent dog park one block north.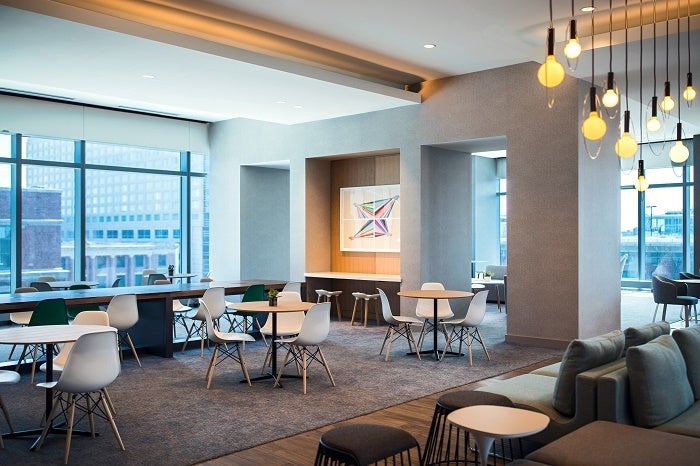 For the working traveler, newly built Marriott hotels offer the M Club to Gold and Platinum members. It is the ultimate business center with the comfort of sofas, chaise lounges, coffee tables and workstations with USB ports and outlets. It features Apple computers, printers, large screen televisions, a spirit and wine bar with a bartender, and food service offering breakfast, snacks, appetizers, and beverages featuring Illy's coffee. The M Club is the perfect alternative to working in your room or a busy lobby. It is open 24 hours so if you need to burn the midnight oil to make a presentation deadline, this is the place for you. If you are not a gold or platinum member, you can pay for daily access.
Marriott Rewards Moments Master Classes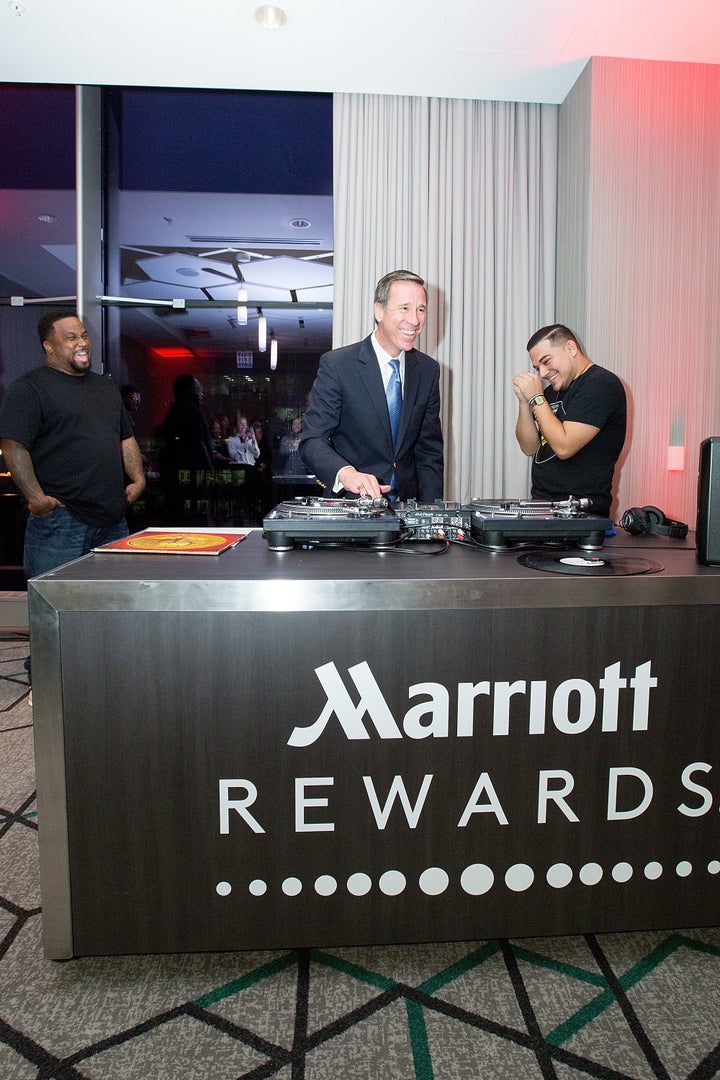 As part of the grand opening experience, Marriott Rewards Moments Master Class featured "The Art of DJ." Participants received instruction from famed Chicago house music DJ Terry Hunter and DJ Ruben aka Boi Jeanius. Marriott CEO and President Arne Sorenson received applause when he practiced scratching to Earth Wind & Fire! Marriott Rewards Moments Master Class debut earlier this year. Marriott Rewards Moments is available to Marriott Rewards and SPG members offering "rich, authentic, creative, and interesting experiences" that are unique to the locale. Previous master classes included basketball instruction from NBA champion Dwayne Wade at the Marquis Miami; golf instruction with hall of fame golfer Annika Sorenstam at the Ritz Carlton Lake Tahoe; and cooking instruction by chef Eric Ripert at the Ritz Carlton Grand Cayman.
Chicago's Own: Jennifer Hudson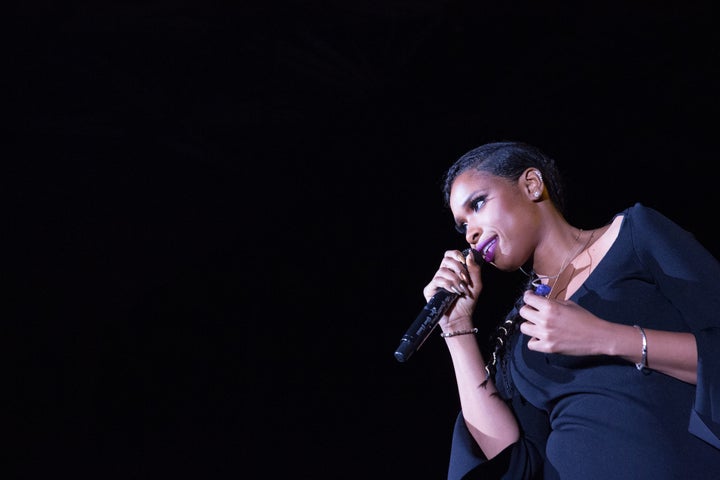 To end the grand opening festivities, the Marquis Chicago saved the best for last. Chicago's own Oscar winning, Grammy nominated native, Jennifer Hudson, performed in the ballroom. DJ Terry Hunter opened with classic Chicago house music before the "voice" aka JHud took the stage. As drones delivered cocktails to guests, Ms. Hudson wowed the audience with her stunning vocals. She exuded Chicago hospitality as she invited attendees to sing and dance on stage with her. As the evening came to a close, the Marquis Chicago showcased the new Marriott brand: local centric with a global reach!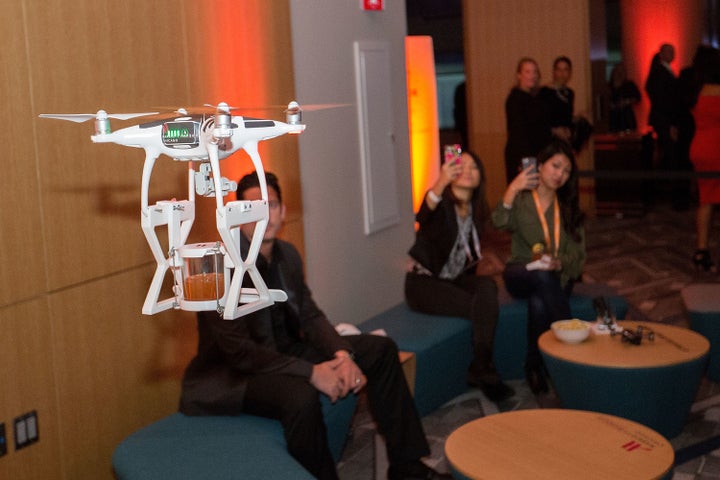 Support HuffPost
The Stakes Have Never Been Higher
Related
Popular in the Community