After weeks of picketing, Marriott employees in several cities, including Boston and Detroit, have returned to work following successful negotiations of new contracts with the world's largest hotel chain.
"Management thinks they can break the workers by pushing this strike into the holidays. Well, they've underestimated their workers from the beginning!" Unite Here Local 5, the hospitality worker union representing Marriott's employees in Hawaii, wrote on its website.
In early October, almost 8,000 front desk personnel, housekeepers, servers, bartenders, and other service employees walked off the job at Marriott properties in eight major U.S. cities: Boston; Detroit; San Francisco, San Jose, Oakland and San Diego in California; and Honolulu and Lahaina in Hawaii.
The workers were seeking higher wages and job security after months of deadlocked contract negotiations.
"We're asking to be brought up to the Marriott industry standard," Nia Winston, president of Unite Here Local 24 in Detroit, told HuffPost in an earlier interview. "We have other unionized hotels and casinos in town where workers make at minimum $3 and $4 more" per hour.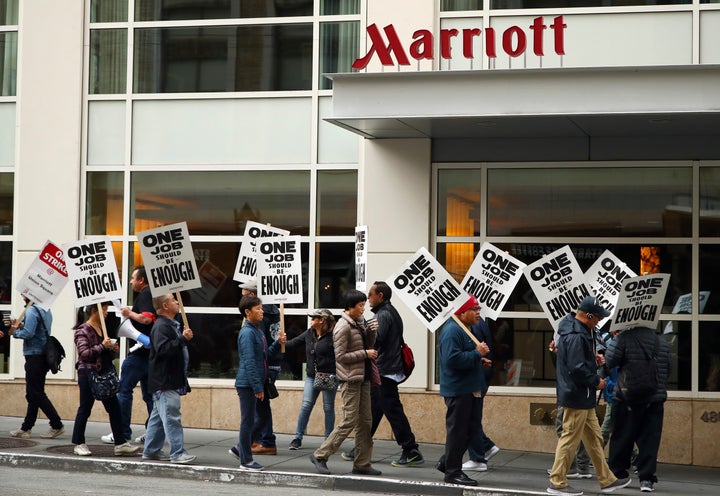 "The service was not good," one guest at a Sheraton in Boston told travel website The Points Guy earlier this month. "[There was] no club room, no restaurant, only breakfast, and the market was only open a few hours a day."
About 1,500 Marriott employees in Boston ended their 46-day strike over the weekend following the ratification of a new contract agreement. Unite Here said it had been the longest and largest hotel worker strike in the city's history.
"Hotel workers stood strong for more than six weeks in the wind, the rain, and the snow, up against the largest hotel company in the world," Brian Lang, president of Unite Here Local 26, said in a statement. "It was a hard-fought victory, but in the end, Marriott showed leadership and listened to our members' concerns."
"We are looking forward to welcoming our associates back to work," the hotelier said in a statement.
Related
Popular in the Community