 Over the last week, thousands of words on the Internet have been dedicated to discussing the topic of marriage -- specifically the ideal point in a woman's life for her to marry, if there is one ideal point.
Sometimes people delay marriage because they are searching for the perfect soul mate. But that view has it backward. Your spouse becomes your soul mate after you've made those vows to each other in front of God and the people who matter to you. You don't marry someone because he's your soul mate; he becomes your soul mate because you married him.
We asked the female editors in our newsroom -- some married, some single, one engaged -- to weigh in on the question. Should women be getting married young? And is asking that question problematic to begin with?
Annemarie Dooling, Senior Community Editor, age 29:
At a bridal event in Manhattan, a smiling Sylvia Weinstock told me, "There is no perfect time to get married. You get married when you are in love." That was five years ago, the weekend after I got engaged. Three years later, I finally tied the knot with the man I've been with since college. Why did it take me so long to finally set the date? Sylvia may have been right that there is no perfect time to get married, but there is a perfect time to make substantial life plans, and romance aside, there are a lot of logistics that go into creating a partnership in the new millennium.

I would have been content to play house for another eight years if not for family and peer pressure. The Slate article maintains the opinion that you need to walk down the aisle to have a life partner, and that just isn't true, regardless of age, but it does take a certain amount of life experience to figure out how to be half of a whole.
Brie Dyas, Senior Editor, HuffPost Style and HuffPost Home, age 28:
Darling, I couldn't even commit to a decent hairstyle at that age, let alone a husband. And considering my taste in men at the time, I think it all worked out for the best. (Unless you want to be Mrs. Directionless Member Of A Hardcore Band.) Like developing a palate that appreciates a fine wine, knowing what you need in a lifelong partner takes time ... but the process is so fun in hindsight that it seems unfair to rob someone of that experience.
Shelley Emling, HuffPost/50 Editor, age 50:
My husband and I eloped when I was 28 and he was 24. Was that too young? We're still happily married 22 years later. At the time we got married, many of my friends said they were in no rush to tie the knot. They wanted to build their careers, make their own way, see the world. Today many of those friends are still single. It might sound like a good idea to "live a full life" before getting married -- and certainly it can be -- but it doesn't always work out the way you want it to. In other words, you can't decide "when" you are going to fall in love. It can happen when you're 18 or 23 or 49 or 80. If you've found the right person, you'll know it. And you shouldn't be afraid to get married. The nice thing about getting married in your 20s is that you and your spouse grow up together (and hopefully not apart). My husband and I have gone through family deaths and job transitions and children -- and our relationship is the stronger for it. I'm happy he saw me in my 20s. I look forward to seeing him in his 80s.
Emma Gray, Associate Editor, HuffPost Women, age 25:
I'm over being told when I should or should not marry. Between Susan Patton's unhelpful advice about finding a husband on your college campus and Julia Shaw's essay about how she got married at 23 so we Millennial women should all get on that ASAP, enough is enough. The women I know think enough about their current and future love lives without being made to feel as though we've missed some invisible deadline if we've failed to commit for life to one person by our mid-20s.

I have friends who have gotten married, friends who are engaged, friends who are in relationships, friends who are not in relationships but want them and friends who don't care about ever finding a lifelong mate. Each of these women has thoughtfully considered the decisions which she has ultimately made. My married friends did not get married because they felt that they had to or that it was fundamentally better to legally partner-up young, but because it made sense for their lives and their specific situations. There are also many valid reasons for why young women stay single -- many of which boil down to the fact that they simply haven't met anyone who they want to marry. Making those of us who aren't wifed up at age 22 or 25 or 28 feel guilty or "less than" accomplishes nothing. We'll make the decision to get married when it feels right and not a minute sooner. Marriage may have "jump-started" Julia Shaw's independence, but there are a whole lot of ways to feel adult without a ring on your finger.
Meredith Melnick, Editor, HuffPost Healthy Living, age 30:
Excuse me for harping on a small point, made so early in Julia Shaw's Slate essay -- what amounts to a long-winded anecdote of a happy relationship -- but I think it illustrates the central problem of this essay: It's an enthusiastic attack on a straw man.

Nobody is arguing that a healthy, supportive marriage is a bad idea. Shaw found the "true gentleman" she wanted to marry early in life, [and] that's great. But it doesn't mean early marriage is the answer for the rest of us. Or that the alternative to an early marriage is an isolating and unsupported early adulthood: All of my job turmoil and existential angst and varied 20-something emotional neediness was attended to by a phalanx of wonderful friends, boyfriends, loving parents and a kickass brother. There's nothing wrong, as Shaw seems to imply, with looking for help and love elsewhere.

And God am I glad I didn't marry the guy I was dating when I was 23. It isn't that I don't think fondly of that time -- he gave me the twin things I longed for at that age: to be listened to and to feel like a grown-up. We lived together, we pantomimed a marriage and played house and then we realized that we were just getting to know ourselves and that actually, we wanted to live very different lives. So I left for grad school -- no paperwork, no awkward family reunions, just a small feeling of loss and a big feeling of possibility.

I'm not saying my path was better than Shaw's -- simply that it wasn't worse. And, while we're chatting, perhaps we can agree to stop telling each other what to do.
Lily Avnet, Intern, HuffPost Healthy Living, age 24:
What's with the fascination [with] women and their relationships? We never pay this much attention to men and the tumultuous dating world they face en route to marriage. While all of these pieces provide various insights into personal encounters with the search for a mate, they come off sounding pedantic, when they're really just personal opinions, experiences and beliefs. It's nice that this young woman has settled down at 23. It's great that women get married whenever they want (or not at all). The issue isn't that women get married too young or too late (or not at all), it's that the media continually suggests there is some looming threat to women; that women can't be married and have a job; that settling is good or bad; that there aren't enough eligible men out there; that marriage and children are the road to happiness.

Just because Julia Shaw got married at 23 doesn't mean that's the right decision for everyone.
Ann Brenoff, Senior Writer, age 63:
Marriage-readiness isn't a developmental milestone that everyone reaches by a specific age or else we call in the medical specialists. While babies probably should be walking by age 3, not every Millennial should be walking down the aisle by 23. Marriage is a commitment to not just the person you marry but to the idea of being married -- and I don't see many 23 year olds ready to make that commitment so early in their adulthood.

But I also don't think all the planets need to be aligned before you marry; you needn't wait until you have your dream job, enough money to buy a house, or have sold your mobile app design to Apple before you proclaim yourself "ready." Marriage, like the rest of life, requires adjustments along the way. So probably the greatest thing you can acquire before you take the leap is flexibility.
Lisa Belkin, Senior Columnist, age 52:
I had always planned to be a young mom. My mother was -- she married at 20 and had me at 22 -- and, growing up, I'd liked that she was young. I intended to do that, too.

And then, one day, while riding in a cab home from work, somewhere around Lincoln Center (funny the details you remember) I realized I was 27 -- which made it rather difficult to stick to my plan. As it happens, I met and married my husband within the year, had my first son just after turning 30, and still don't quite understand why I am older at every milestone of my children's lives than my mother was at mine.

And yet, that was as it should be. For me. In my particular life. I was not ready to make life choices any earlier. I needed to know who I was before I could commit to someone else, and that took awhile. I also think that however wonderful a match I might have made at 22, I would have chafed and outgrown it, wondering what I might have missed by choosing too soon. That's another version of knowing yourself -- being confident that you can be on your own, so that being with someone else is a decision, not a default.
Raydene Salinas, Photographer and Photo Editor, age 27:
Marriage isn't necessary to be supportive and feel supported -- you can do all of those things she mentions in a healthy long-term relationship and still feel fulfilled. When both parties are ready, then by all means, get married, but age shouldn't be a factor!
Jessica Samakow, Associate Editor, HuffPost Parents, age 23:
At 23, I'm old enough to have started my career and live on my own, but young enough that it's still acceptable to be hungover on a Thursday and for me to have zero idea how to do my taxes. I have no clue what the landscape of the next 7 years of my life will look like -- and I'm not supposed to. My 20s should be about experiencing adulthood on my own, figuring out who I want to be independent of another person, spending a few (dozen) more nights chatting with random men at dive bars and perhaps figuring out how to file an insurance claim. "Growing up" with a spouse means never learning to handle real life on your own. And that, I suppose, is what I'm "waiting for."
Janet Belkin, Lisa Belkin's mother, age 75:
I am writing this 55 years after I was married at age 20. This was several weeks after I graduated from a prestigious woman's college and my husband had graduated from dental school. Our marriage lasted for 46 years until I was widowed in 2004. They were wonderful years, and if I were to relive my choices, I would not change my decision at all.

The press (particularly the feminist press) frequently gets consumed with "having it all." I firmly believe that I did have it all, albeit serially rather than simultaneously. I gave birth to my first child, Lisa, when I was 22, and my third was born when I was 26. Because I was too young to regard child rearing as a mission in which I must be the "best," raising my children was a joyful and generally relaxed experience. I was not filled with concern about being a wonderful mom -- I assumed that love and common sense would see me through --- and it did!

Many people, including my parents, argued that I should see more and do more before I got married (although they were fine with my choice) which to me implied that marriage and experiences were not compatible, and this was just not true. While raising my children I managed to earn a Ph.D. and then a J.D. As a family we traveled in Europe and Asia, and the experiences created memories we still explore.

And then, all too quickly, I was in my early 40's; a new corporate lawyer and an empty nester. I pursued a career actively, and successfully, but, with the knowledge that there was more to life than work; and so I enjoyed both. At age 73 I married again -- but that is another wonderful story.

Do I believe that one should marry young? Absolutely -- if that is the time you meet someone with whom you know you want to spend the rest of your life. I do not believe that one should view marriage as part of a time schedule but I also do not believe that one should reject marriage based on one's age. From my perspective, marrying young, and having children young, is the best way to "have it all." And its been a terrific ride, so far.
Laura Schocker, Senior Editor, HuffPost Healthy Living, age 27:
When I was in my early 20s, I had been dating the same boy since high school, and I would've bet my whole imaginary future that the two of us were going to get married. We didn't -- and I'm so, so glad. Not because he was a deeply unreasonable match or because my life wasn't yet "settled," but because as I've grown up and evolved, so has my definition of sustainable love. I felt I couldn't breathe in if he wasn't going to be there to breathe out for me. We were so intertwined that I couldn't imagine living without him. The very idea paralyzed me. And that's when I knew I had to. I don't want to be with someone who "completes" me. First I needed to learn that I could be OK (more than OK) on my own, and then I could find someone who adds to my life -- makes it better, happier, more fun, more stable. I want to want to be with someone, not need it. Of course, everyone is different -- Julia Shaw may have found what she wanted at 23, but it took a little longer for me.
Krystie Yandoli, Intern, HuffPost Teen, age 23:
As a young woman who cannot escape the never-ending marriage advice from other women, I struggle with accepting the idea that what feels right for one 23-year-old is right for all 23-year-olds. Julia Shaw asks, "What are the rest of you waiting for?" when speaking about her own experience, in which I can only respond: What aren't I waiting for? Job stability, having a strong sense of self and growing into who I am as a human being independent of someone else are all legitimate concerns and priorities to have.

It's also valid not to want your choice of a life partner to simply be an agenda item or something to accomplish by the time you reach a certain age. While the politics and legal aspects of marriage can be highly logical and technical, I'm choosing to hold on to the hope that love is more romantic than succumbing to the notion that someone "becomes your soul mate because you married him."
Lori Fradkin, Senior Lifestyle Editor, age 29:
"Marriage doesn't require a big bank account, a dazzling resumé, or a televised wedding," Julia Shaw writes in the conclusion to her piece. "It requires maturity, commitment, and a desire to grow up together." To this I say: Yes to maturity. Yes to commitment. Yes to growing. But a desire to grow up together? No. Growing up is different. It was something I needed to do on my own before I could even think about a committing to a partner for life. I didn't become a different person in the eight years since I graduated from college, but I gained a better understanding of who I am and what I want in life and in a relationship. My parents wed at 21 and 22 and are still going strong, so I understand that it can work out. But that doesn't mean it needs to be that way. The rest of us aren't waiting to walk down the aisle because we have "misguided" ideas about marriage. As for me, I'm now almost 30 and engaged to a man I met at 28. And this, Julia Shaw, is what I was waiting for.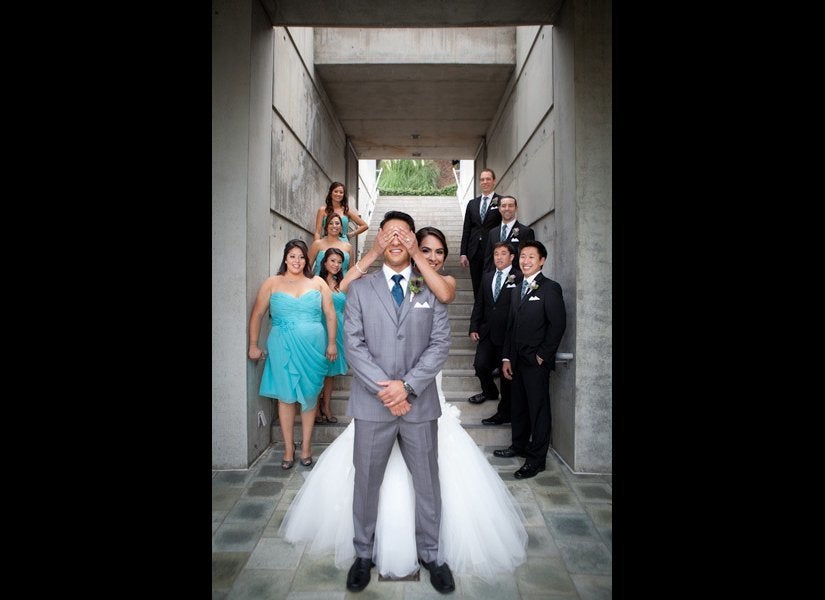 First Look Photos
Popular in the Community