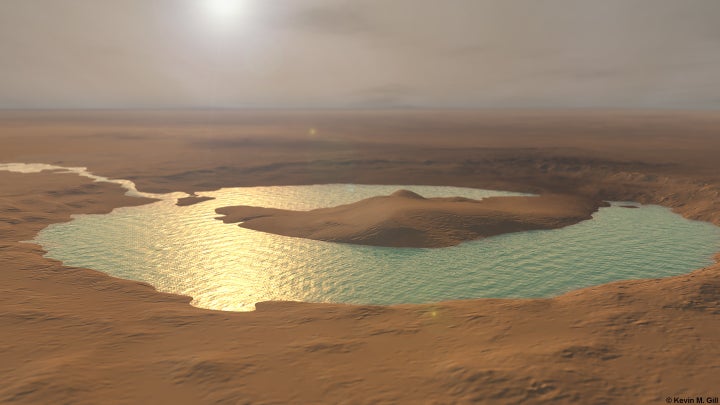 "We went to Gale Crater to figure out if that environment ever had the conditions to support life," he said. "One of the necessities for habitability is water, and we already had some clues from the Mars Reconnaissance Orbiter images taken before landing that there was action of water within Gale Crater but we didn't know how much water was involved... and we didn't know how long it was there."
The researchers examined images taken by the Curiosity rover's onboard cameras and analyzed data from soil samples that were collected by the rover drilling in Gale Crater.
They noticed three different kinds of rocky sediment that provide evidence for the presence of flowing water, Vasavada said. The first kind of sediment was gravel that is often found in the bottom of stream beds. The second was sandstone and the third was a fine, silty rock that may have once been mud formed at the bottom of standing water.
Standing water must have been a part of the red planet's history and flowing water must have deposited sediments into the crater's lake 3.8 to 3.3 billion years ago, the researchers concluded. Those sediments form the bottom layers of a 3-mile-high mountain called Mount Sharp, which is now located in the crater.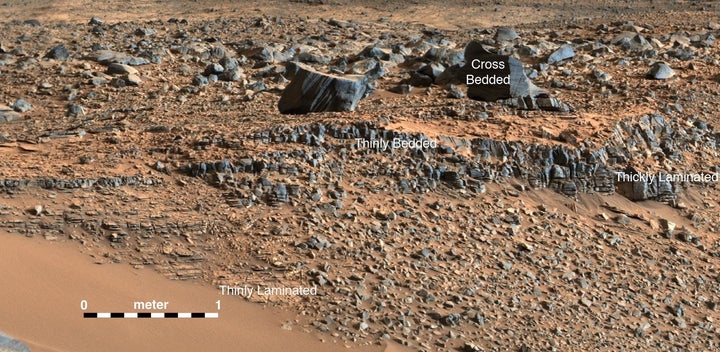 "Now that we have a great example of this rather wet depositional system from the rocks at the base of Mount Sharp in Gale crater, a major question going forward in the MSL mission -- and further up the mountain -- is to document how the planet went from this warmer and wetter place to one with vanishingly little water," Dr. Woody Fischer, professor of geobiology at the California Institute of Technology in Pasadena and a co-author of the paper, told HuffPost in an email.
"There are still several kilometers of rock to observe in Mount Sharp and figure out what happened to Mars' water," he added. "The causes behind this drying still remain a mystery."
Dr. Marjorie Chan, a University of Utah geology professor who has studied sedimentary processes on Earth and was not involved in the new paper, said this research can be built upon to enhance our current knowledge of the red planet's geological and hydrological record.
"This latest paper sets a benchmark," she said. "We see that Mars at some point in its past was much more Earth-like, and perhaps those conditions might have allowed life to originate and be preserved. Something happened to all that water -- but when and why? That's a big mystery. ... I hope these ideas inspire the new generations of students to get excited about science."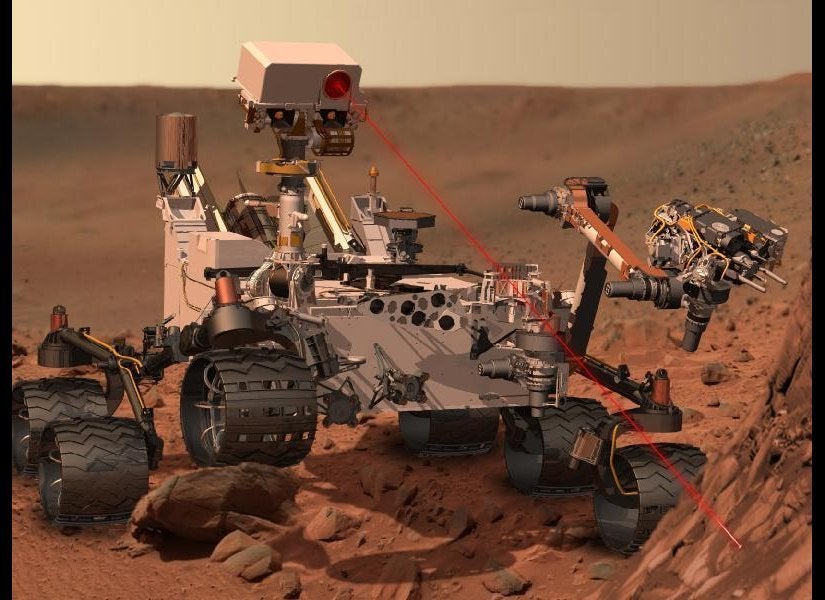 Curiosity: Mars Science Laboratory's Rover
Related
Popular in the Community