 WHERE WERE YOU WHEN CURIOSITY LANDED? Submit your pictures in the slideshow below, whether you were at a party or in your pajamas. Click through for photos of people watching around the country.
The initial Mars rover landing photos continue to amaze as Curiosity embarks on its historic mission on Mars.
NASA's highly anticipated landing went off without a hitch at 10:32 p.m. PDT on Aug. 5 (or for those watching across the east coast, at 1:32 a.m. EDT on Aug. 6).
Following its 354-million-mile journey, the the rover landed inside a Martian land formation called Gale Crater.
Minutes after touchdown, the one-ton SUV-sized rover beamed back photos of Mars' surface using its "fisheye" Hazard Avoidance Cameras -- called Hazcams -- according to NASA.
SCROLL FOR FULL SLIDESHOW
In a statement released after the landing, John Grotzinger, project manager of NASA's Mars Science Laboratory mission, at the California Institute of Technology in Pasadena, added context for the image.
"Curiosity's landing site is beginning to come into focus," Grotzinger said. "In the image, we are looking to the northwest. What you see on the horizon is the rim of Gale Crater. In the foreground, you can see a gravel field. The question is, where does this gravel come from? It is the first of what will be many scientific questions to come from our new home on Mars."
On the top left of the photo, part of the rover's power supply is visible and some dust appears on the lens, although the dust cover has sprung open.
According to NASA, the photo is saturated because the camera is looking directly into the sun. The technical term for the lines that can be seen running across the top is "blooming," due to camera's detection of possible saturation. Color photos are expected later in the week.
The thrilling moment was heralded as the beginning of a new era in planetary exploration. Onlookers in New York City's Times Square were able to watch a live feed of mission control as the drama unfolded.
The leaders of the successful control team were greeted like rock stars as they stood on stage, arms raised in triumph, for a press conference at NASA's Jet Propulsion Laboratory (JPL) Sunday night. The celebrations were so raucous, JPL director Charles Elachi had to plead for quiet in order for the conference to go on, SPACE.com reports.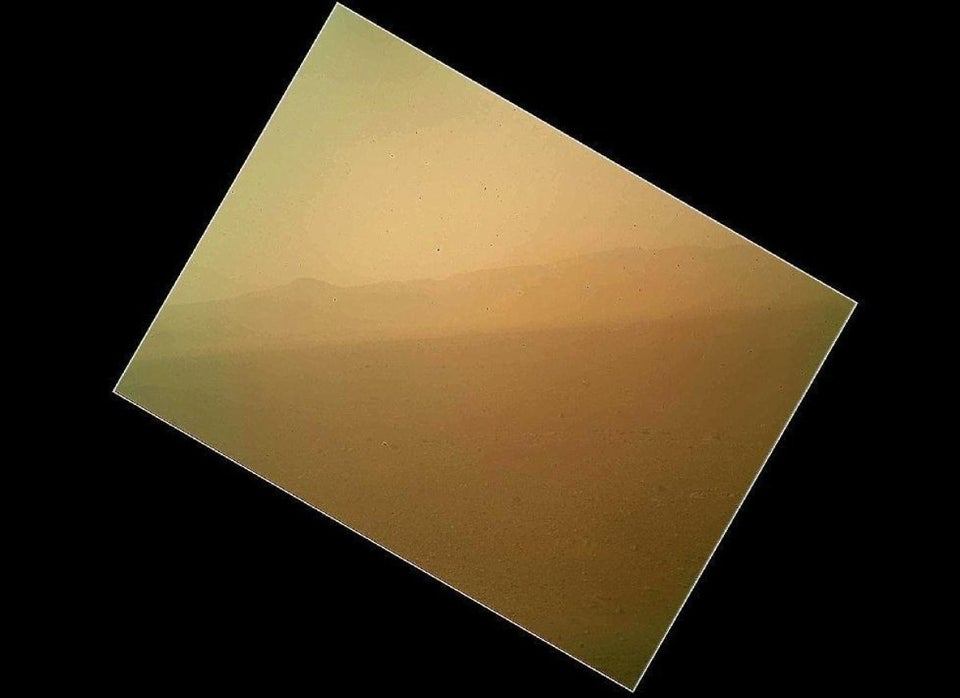 Mars Rover Landing Photos
Related
Popular in the Community