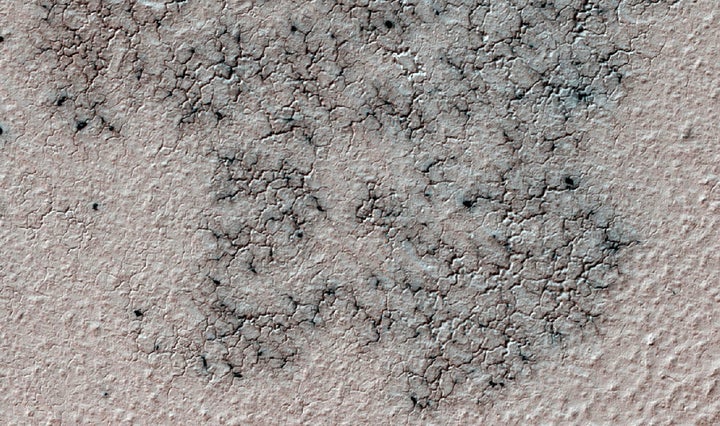 None of the itsy-bitsy spidery things in the image above are tiny, nor are they on Earth. Those creepy-crawlers are surface features on Mars, which have been photographed near the south pole of the red planet for years by the HiRISE camera onboard NASA's Mars Reconnaissance Orbiter, or MRO.
The area in the picture measures about half-a-mile wide.
In an attempt to learn more about these odd-looking features, planetary scientists have created a website, Planet Four: Terrains, and are looking for volunteers to assist them in finding more spider locations on Mars.
According to a Planet Four: Terrains statement:
The exotic terrains of Mars' south pole have many forms unlike anything on Earth. We would like your help to map where they occur in images taken by the Context Camera aboard the MRO. We will use the locations you identify as targets for detailed study with the HiRISE camera, the highest resolution camera ever sent to a planet!
So far, 10,000 volunteers have helped Planet Four: Terrains researchers to identify more than 20 areas on Mars that result in spring and early summer seasonal changes that form the spidery terrain called araneiform (the Latin word for spiders).
Using their home computers, these "citizen scientists" explore the Martian surface, looking at images posted on the Planet Four: Terrains site and describe what they see in the pictures to help scientists zero in on new regions to investigate.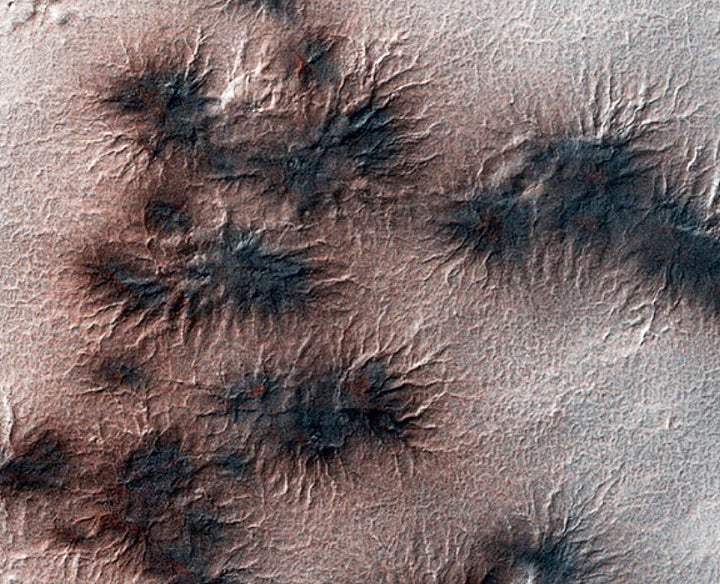 "It's heartwarming to see so many citizens of planet Earth donate their time to help study Mars," said Candice Hansen, HiRISE deputy principal investigator at the Planetary Science Institute in Arizona.
"Thanks to the discovery power of so many people, we're using HiRISE to take images of places we might not have studied without this assistance," Hansen said in a statement.
The Planet Four: Terrains science team believes humans are better than computers in locating new spider formations on Mars, according to their site:
Identifying these different terrains is a task that computers are not good at. It turns out that people are really good at this task. Human beings can easily match patterns and identify outliers that can be difficult if not impossible to teach machines to do.

By having multiple people independently assess each image, we gain the wisdom of the crowd. It has been shown that the combined assessment of many non-experts can often equal and outperform those of experts and machine-learning algorithms.
Hansen added how important it's been having private citizens uncovering new spider regions on Mars.
"We have new findings and new questions to answer, thanks to all the help from volunteers."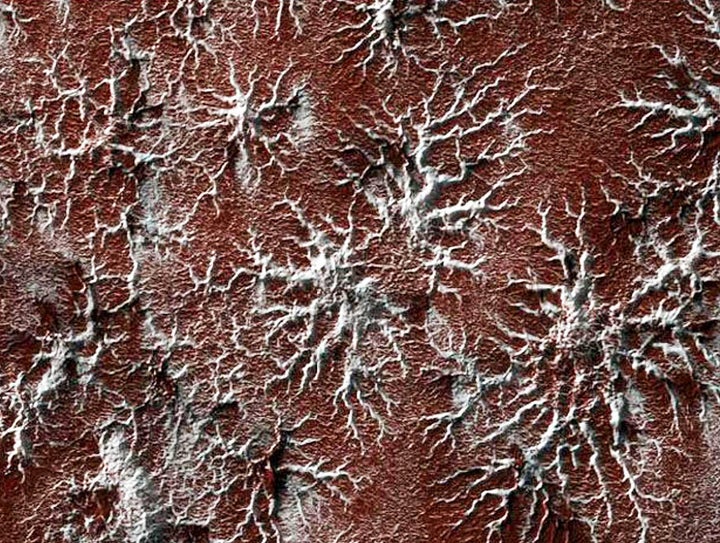 If you're interested in participating in this Martian research, register at the Planet Four: Terrains site and start looking for spiders! 
Calling all HuffPost superfans!
Sign up for membership to become a founding member and help shape HuffPost's next chapter
BEFORE YOU GO
PHOTO GALLERY
Mars Photos