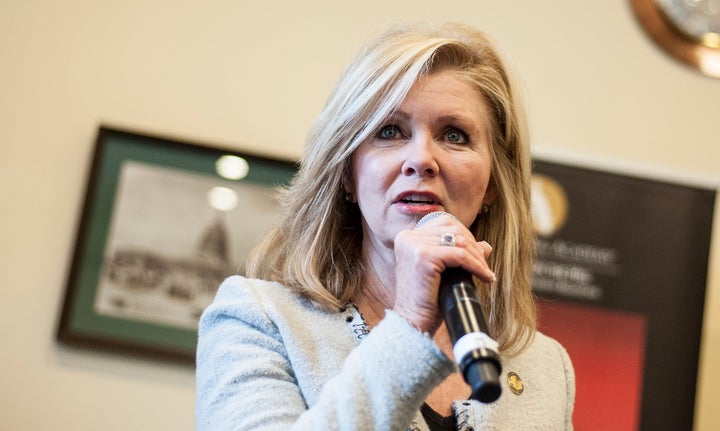 A passionate group of constituents and protesters alike greeted Rep. Marsha Blackburn (R-Tenn.) at a meeting in Fairview, Tenn., on Tuesday afternoon.
About 130 prescreened people filled Fairview City Hall to hear Blackburn's remarks. The city's website said the event was open only to residents (population 8,000) who had reserved seats.
What began as a relatively sedate meeting at times escalated sharply as Blackburn fielded numerous questions, many about health care and the future of the Affordable Care Act.
After a brief overview of her legislative agenda, during which she affirmed her desire to "phase out" the ACA, Blackburn opened the floor to questions from the public.
The first question came from a constituent who said he was "concerned about oversight in Washington," specifically the elevation of Steve Bannon, whom he identified as "a notorious white nationalist," to the National Security Council.
Blackburn initially deflected, saying only, "I don't speak for the president," then, after saying she had personally had no problems interacting with Bannon, added, "I am not aware that he's taken anybody's place on the NSC."
A chorus of incredulous boos followed. "It's all over the national media," the man asking the question replied.
Several audience members also shared critical opinions of President Donald Trump's Cabinet appointees. A Franklin High School senior expressed concern about the abilities of newly confirmed Secretary of Education Betsy DeVos.
"I think Ms. DeVos is going to be a fine secretary," Blackburn said to loud boos from the crowd. "She's going to do a fine job."
"We are not stupid," someone in the crowd fired back. "Stop this."
Jeers also followed a similar question about the new head of the Environmental Protection Agency, Scott Pruitt.
"We're all for clean air, clean water and want to have a healthy environment," Blackburn told a woman who expressed concern that Pruitt would dismantle critical environmental safeguards. "Next question," she said tersely, as someone countered, "You voted against that just this month!"
"Do you think it's right to prioritize people based on their religion? Yes or no?"
"Is it right to prioritize people based on their religion?" he asked, to applause from the crowd.
Instead of answering the question directly, Blackburn launched into a discussion of refugees and the need for more vetting, prompting Dash to ask again, "Do you think it's right to prioritize people based on their religion? Yes or no?"
"I know that Christians have seen incredible persecution," Blackburn replied, prompting another chorus of boos.
Dash, a campaign organizer for a state group that advocates on behalf of refugees, told HuffPost in an email Wednesday that he attended the town hall in his private capacity as one of Blackburn's constituents.
"I asked that question because I have many friends who are refugees and who are Muslim," he said, "and I believe that refugee resettlement is a reflection of our nation's highest values and am deeply troubled that the congresswoman has endorsed President Trump's previous executive orders."
"I want to make sure that she knows many of her constituents want her to welcome refugees and uphold American values," he added.
Nashville's WSMV-TV estimated 150 people gathered outside the town hall to protest. Reporter Kevin Trager said that officers prepared for up to 1,000 protesters, bringing about a dozen squad cars to City Hall hours before the event.
Across the country, representatives and senators have been skipping constituent meetings during their weeklong February recess.
"It's his job to plan an in-person town hall, but since he has not, we will," Katie Farnan, one of the organizers of the Denver event, told The Huffington Post in an emailed statement. "We have invited the Senator and sincerely hope he will come, but will hold the town hall with or without him."
It's a somewhat hypocritical twist for Gardner. Last month, the senator dismissed the sharp uptick in phone calls to his office as coming from out-of-state "paid protesters" who were preventing the voices of his constituents from being heard. Given the opportunity, it seems many politicians ― Gardner included ― don't want to hear from their constituents in person, either.
This story has been updated with comments from Pratik Dash, and to clarify he is a former, not a current, Franklin High student.
Popular in the Community