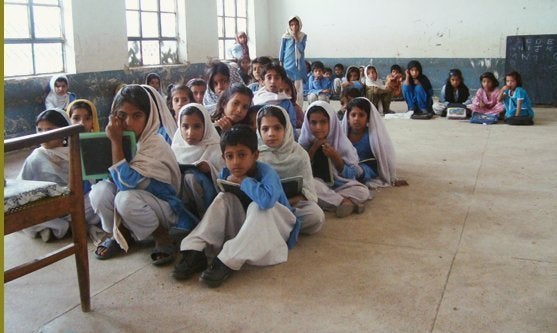 The Marshall Direct Fund (MDF) was established to eliminate global poverty through investing in females, with the goals of increased school enrollment and attendance, higher literacy rates and higher income for Pakistani girls and women, reports The Post Independent.
Created by women with backgrounds in international security studies and international development, Silbi Stainton and Jodi Fischer, the fund recognizes that it it essential to direct resources towards human capital in needy countries, particularly women and children. Operating out of Carbonale and Aspen, Colorado, the MDF is a locally-run nonprofit with additional offices in Pakistan.
Parents in Pakistan cannot afford tuition for education, and there is no public school option available. If the family can afford the cost of sending a child to school, it is more likely that a son will attend rather than a daughter because he's seen as a potential income generator.
Stainton says: "Supporting MDF is not only contributing to the education of youth, but the education of a community. The educational facilities are maximized and used for vocational education so that youth and adults can access job relevant skills, financial literacy and entrepreneurial development. Our donors appreciate their donations invest in human capacity and provides high social returns."
The majority of Pakistani families do want to send their daughters to school, but cannot afford tuition, let alone adequate food and nourishment. Seven or more years of education for a girl in the developing world translates into a later marrying age and lower birthrate. Women and girls reinvest 90 percent of their income into their families, which is why organizations like MDF believe so staunchly in investing in women and children. If a woman reaches the 5th grade level of education, she is more likely to invest in the education and health of her children.
The efforts of MDF have opened three co-educational primary schools and vocational training centers for the community in Pakistan.
The following are tangible ways your donations to the Marshall Direct Fund can help:
$25 outfits a child with a new school uniform, complete with a sweater and shoes.
$100 covers one year of tuition for a child, while $200 provides for two.
$300 equips a classroom with desks and chairs.
$600 sees a child from 1st through 5th grade.
$2,500 provides 100 children with uniforms and shoes.
Calling all HuffPost superfans!
Sign up for membership to become a founding member and help shape HuffPost's next chapter